Recipe and Styling by Libbie Summers
Photography by Chia Chong
Originally posted on Salted and Styled
The key to this very simple tart is using the freshest strawberries you can AND pretending it took you a lot more effort than it actually did to prepare.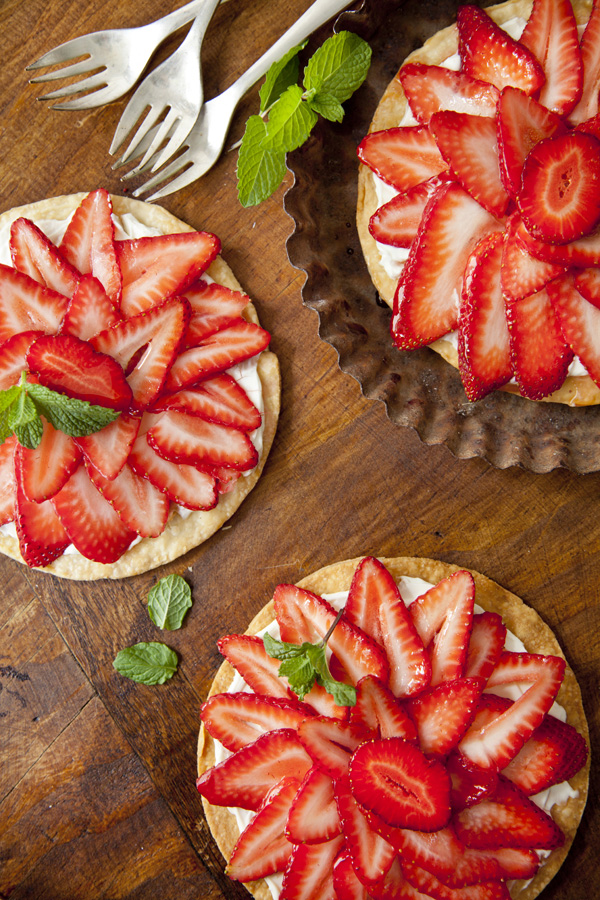 Crisp and Easy Strawberry Goat Cheese Tart
(makes three 5-inch tarts)
Ingredients:
1 prepared pie dough for a single crust pie
Bench flour
1 cup ricotta cheese
2 ounces goat cheese
zest of one small lemon
1/4 cup apple jelly, divided
sliced strawberries (I used 12, but it can vary depending on the size of your strawberries)
Mint for garnish, optional
Directions:
Preheat oven to 375 degrees F. Line a half sheet tray (large baking sheet) with parchment paper and set aside.
Roll the dough out onto a lightly floured surface until very thin. Cut out 3 (6-inch) rounds. I use a 6-inch salad plate and draw around it with a knife cutting out the three circles. Note: the dough will shrink up as it bakes. Place the rounds on the baking sheet and pierce with a fork in a few places. Bake until golden brown and crisp (about 20 to 25 minutes). Allow to cool.
In a medium mixing bowl, stir together lemon zest, ricotta cheese, goat cheese, and 1 tablespoon grape jelly until smooth. Divide the mixture among the 3 baked crusts and spread almost but not quite to the edge. Top each decoratively with the sliced strawberries. Heat the remaining apple jelly in the microwave just until melted (you may need to add a little water). Brush mixture lightly over the tarts. Garnish with mint if desired. Break into pieces with a sharp knife and serve. Messy and delicious!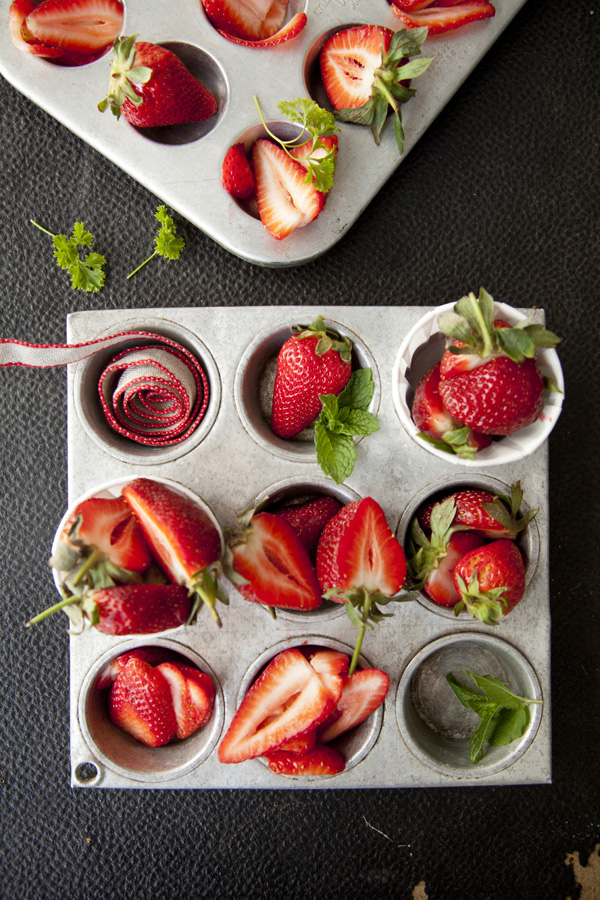 Libbie's Food Styling Props: (top photo) surface is a large round cutting board from Star Provisions, old rusted tart pan from Habersham Antiques Market, forks are old United Airlines first class silver…a gift from my father-in-law. (bottom photo) Surface is an old piece of black luggage, muffin tins from Habersham Antiques Market. 
Need a life hack for the perfect berry slices? Watch this!