Recipe and Photography by Chia Chong (do yourself a visual solid and follow Chia on Instagram)
Styling by Libbie Summers 
Tomorrow (October 4, 2017) is Mid-Autumn Festival Day! Help us celebrate the day by making moon cakes!
The Moon Cake is the special food of the Mid-Autumn Festival. On this day, people sacrifice moon cakes to the moon as an offering and eat them for celebration. Moon cakes come in various flavors according to the region. This wonderful moon cake recipe is a family favorite of Chia Chong and her family in Malaysia.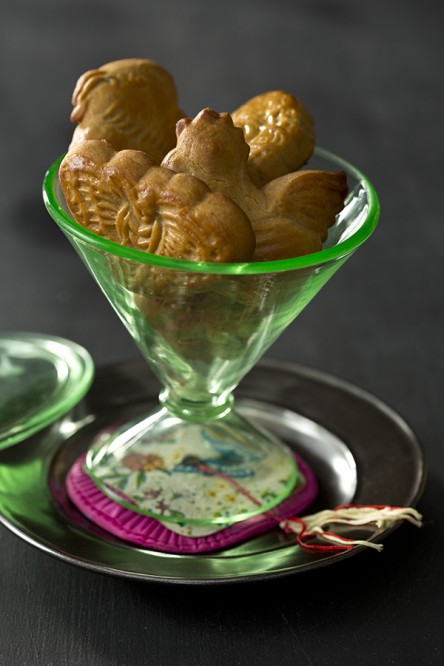 Moon Cakes
yield varies depending on size of mold
What you need:
1 recipe Sugar Syrup (recipe to follow)
1 recipe Moon Cake Dough (recipe to follow)
1 recipe Moon Cake Adzuki Bean Filling (recipe to follow)
Moon Cake Molds (source guide below)
Flour for dusting the molds
1 egg mixed with 2 tablespoons water for an egg wash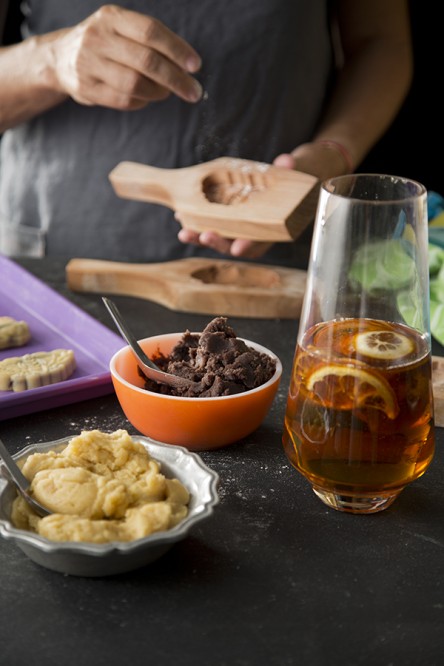 Take a heaping tablespoon of the moon cake dough (more or less depending on the size of your molds) and form into a circle the width of your mold and 1/8-inch thick.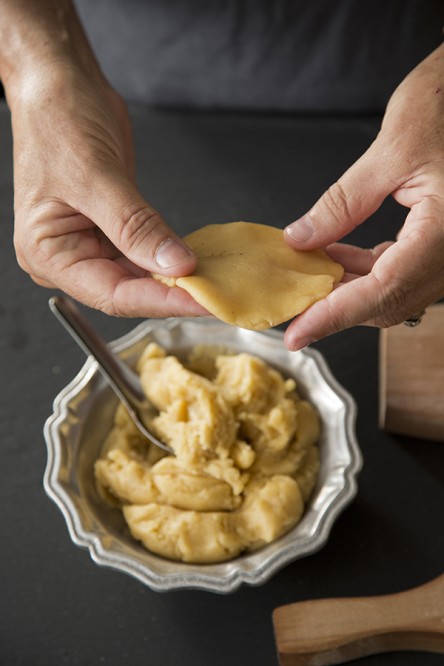 Roll 2-3 teaspoons of the filling (amount will vary depending on the size of your molds) into a ball and place in the middle of the dough. Pinch the dough up around the filling until it is completely covered. Pinch the ends of the dough off both ends and place back with the other dough.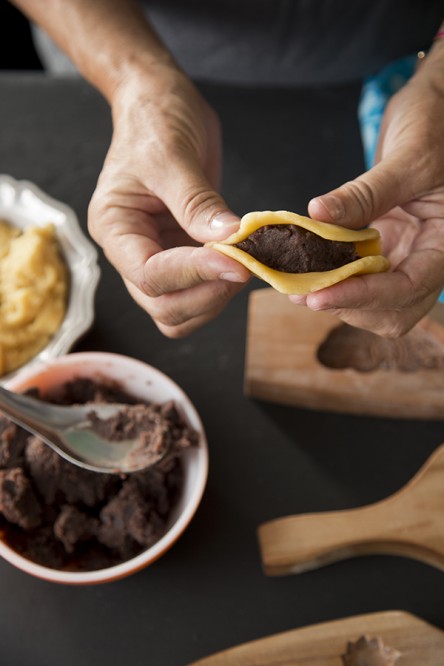 Lightly flour the the moon cake molds. Flatten the top of the filled dough and place into the mold. Lightly press the the dough into the mold until level with the mold.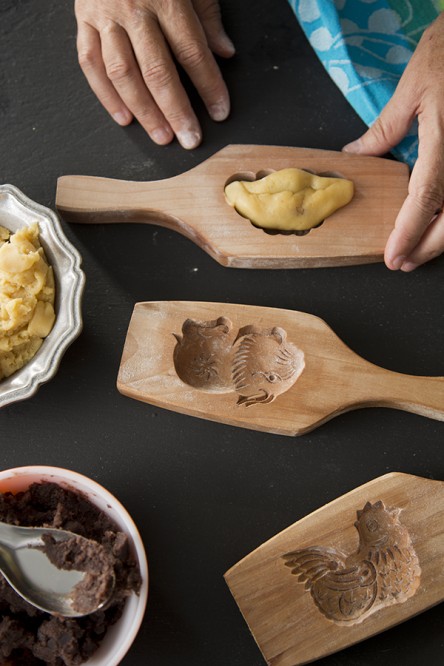 Tap on all four sides of the mold to release the moon cake.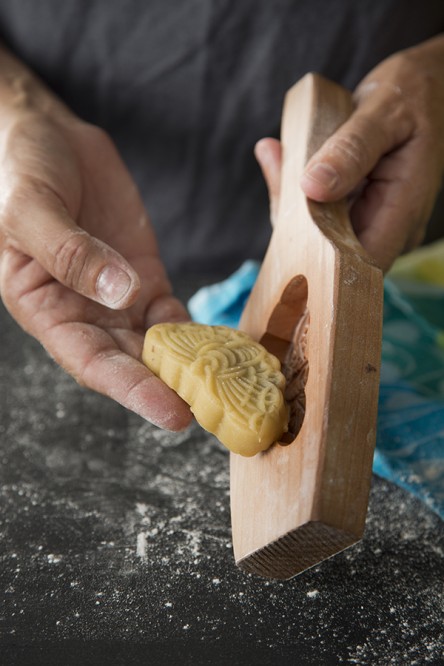 Place moon cake on a baking sheet. Preheat oven to 375 degrees F. Continue making moon cakes until all dough and filling is used. Bake in the preheated oven for about 10 to 12 minutes. Remove from the oven and brush the moon cakes with egg wash. Continue to bake until the pastry turns golden brown, about 5 more minutes. Remove from oven and let cool on a wire rack. When cool, store in an air-tight container until ready to eat.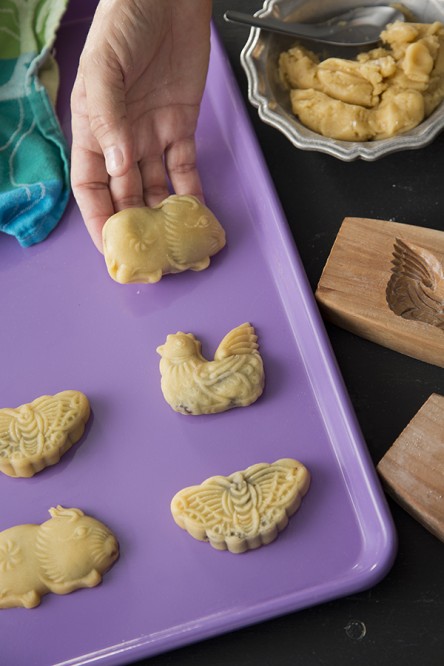 We wish you much luck and prosperity.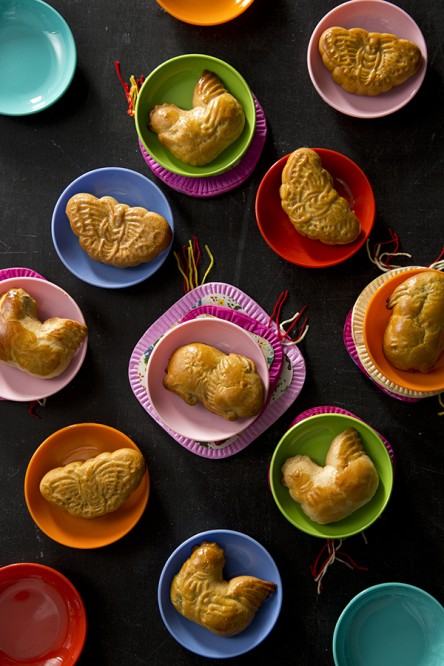 Sugar Syrup
450 grams sugar
375 grams water
2 thick slices fresh lemon
(Stir together all ingredients to a medium saucepan over medium-high heat and bring to a boil. Reduce temperature to low and continue to simmer the mixture until it reaches a thick honey consistency, about 1 1/2 hours.) Allow mixture to cool. *make at least one week ahead
Moon Cake Dough
350 grams all-purpose flour
220 grams prepared Sugar syrup (remove lemon slices)
100 grams peanut oil
1⁄2 tablespoon Potassium Carbonate & Sodium Bi-carbonate Solution
(Mix sugar syrup, peanut oil and PCSBC in a mixing bowl. Add flour and stir till evenly mix. Cover and allow dough to rest for 3 hours)
Adzuki Bean Paste Filling
300 grams dried adzuki beans
300 grams sugar
150 grams peanut oil
(In a medium stock pot add beans and add enough water to cover by 2-inches. Simmer over low heat, stirring occasionally, until the beans have softened (about 1 1/2 hours). When ready, the bean paste will be wet but not too soupy, pour out access liquid if necessary. Add the beans to a food processor or blender and process until a smooth paste is formed.
In a large pan/wok, stir the bean paste, sugar and oil over low heat until the mixture is no longer sticking to the pan, about 45 minutes. Remove from heat and allow to cool.
Where to purchase moon cake molds:
Browncookie.com