By Libbie Summers
Photography by Chia Chong
It wouldn't be bean week without at least attempting a cassoulet recipe. This one is my favorite for beginner cassoulet makers.
Rabbit Cassoulet
Serves 4-6
What you need:
 1 pound of confit rabbit meat*, pulled from the bone (Rabbit Confit recipe to follow)
¼ pound Great Northern white beans, rinsed and soaked in water overnight
2 cups chicken stock
1 large onion, chopped
1 tablespoon tomato paste
2 tablespoons minced garlic
6 peppercorns
2 whole cloves
1 bay leaf
3 sprigs of thyme
1 bunch parsley
1 (14.5 ounce) can of diced tomatoes
1 tablespoon olive oil
½ pound smoked sausage, sliced into 1/2" pieces
Kosher salt and freshly ground black pepper
Bread Crumb Topping:
½ baguette, processed in a food processor until crumbs
1 tablespoon minced garlic
1 tablespoon chopped fresh parsley
¼ cup finely grated parmesan cheese
1 tablespoon olive oil
What to do:
In a dutch oven or large sauce pan, add beans. Stir in stock, onion, tomato paste and minced garlic. Add enough cold water to cover the beans by 2-inches of liquid. Bring to a boil. Using a piece of cheesecloth and a small piece of butcher's twine, make a bundle/bouquet garni with the peppercorns, cloves, bay leaf, thyme and parsley. Drop the bouquet garni into the beans and reduce the heat. Simmer until the beans are just tender (approximately 45 minutes). Stir in diced tomatoes and simmer an additional 15 minutes. Salt and pepper to taste.
In a skillet over medium heat, add the olive oil, rabbit meat and smoked sausage. Cook, stirring, just until sausage is lightly browned (approximately 5 minutes). Add meat to the beans. Salt and pepper to taste. In the same skillet, add the bread crumbs and garlic. Cook, stirring, until crumbs begin to brown. Stir in parmesan cheese and parsley. Remove from heat and set aside.
To Assemble Cassoulet:
Preheat oven to 350º F.
Transfer the bean and meat mixture to a casserole dish or tureen (I used my beautiful white "hare tureen" 8 ½" X 6 ½"  X 6"), making sure to layer the rabbit and smoked sausage. Spread bread crumb mixture over the top of the cassoulet and bake uncovered until the contents are bubbly and the bread crumb topping is golden (approximately 40 minutes).
*Rabbit Confit 
Confit (French, pronounced "kone-fee") Is a general term used for preserving meat, such as rabbit , pork, duck or goose, that has been seasoned and then cooked and preserved in it's own fat. Confit is one of the oldest ways to preserve food and is a specialty of southwestern France.
What you need:
1 rabbit, dressed, cleaned and butchered (see a step by step guide to butchering a rabbit here)
2 cups fat (you may need more to cover the the rabbit in the pan), vegetable oil, lard or duck fat
3 cloves garlic, minced
2 teaspoons freshly ground black pepper
1 teaspoon thyme leaves
1 teaspoon finely chopped rosemary
1 tablespoon finely chopped parsley
2 tablespoons Kosher salt
What to do:
In a small mixing bowl, stir together the garlic, pepper, thyme, rosemary, parsley and salt. Rub the mixture all over the butchered rabbit pieces and refrigerate overnight.
Preheat oven to 300º F.
Heat the fat in a dutch oven until it begins to just shimmer (do not boil). Add the rabbit pieces and bring the oil back to a shimmer. Make sure the rabbit pieces are completely covered in oil. You may need to add more at this point. Cover the pot and place in the oven. Cook for 2 hours or until the meat is very tender. Midway through the cooking time, turn the pieces over in the oil. At this point, you may need to add more oil to make sure the rabbit pieces are completely covered. Remove from oven and allow the rabbit to cool in the oil. The Rabbit Confit can be stored with the pieces submerged in the fat in the refrigerator for several weeks. The meat should fall off the bones.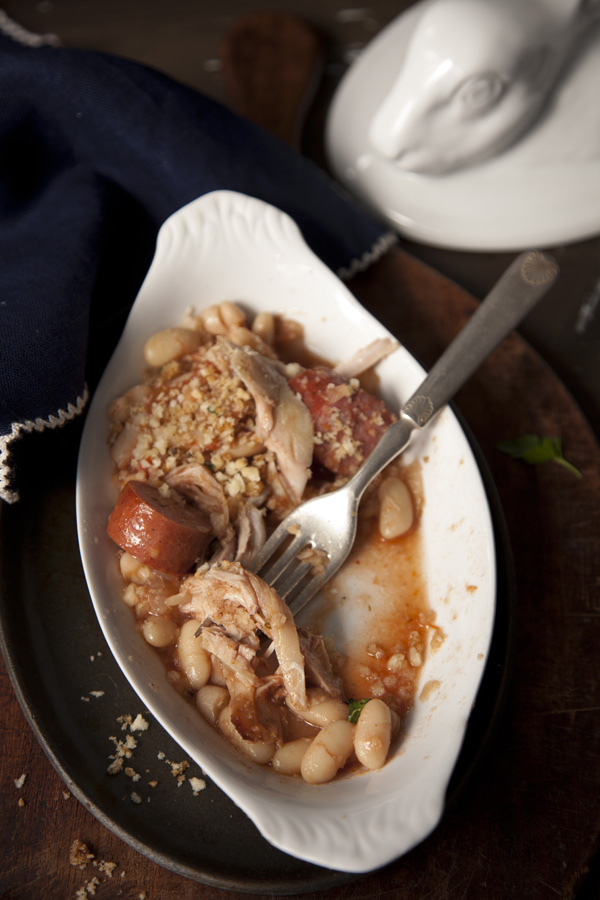 Libbie's Food Styling Props: Shot on a table painted a light blue and then a thick black. A nail was used to scrape off some of the black paint revealing the light blue, then a layer of charcoal was rubbed on the exposed blue areas; Old dark wood cutting board from Blue Crab Antiques in Annapolis, Maryland; Large Old English platter borrowed from Amy Zurcher; Navy Blue linen napkins from Williams Sonoma (the button fell off my coat the morning of the shoot and I sewed it on the corner of the napkin for an extra layer…totally in love with it now); White Apilco Hare Tureen purchased at Williams Sonoma; long wooden handled serving piece from Habersham Antiques Market; Old silver forks were found at a Salvation Army Spring Warehouse Sale in Savannah, GA; Galvanized metal cup from Pottery Barn; White oval gratin dishes I've had forever and have no recollection as to how they ended up in my props.