Recipe and Styling by Libbie Summers (originally posted on Salted and Styled)
Photography by Chia Chong
Food Stylist's assistant Candace Brower
Video from Libbie Summers' A Food-Inspired Life 
Zing and beauty. A salad that will make you smile even on the dreariest of Winter days.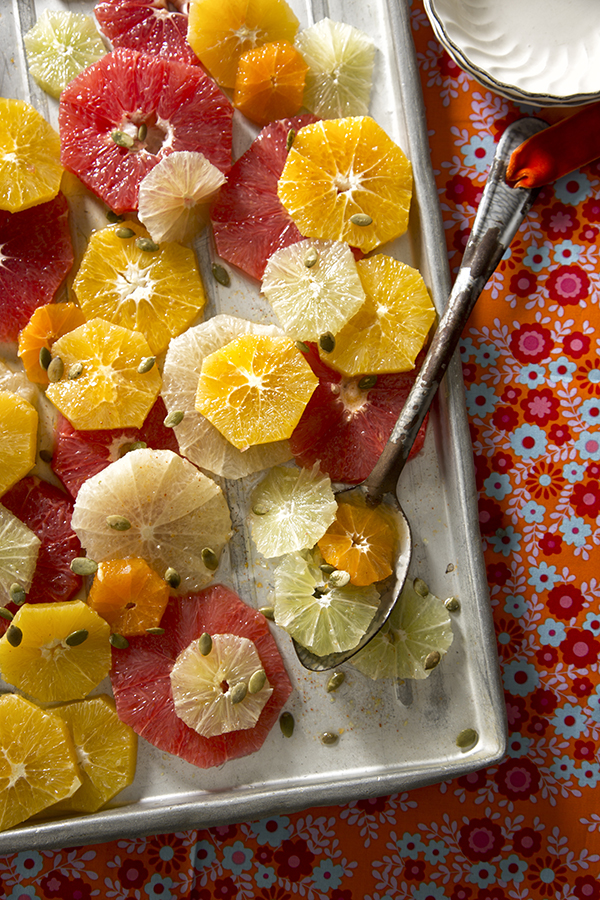 Spicy Winter Citrus Salad
serves 4
Ingredients:
10 citrus fruits (grapefruit, oranges, blood oranges, clementine, lime)
1 tablespoon honey
1/4 teaspoon cayenne pepper (more if you like heat)
Kosher salt
1/3 cup pepitas (shelled pumpkin seeds) 
Directions:
Place your cutting board on a baking sheet with sides to capture all the juices as you remove the rinds of all the fruit with a sharp knife and cut each fruit crosswise into ¼-inch rounds. Remove any visible seeds. Arrange sliced fruit on a serving platter.
In a small bowl, whisk together the reserved juices from the fruit, honey and pepper. Salt to taste. Pour mixture over the fruit. Garnish with pumpkin seeds. Serve immediately.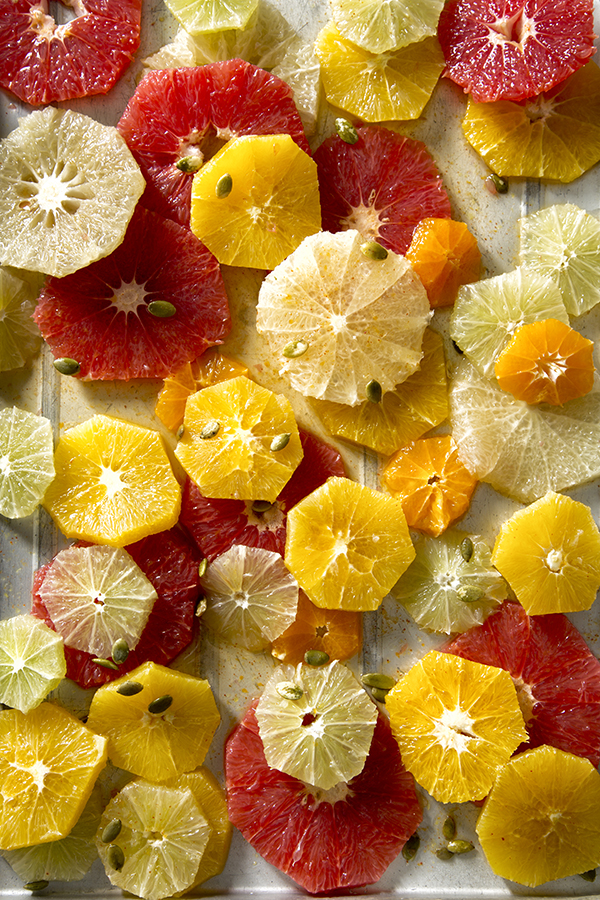 Watch this short video to learn how to segment an orange!
http://youtu.be/1aguiFmGUKM
Libbie's Food Styling Props: When the food is so beautiful, you don't have to do much. Floral fabric is from Fabrika Fine Fabrics. Citrus salad is on a vintage meat tray picked up at Habersham Antiques Market. Bowls with silver rim from the collection of Betty Anderson. Old enamelware serving spoon from an antique shop in Montana. Velvet ribbon tied through the spoon hole brought home from Paris.
Follow my Citrus Board on Pinterest for more inspiration:
Follow Libbie's board Citrus on Pinterest.