Edible Flower Salad
Recipe by Brenda Anderson
Photography by Chia Chong
Wine Pairing by Grapefriend
Photo Styling by Libbie Summers
Recipe via Salted and Styled
Fashion Styling by Brooke Atwood
Hair: Lindsay Nix
Make-Up: Jules de Jesus Fritz for Dollface by Jules
Model: April Johnson
 The flowers add a little more pepper to an already peppery luncheon conversation.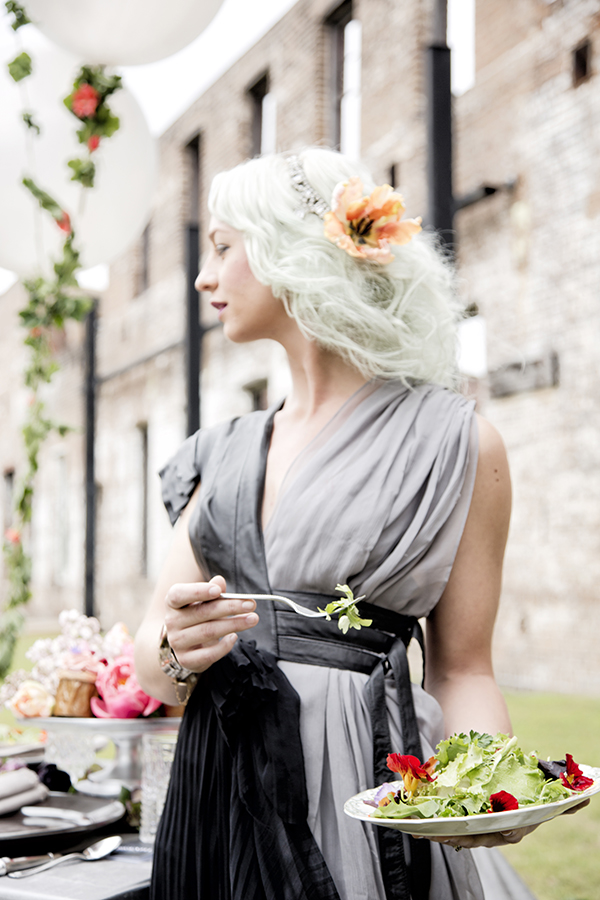 Edible Flower Salad with Lemon Thyme Dressing and Crispy Prosciutto
serves 6, makes 10 ounces of dressing
Ingredients:
6 thinly sliced pieces of prosciutto
6 ounces vegetable oil
4 ounces rice vinegar
Juice and zest of two lemons
1 tablespoon thyme leaves
1/4 teaspoon salt
1/4 teaspoon freshly ground black pepper
8 cups spring greens, rinsed and dried
2 cups edible flowers (we used nasturtiums and pansies), lightly rinsed and patted dry
Directions:
Preheat oven to 375 degrees F. Line a baking sheet with parchment paper and place prosciutto on it in a single layer. Bake until crisp (about 15 minutes). Allow to cool.
In a jar with a lid, add the oil, vinegar, lemon zest, lemon juice, thyme leaves, salt and pepper. Shake well.
To Serve: Divide salad greens and edible flowers among 6 chilled plates. Spoon dressing over and top with crispy prosciutto.
Wine Pairing by Grapefriend:
At first I was going to go with a mineraly Sauvignon Blanc for the lemon-thyme dressing, but when I found out the edible flowers are peppery the choice was clear: Grüner Veltliner! Don't be scared by the name – it's pronounced GROON-er VELT-leaner, and cool kids just say "grooner." It's from Austria and has become popular in the past few years in the US. I love it because it's citrusy and very springtime-grassy, but also has a tiny white pepper punch to it. Perfect for this flower salad, right?
Libbie's Food Styling Props: (top photo) Shot on locations at the Savannah Roundhouse Railroad Museum, Model the amazingly talented April Johnston, Plate vintage English that was my husbands grandmother's china. (bottom photo) Pewter stoneware charger and flatware courtesy of Juliska Designs. 
A bird's eye view of the salad: