Adult Popsicles
Recipe and Styling by Libbie Summers
Photography by Chia Chong
Model: Anna Heritage
Recipe via Salted and Styled
Truth is I'm not much of a drinker and I've been sitting on a half-empty bottle of Lillet for well over a year. I knew I wanted to do an "adult pop" for one of our wine recipes this week and it needed to be special.  So, I used the Lillet along with the fruit that was laying on my kitchen counter that day. The result became the perfect end to a Summer dinner party. Deliciously refreshing, playful and only a little intoxicating.
I now have a 1/4 bottle of Lillet left. Any ideas?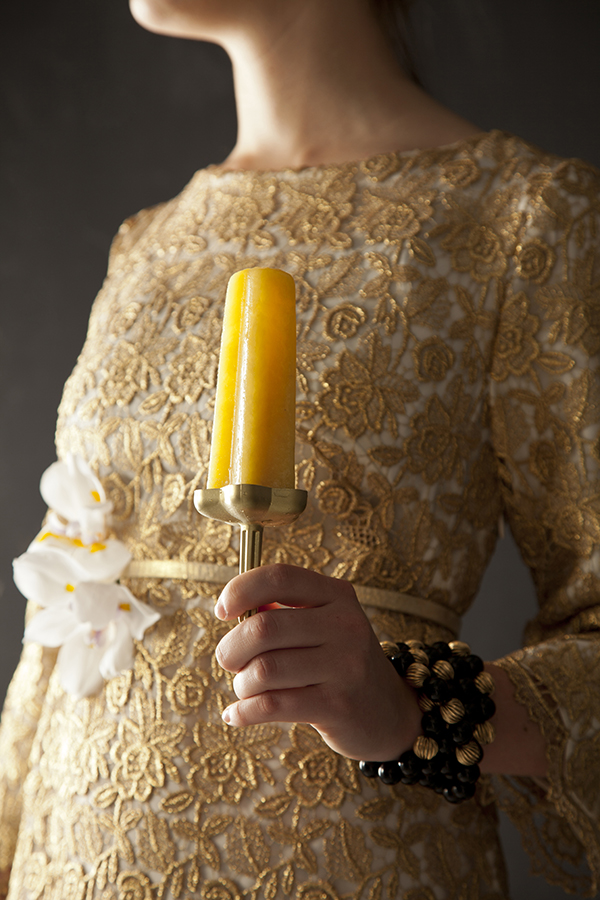 Adult Popsicles
(lillet, mango, banana)
makes 12 pops
Ingredients:
1 cup mango puree (about 2 mangoes)
2 ripe bananas
1 cup freshly squeezed orange juice
1 cup sugar (I use vanilla sugar)
1 cup Lillet  (a brand of French aperitif wine)
1/2 cup water
12 popsicle molds
Directions:
Add all the ingredients into a blender and puree until smooth. Pour into popsicle molds and freeze overnight.
Libbie's Food Styling Props: Star pop molds I purchased at Bed Bath and Beyond and spray painted the handles gold. Anna is wearing a Milly dress given to me by my fashionista friend Sydney. Bracelet is a vintage necklace. Skinny gold belt from Custard Boutique. Flowers are from my yard.
Sidenote: Anna ate two pops and Chia ate one while we were shooting this.