Blueberry Lemon Pie
Recipe and Styling by Libbie Summers
Photography by Chia Chong
Recipe via Salted and Styled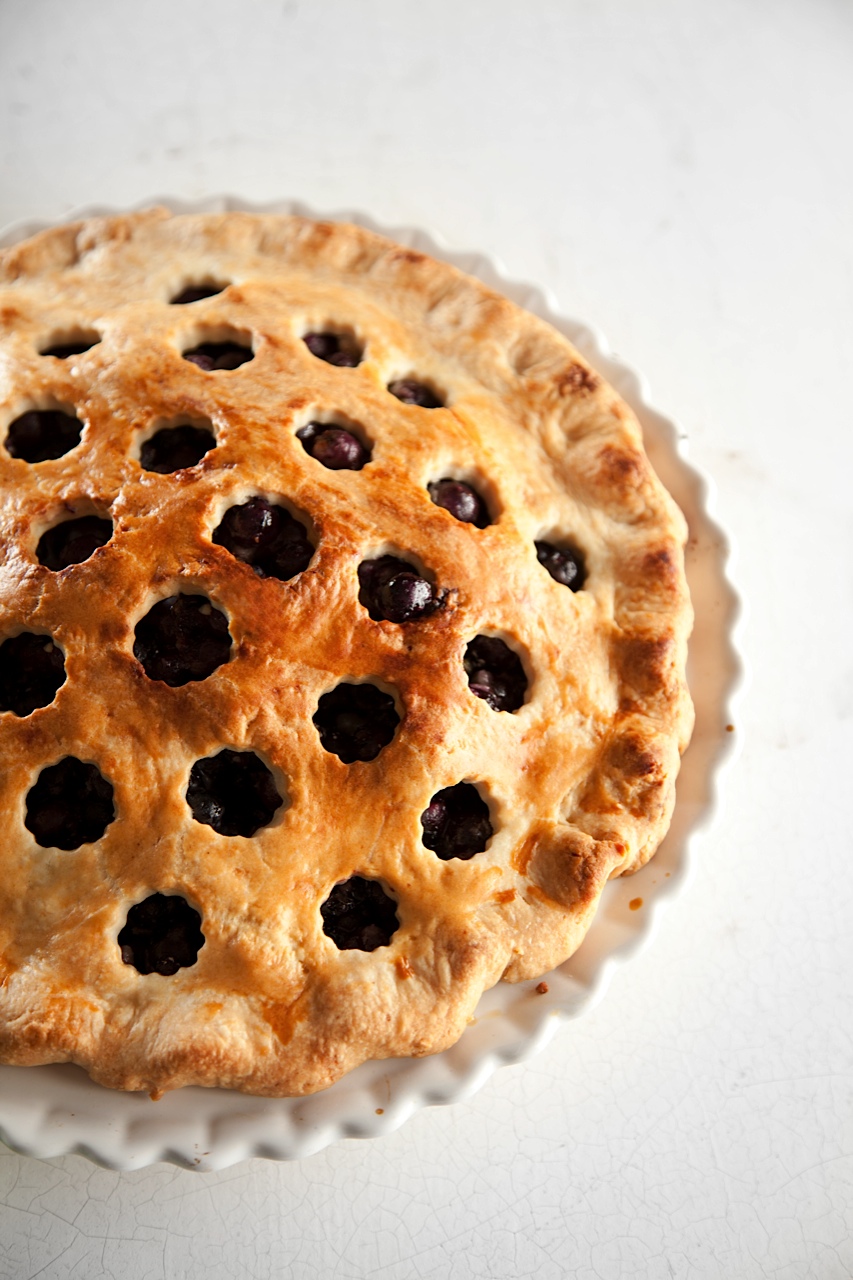 Blueberry Lemon Pie
serves: 8
Ingredients:
1 prepared pie dough for a double crust pie
3/4 cup sugar
1/2 cup all-purpose flour
1/2 teaspoon ground cinnamon
zest from 2 lemons
6 cups fresh blueberries
3 tablespoons freshly squeezed lemon juice
1 teaspoon vanilla
2 tablespoons butter, cubed
egg wash (1 egg whisked together with 1 tablespoon water)
1 pint high quality vanilla bean ice cream
Directions:
Preheat oven to 425° F.
On a lightly floured surface, roll out one 12-inch round of dough and drape into a 9-inch pie plate leaving a 1-inch overhang. Do not stretch the dough.
In large mixing bowl, whisk together sugar, 1/2 cup flour, cinnamon and lemon zest. Stir in blueberries, lemon juice and vanilla. Spoon into pastry-lined pie plate. Sprinkle any remaining sugar mixture over blueberry mixture. Dot butter cubes on top  of blueberries.
Roll out remaining crust to an 11-inch round. Using a 1-inch round cutter, cut a decorative pattern of round holes in the dough. Drape hole studded top pastry over blueberries and trim the overhang on both doughs. Fold top dough under bottom dough and crimp the edges to seal. Brush crust with egg wash and cover entire edge of pie with a 2 to 3-inch strip of aluminum foil to prevent excessive browning.
Bake pie until crust is golden brown and juices are beginning to bubble through the top crust (approximately 30 to 40 minutes). Remove foil in the last 15 minutes of baking. Cool before serving. Serve with vanilla bean ice cream or make Cheaters Crème Anglaise.
For Cheaters Crème Anglaise, melt a pint of premium vanilla bean ice cream and stir in 2 tablespoons of half and half. Instant crème anglaise…sort of…but not really.
Libbie's Food Styling Props: The beauty of this pie is the crust, so I just wanted to show that off. We shot this on an old painted white crinkled table in a white Emile Henry pie dish. Simple and stunning with no gratuitous crumbs.