Cooking Class: Braided Tea Olive Infused Donuts
Photography by Chia Chong
Styling by Libbie Summers
Recipe adapted from this guy
Recipe via Salted and Styled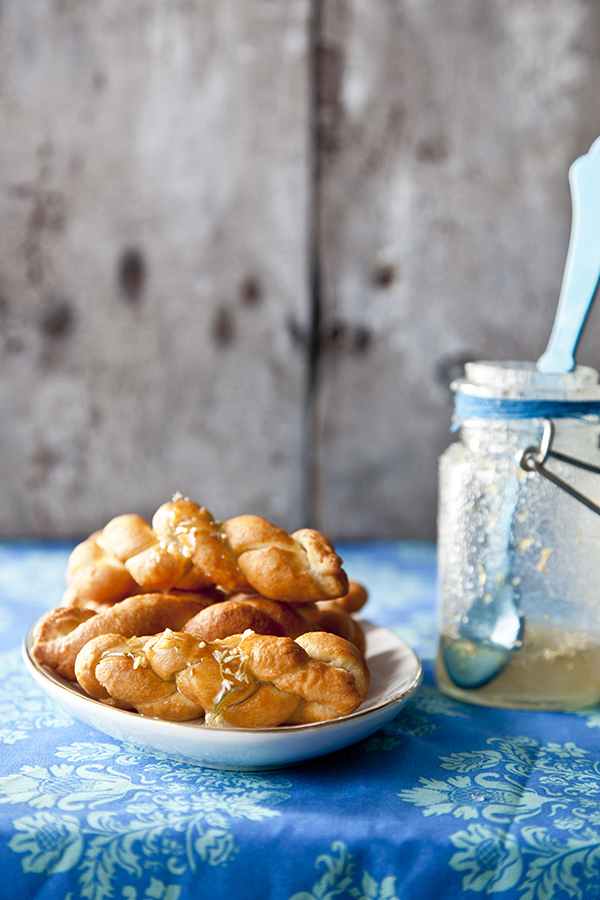 Braided Tea Olive Infused Donuts
Ingredients:
5 cups all-purpose flour
1/2 cup sugar
1/4 cup vegetable oil
1/2 teaspoon baking soda
1/4 cup tea-olive syrup (recipe here), plus more for drizzling on after
8 ounces water
Peanut oil for frying
STEP BY STEP DIRECTIONS:
Step 1
Pour the flour onto a flat surface and make a well in the middle. Add the sugar, oil and baking soda to the well.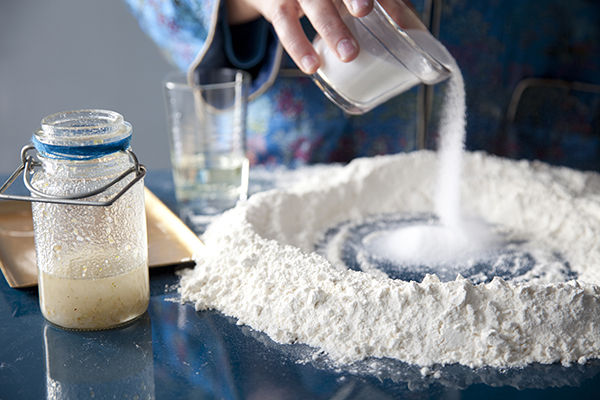 Step 2
Add the tea olive syrup to the well.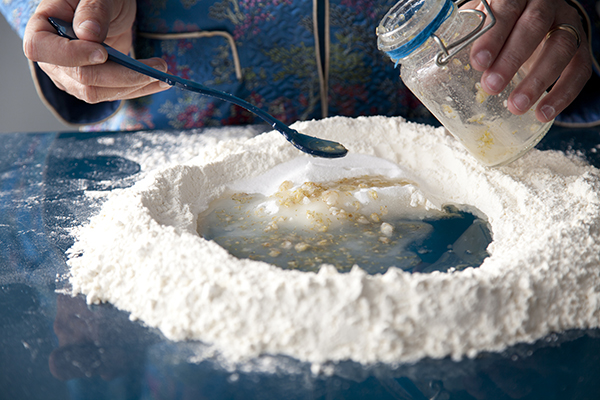 Step 3
Add the water a little at a time (stirring with your finger tips) until all the sugar is dissolved.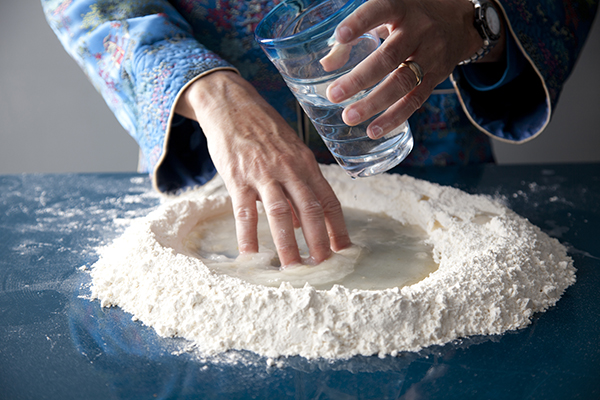 Step 4
Gradually start working the flour into the liquid until it forms a dough.

Step 5
Knead the dough until a soft dough is formed (about 5 minutes).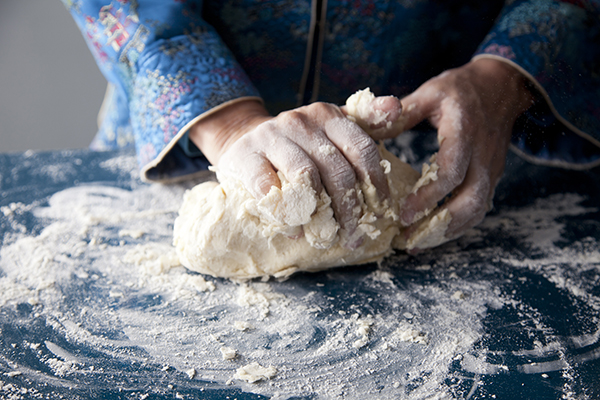 Step 6
Cover with a damp cloth and allow to rest for 15 minutes.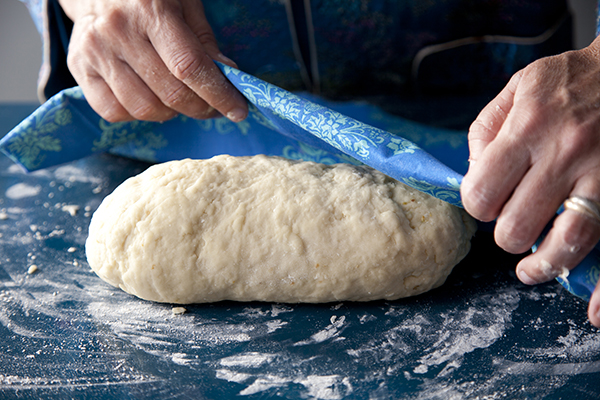 Step 7
Roll dough into 3 logs (about 18-inches each).

Step 8
Cut each log into 9 equal pieces yielding 27 pieces total.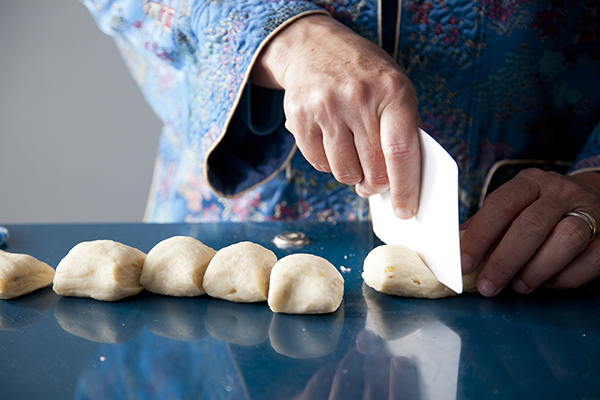 Step 9
Roll each piece into a short fat stick (about 4-inches). Set aside and allow to rest while working the other pieces.

Step 10
After all of the small sticks of dough are rolled out, start from first one you rolled and roll each one into a long pencil thin strip (about 24-inches). Note: If the dough becomes a bit to dry, just add a little water to your hands and continue rolling it out.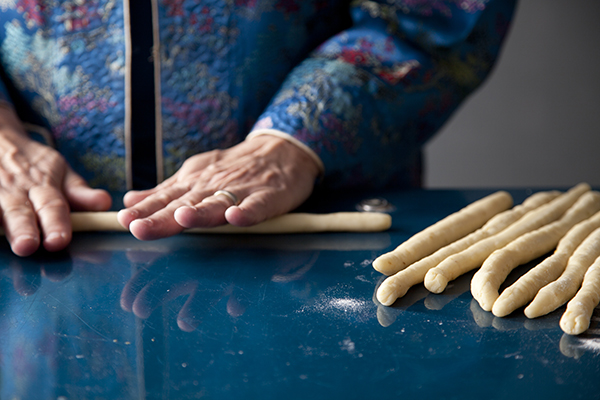 Step 11
Bring both ends of the strip together at the top making a big "u" shape.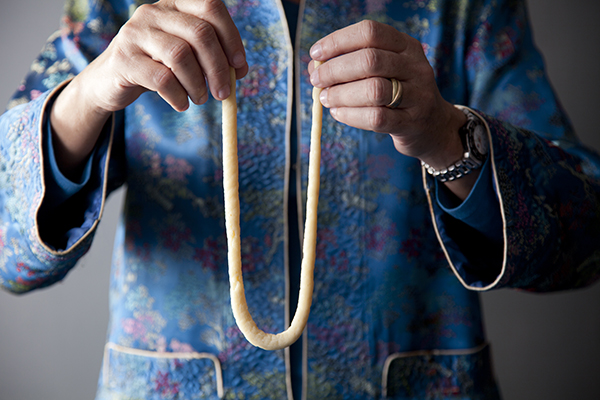 Step 12
Pinch the ends at the top together and hold in one hand. Place your index finger in the bottom of the loop and twirl to twist (the same motion as twirling your hair).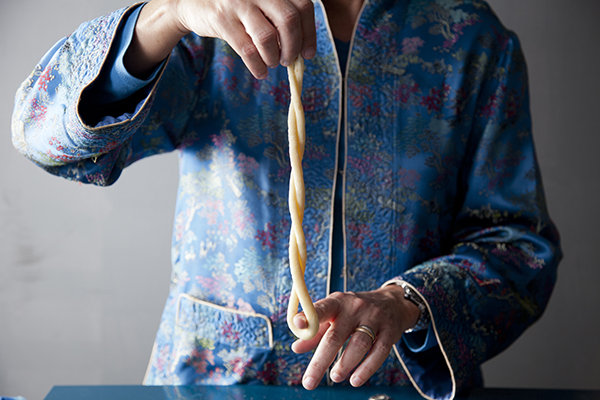 Step 13
Place the twist on the work surface and roll one end while keeping the other in one place to create a tighter twist.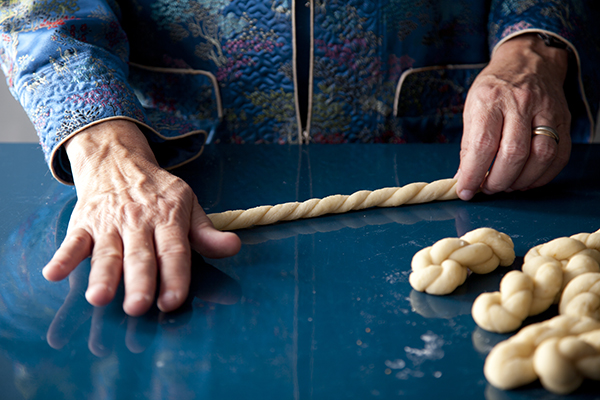 Step 14
Bring both ends up together and allow the dough to form a kind of twisted figure eight. Pinch the ends to hold together and set aside to allow to rest while preparing the rest of the braids.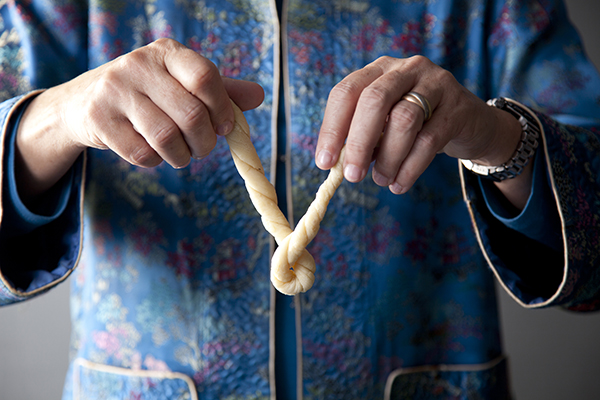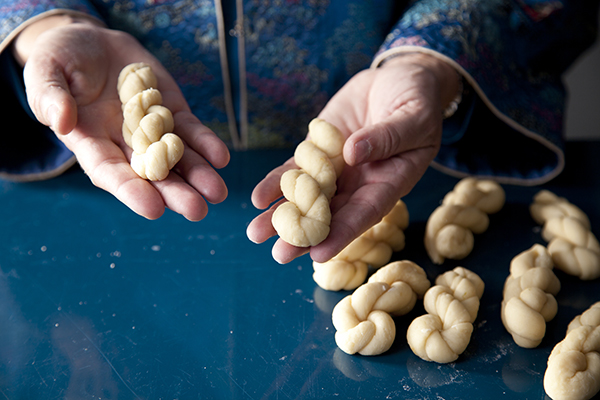 Step 15
In a French oven, Dutch oven or wok, add enough peanut oil to go 4-inches up the side. Preheat oil to 350 degrees F. Working in batches, carefully lower donut braids into the hot oil. Do not disturb. When donut braids float to the top they are done. Remove from oil and allow to drain on a paper towel lined baking sheet.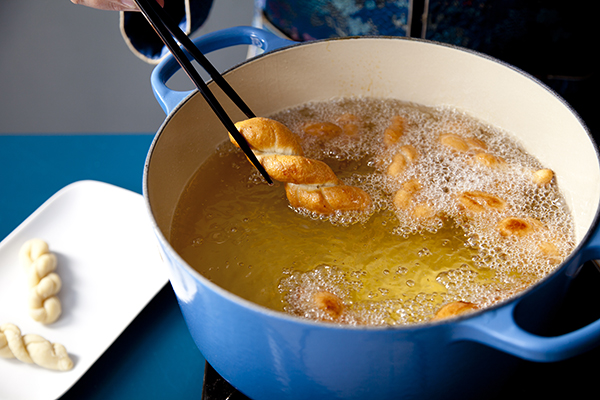 Serve warm with Tea Olive Sugar Syrup or Honey.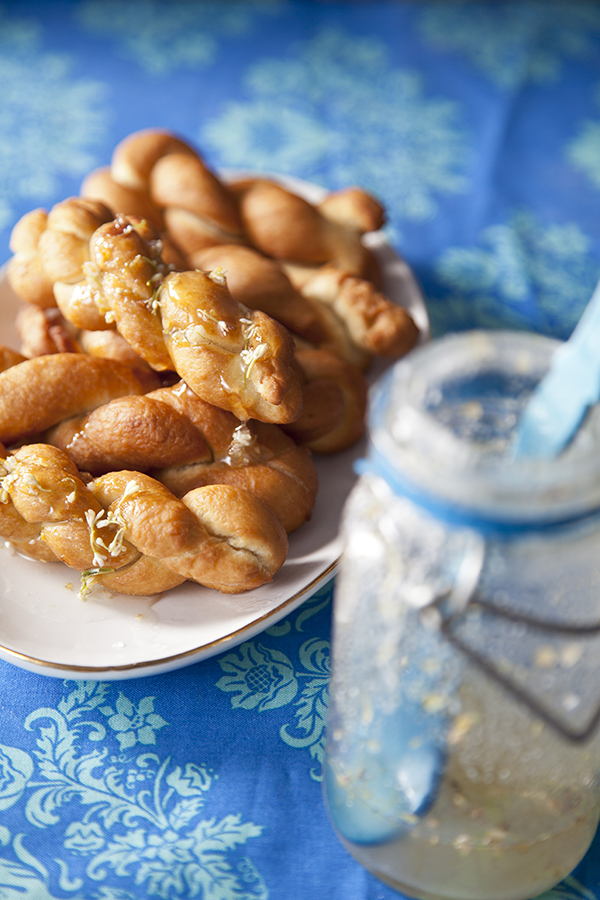 Libbie's Food Styling Props: My beautiful Japanese jacket is from my wonderful aunt Setsuko. Blue French oven courtesy of Le Creuset. Plate from Goodwill. Blue acrylic spoon from Table Matters. Blue cotton fabric from Fabrika. Blue work surface is a tool box from Matco.