Carrot Cake Cupcakes
Recipe and Styling by Libbie Summers
Photography by Chia Chong
Video by Eliza Barrera 
Recipe via Salted and Styled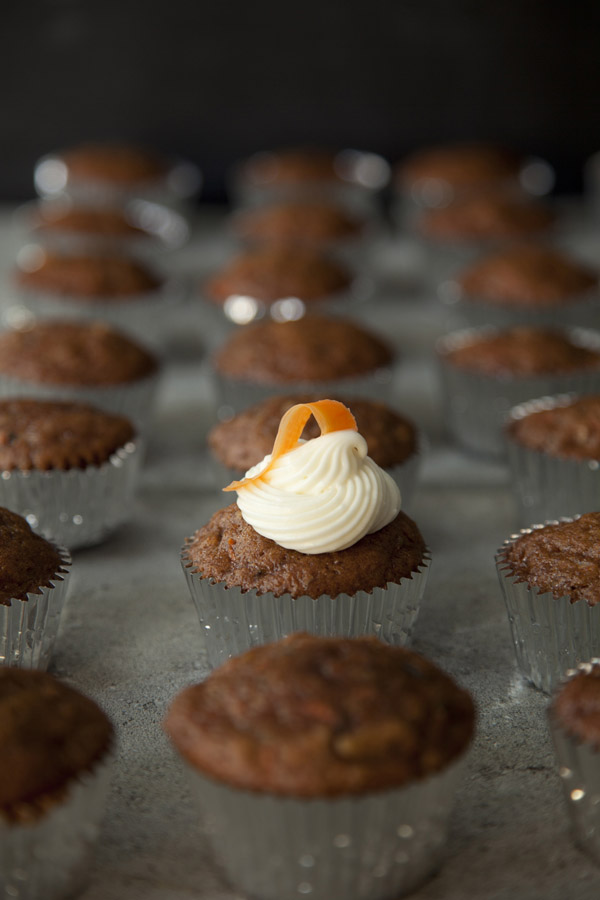 Ingredients:
2 cups all-purpose flour
2 teaspoons baking soda
2 teaspoons baking powder
½ teaspoon salt
2 teaspoons ground cinnamon
1/8 teaspoon ground cloves
pinch of cayenne pepper
pinch of nutmeg
4 eggs
½ cup sugar
1 cup dark brown sugar
1 cups chopped fresh pineapple
½ cup prepared apple sauce
¾ cup vegetable oil
2 teaspoons vanilla extract
4 cups grated carrots, use the large grate side of a cheese grater
1 cup chopped pecans (optional)
Butter Cream Cheese Frosting (recipe to follow)
24 (2-inch long) Blanched carrot strips for garnish
Directions:
Preheat oven to 350ºF. Line two 12-cup muffin tins with cupcake liners and set aside.
In a medium mixing bowl, whisk together the flour, baking soda, baking powder, salt, cinnamon, cloves, cayenne and nutmeg. Set aside.
In a large mixing bowl using a hand mixer or in the bowl of a standing mixer, beat together the eggs, sugars, pineapple, applesauce, oil and vanilla extract until well combined. Gradually add the dry mixture until fully incorporated. Fold in the carrots and pecans. Fill each cupcake liner ¾ full with batter and bake for 18-20 minutes. Allow to cool. Pipe the Butter Cream Cheese frosting onto each cooled cupcake and garnish with a blanched carrot strip.
Butter Cream Cheese Frosting
Ingredients:
1 cup butter, not quite room temperature
8 ounces Cream Cheese, softened
1/2 cup confectioners sugar (½ cup more if you like a sweeter frosting)
1 teaspoon vanilla extract
Directions:
In a medium mixing bowl using a hand mixer or in the bowl of a standing mixer, beat together the butter and cream cheese. Add the confectioners sugar and vanilla and mix until combined. Refrigerate until ready to use.
Makes: 24 cupcakes
Prep Time: 25 minutes
Cook Time: 20 minutes
Difficulty: Medium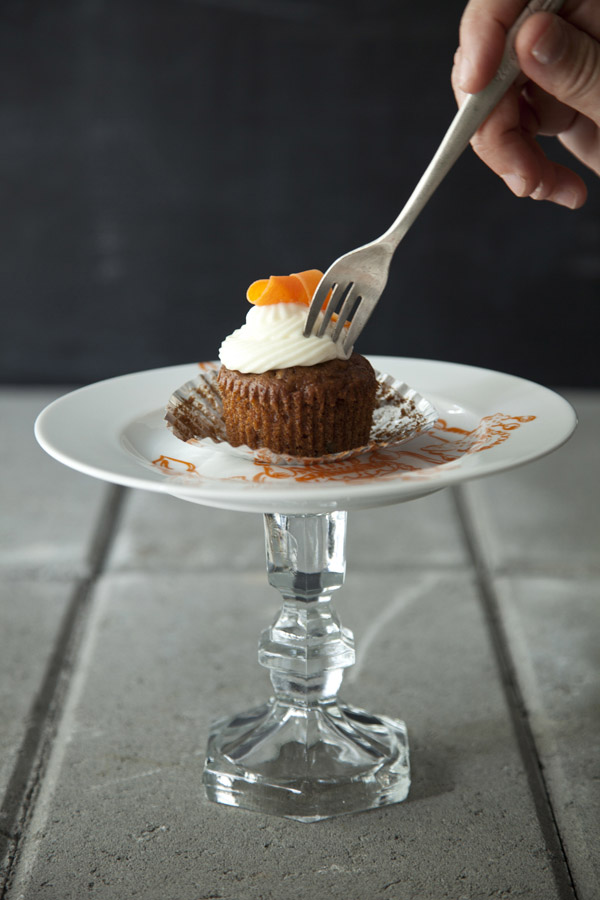 How about putting a candy carrot on top of each cupcake? It's easy!! Watch this Food-Inspired Life Video for a quick and fun tutorial.

Libbie's Food Styling Props: The base of these images is cement blocks purchased at Lowe's in the garden center. The background is a chalkboard. Foil cupcake liners from Wilton. Pedestal was a gift from my fabulous mother-in-law, Peggy. She knows I love orange and it is a plate with a graphic of an orange chandelier on it and the plate has been glued to a glass candlestick base. I have no idea where she got it, but I love it. The fork is a gift from my retired airline Captain father-in-law, Jerry. It is part of a set of silver first class flatware from the days when flying in First Class meant so much more.