Cherry Shortribs over Garlic Cheesy Grits
Recipe and Styling by Libbie Summers
Photography by Chia Chong
Recipe via Salted and Styled
We've never met a short rib we didn't like. Garlic and Cherries? Yes please!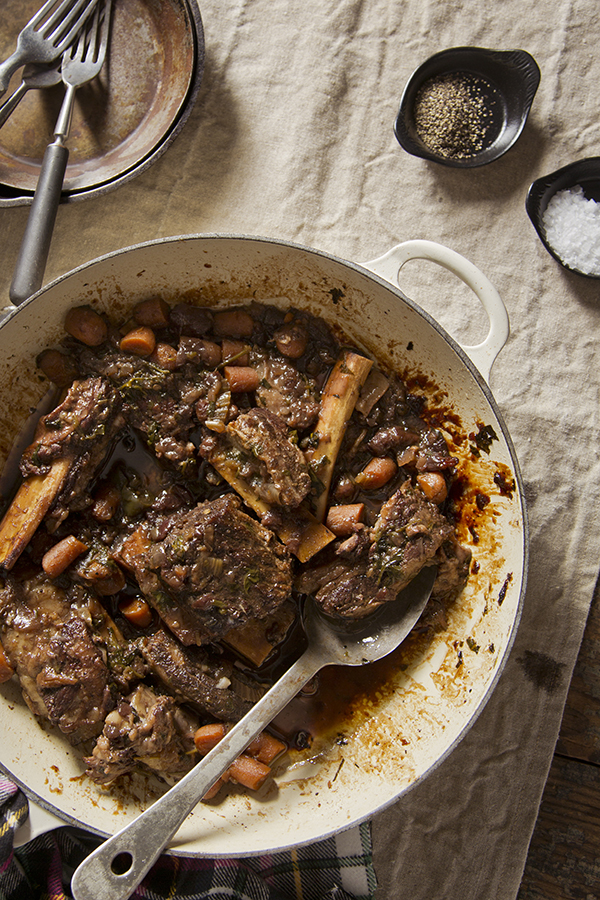 Cherry Short Ribs over Garlic Cheesy Grits
serves 4
Ingredients:
For Short Ribs
4 pounds beef short ribs
2 tablespoons olive oil
Kosher salt and Freshly ground black pepper
1 large onion, chopped
5 cloves garlic
4 carrots, chopped
1 jalapeno, sliced
1 cup water
1/3 cup soy sauce
¼ cup dark brown sugar
1 tablespoon fresh thyme leaves
¼ cup chopped fresh parsley
4 cups frozen black cherries
Fresh cherries/halved for garnish (optional)
For Garlic Cheesy Grits
Ingredients:
2 cups chicken stock
2 cups milk
1 cup grits
1 1/2 tablespoons minced garlic
Kosher salt and freshly ground black pepper
4 ounces mascarpone cheese
Directions:
Preheat oven to 300º F.
Liberally salt and pepper ribs and set aside. Heat a large dutch oven or other heavy bottom/oven safe pan over medium high-heat and add the olive oil. Heat until nearly smoking. Sear the ribs on all sides until just browned. Remove the ribs and set aside.
Add the onion, garlic, carrots and jalapeno to the pot and cook, stirring for 3 minutes. Stir in the water, soy sauce, brown sugar, thyme and parsley. Stir in the cherries. Place ribs and any juices into the pot. Cover and place in the oven for 2-2 ½ hours.
In the last 30 minutes of cooking, make the Garlic Cheesy Grits.
In a medium sauce pan over medium heat, add stock, milk, grits and garlic. Liberally salt and pepper. Increase heat to medium-high and bring to a boil. Lower heat to medium and slowly whisk in the grits. Cook, stirring frequently, until the grits are soft and thick, about 15 to 20 minutes. Keep warm and just before serving, stir in the mascarpone cheese. Season again with salt and pepper if necessary. If the garlic seems a little thick you can add a tablespoon of butter or extra milk.
Serve ribs on a bed of garlic cheesy grits and spoon pan sauce overtop the ribs. Garnish with fresh cherries.