Classic Spaghetti Alla Carbonara
Recipe and Styling By Libbie Summers
Photography by Chia Chong
Recipe via The Whole Hog Cookbook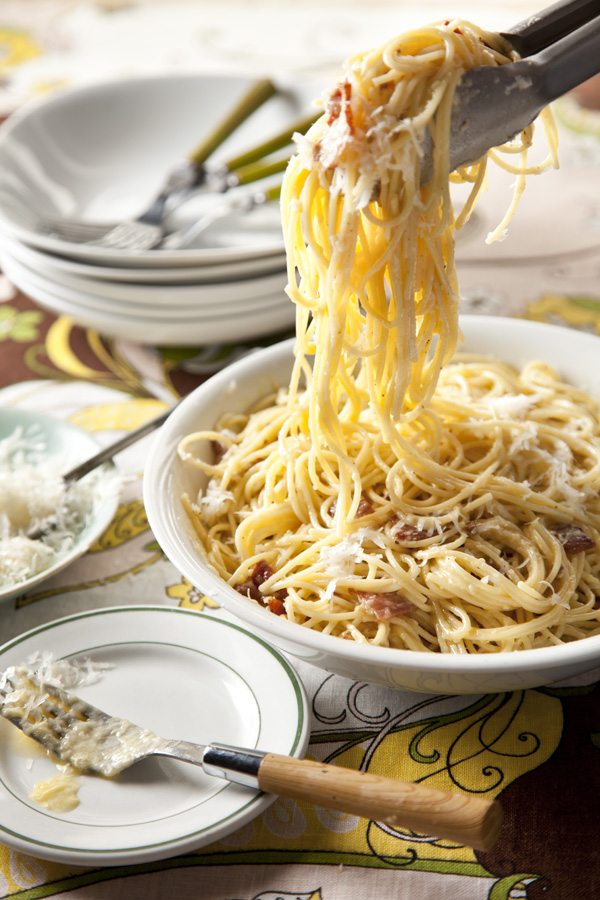 I learned to make this classic Spaghetti Alla Carbonara in the most unexpected way. Our boat was one of only two anchored off a leeward beach on the island of Barbuda, so it made sense that I would be friendly toward the owners of the other boat when we crossed paths onshore. That's how I met Patricia. She was a hard, Roman woman—her eyebrows set in a permanent scowl as if the sun were perpetually stinging her eyes. Her English was pretty much non-existent, but my culinary Italian was just good enough to discern that she was making Spaghetti Alla Carbonara and—surprisingly—that we were invited for dinner! Patricia might not be the queen of warm welcomes, but I wasn't going to turn down an Italian meal from a Roman woman. Going aboard Patricia's boat was like stepping onto a floating butcher stop filled with screaming Italians. There may have only been 3 people, but it sounded like a World Cup soccer match was being played. Patricia greeted me (relatively speaking) barefoot, wielding an excessively large knife in her hand and that glare in her eye (the image still haunts me to this day).  I obediently followed her to the starboard guest cabin, which was cooled and entirely full of hanging meat in various stages of processing and drying. Just as I thought I was at my final resting place, she directed me over to the guanciale and expertly cut off 6 thin slices. She paused a moment to scream at whomever was in the next cabin, and then she walked me over to an enormous cloth-covered round of Parmesan where, using the same knife, she cut off a large chunk. Twenty minutes and several rounds of screaming later, we sat down to the best Italian dinner I've ever had. I still think of Patricia each time I make this carbonara; I wonder where she is, if she's still living on a boat, still curing and drying her own meats and if she's used that knife to kill anyone yet.
Classic Spaghetti Alla Carbonara 
Ingredients:
8 ounces guanciale, thinly sliced (can substitute pancetta cut into small pieces)
3 tablespoons olive oil
2 teaspoons freshly ground black pepper
1 1/2 cups finely grated Parmesan cheese, more for garnish
4 eggs, room temperature
1 pound spaghetti
salt to taste
Directions:
In a large pot, bring 6 quarts of salted water to a rolling boil.
In a large skillet, heat oil. Stir in guanciale and cook (stirring occasionally, until lightly browned (approximately 6 minutes). Stir in pepper and cook an additional 2 minutes. Remove from heat and transfer contents of skillet to a large mixing bowl. Allow to cool slightly.
Add spaghetti to the boiling water and cook until al dente (approximately 8-10 minutes). Drain pasta and reserve 1 cup pasta water.
Add the grated cheese and eggs to the slightly cooled guanciale. Using a wooden spoon, vigorously stir the mixture together until it become thick  sauce (mayonnaise consistency). Transfer the cooked pasta (still hot) to the bowl and toss it with the sauce. Add a little pasta water at a time until the sauce coats the noodles and is creamy (you probably won't need all of the water). Salt and pepper to taste. Serve immediately and garnish with more Parmesan.
Note: Guanciale is made by rubbing in spice and drying the meat from a hog's jowls. From start to finish, guanciale takes a minimum of four weeks, but the wait is worth it.
Serves: 4
Prep Time: 10 minutes
Cook Time: 18 minutes
Difficulty: Easy
Recipe courtesy of Libbie Summers from her book The Whole Hog Cookbook (Rizzoli, 2011)
Photography courtesy of Chia Chong
Libbie's Food Styling Props: "Mod type" fabric from Hancock Fabrics, Old diner B&B plates with green band from Fish's Eddy, Green Bakelite handled forks in background from Wertz Brothers Antique Mart, Wooden handled fork in foreground from Homegoods, Generic white bowls…god knows where they came from –I have a ton of them.