Cooking Class: Lotus Root
Recipe and Styling by Libbie Summers
Photography by Chia Chong
Recipe via Salted and Styled
Don't shy away from lotus root for dessert. Follow our step by step "How To" below for a simple, sophisticated and sensational recipe!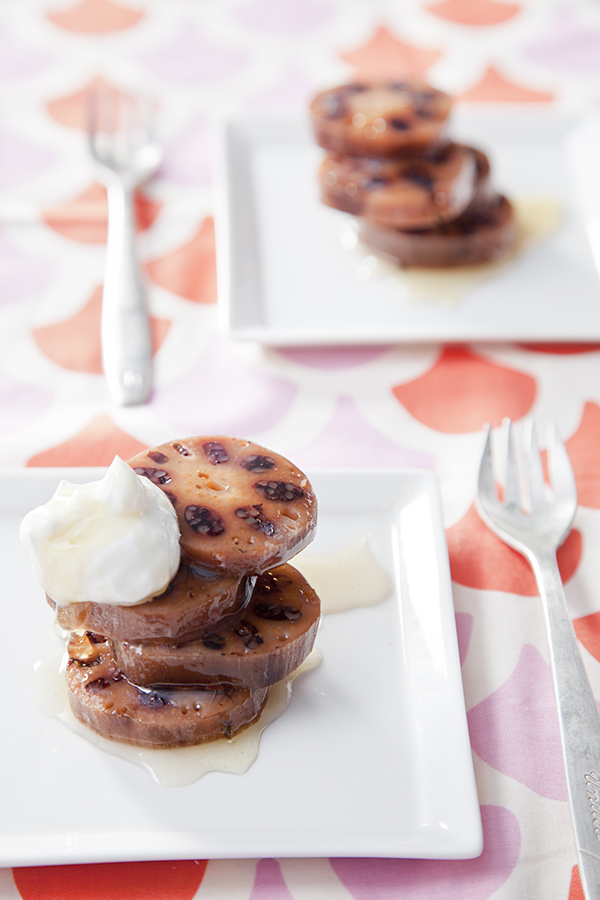 Sweet Black Rice Stuffed Lotus Root 
Ingredients:
1 lotus root, long and fat is best, both ends must be intact
1 cup prepared black rice (we used Forbidden Rice and prepared it per the package directions)
1 cup dark brown sugar
honey
Greek yogurt (optional)
2 bamboo skewers
STEP ONE:
Use a vegetable peeler to peel the outside of the lotus root.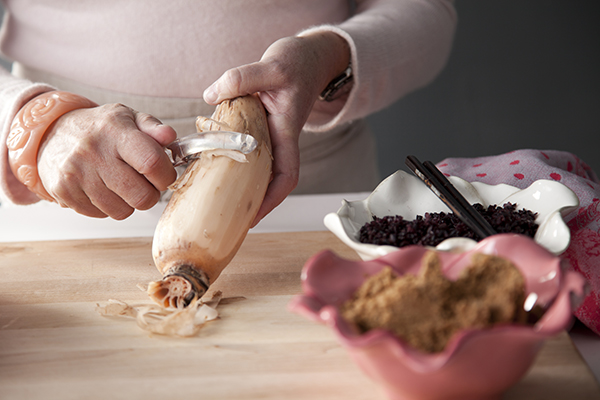 STEP TWO:
Cut one end of the lotus root off (About 1-inch from the end).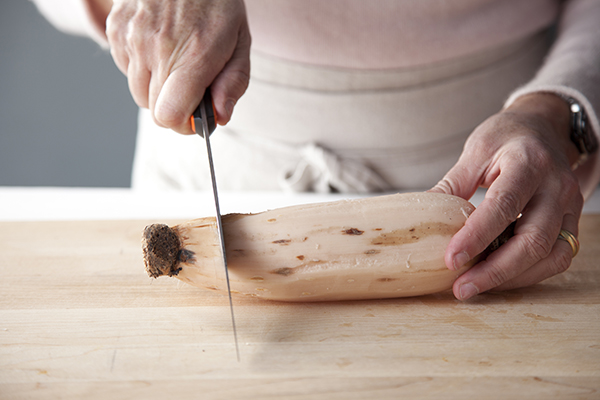 STEP THREE:
Pack the chambers of the lotus root with the prepared black rice.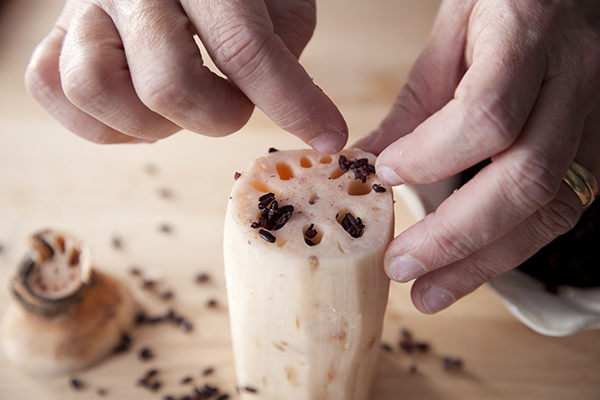 Use a chopstick to push the rice all the way to the bottom of the root.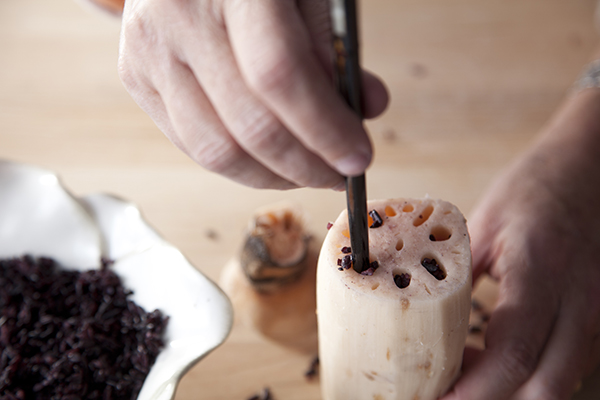 STEP FOUR:
Use two bamboo skewers to attach the top you cut off earlier back onto the lotus root. 
STEP FIVE:
Dissolve the dark brown sugar in water deep enough to cover the lotus root. Place the lotus root in the mixture, cover and simmer until the lotus root is fork tender (about 1-2 hours depending on the thickness of the root).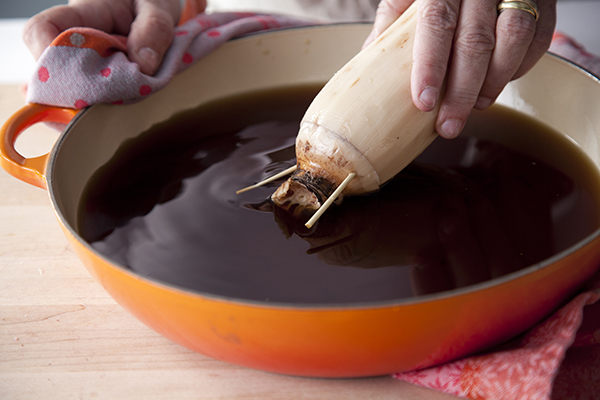 STEP SIX:
Remove from the water and allow the root to cool slightly before slicing into 1/2-inch slices.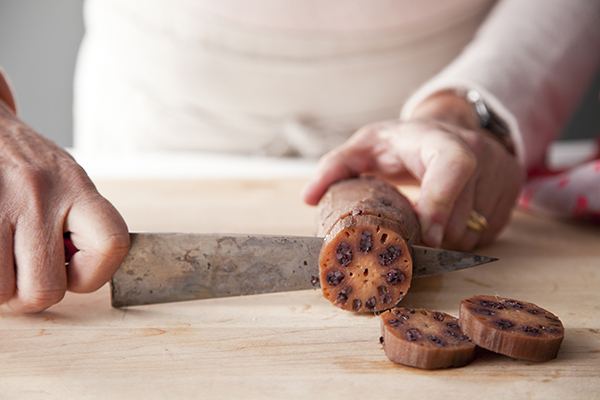 STEP SEVEN:
Drizzle with honey and serve. For a creamy tangy addition, try a small dollop of Greek yogurt along with the honey.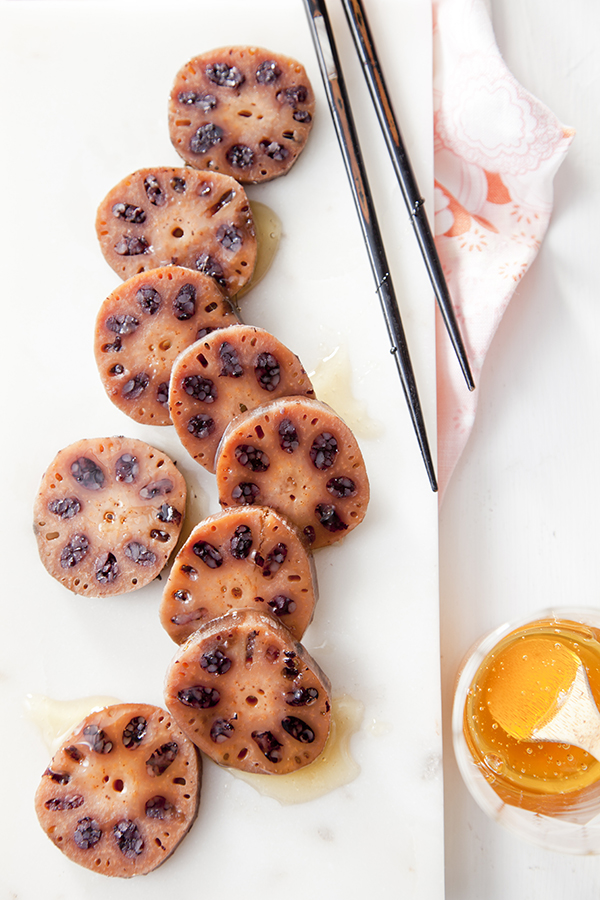 Libbie's Food Styling Props: Colorful fabric from Fabrika Fine Fabrics. White square plates from World Market. Small silver forks are vintage United Airlines First Class service and a gift from my Father-n-law. Black Chopsticks were a gift from my Japanese Aunt Setsuko. Cut lotus root is layed out on a scrap piece of marble in the final image. Honey is in a vintage juice glass with a bamboo spoon.