Cooking Class: Umma's Kimchi
Recipe courtesy of Ho Shim Shaw 
Photography by Chia Chong
Recipe pick by Anna Heritage (Salted and Styled's social media siren)
Recipe via Salted and Styled
We've been lucky to have Anna Heritage in our Salted and Styled midst for nearly 3 years now. She started working for Libbie as an assistant when she was only 16 (going on 35), has modeled for posts, babysat for Chia, made one recipe, and photographed many behind the scenes shenanigans. We're proud to say that she has spread her wings and now, while attending college, she practices photography, models when needed and is training to ride her vintage motorcycle across the United States. When asked which recipe from all our posts she loved the most…there was no hesitation. UMMA'S KIMCHI!! We wouldn't have thought otherwise since the writer of this delicious kimchi recipe is none other than Anna's grandmother.
Umma's Kimchi
with Step By Step Directions
Ingredients:
2 heads of Nappa cabbage, cleaned and sliced in half lengthwise
1 ½ cups coarse sea salt, divided
6 cups of cold water
1 large Korean radish (called mu*) about 2 pounds
6 green onions
Hot pepper mixture:
1/3 cup white onion, pureed
1 1/2 Cup Korean pepper flakes (gochugaru*)
2 teaspoon ground ginger
1/4 cup ground garlic
1/2 cup salted shrimp (sae-wu jut*)
1 cup anchovy extract (myulchi-aek jut*)
1/4 cup toasted sesame seeds
2 tablespoon light brown sugar
1 gallon sterilized glass jar or container with a tight fitting lid
*sold in Korean/Asian markets
Yield: recipe fills a one gallon jar
Prep Time: 30 minutes
Inactive Time: 2 days 8 hours
DIRECTIONS: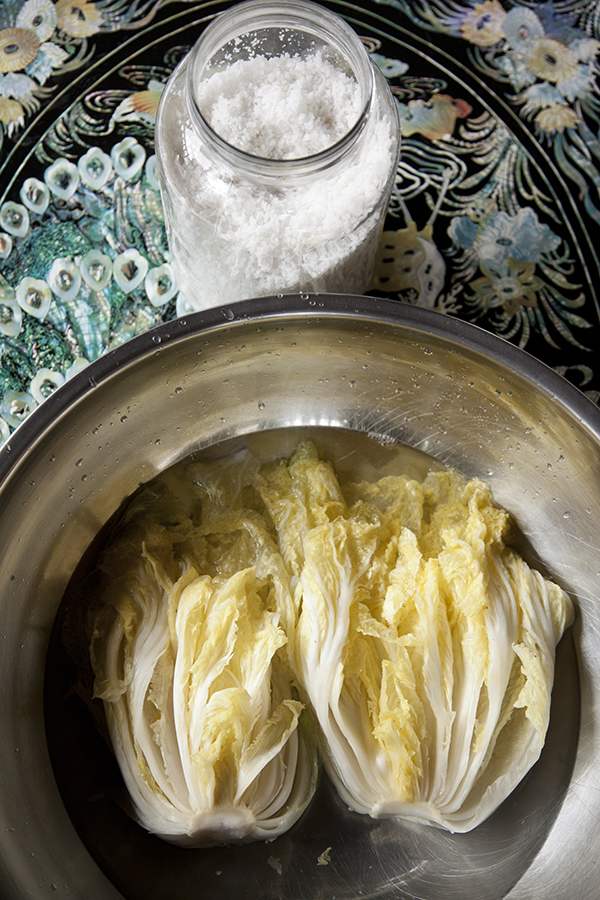 STEP ONE : In an extra large mixing bowl dissolve 1 cup coarse sea salt into 6 cups of cold water and place cabbage halves in to soak.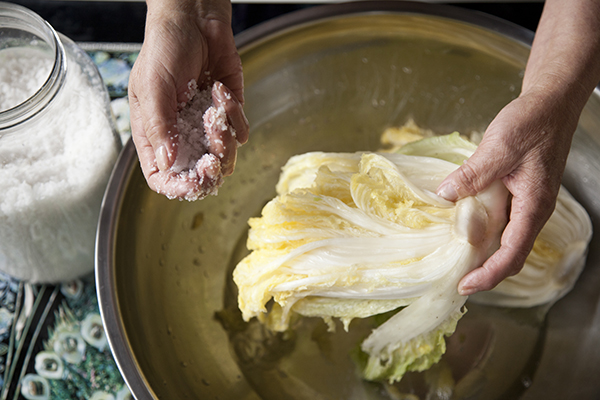 STEP TWO: Sprinkle the remaining salt between the layers of the cabbage.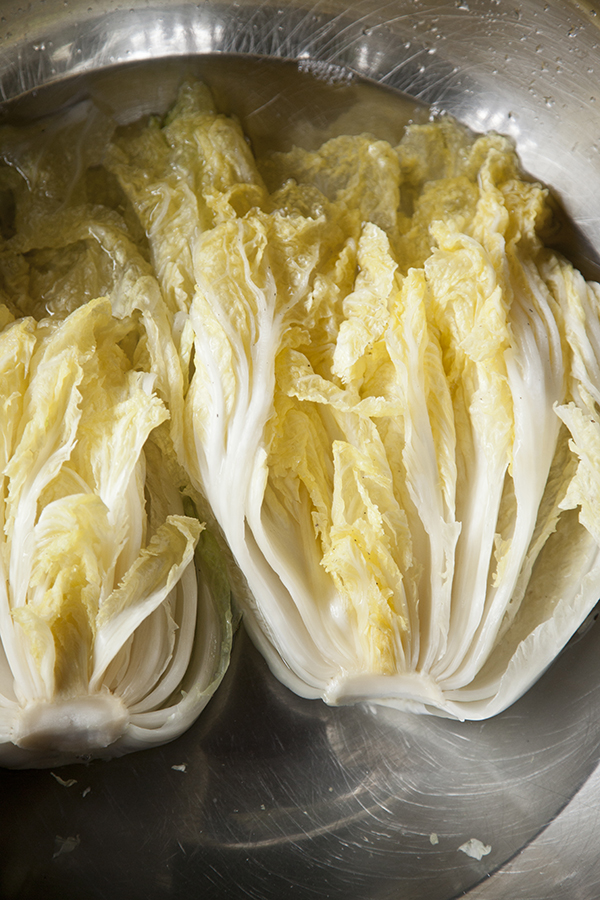 STEP THREE : Let cabbages sit in the salt water for about 6-7 hours (overnight).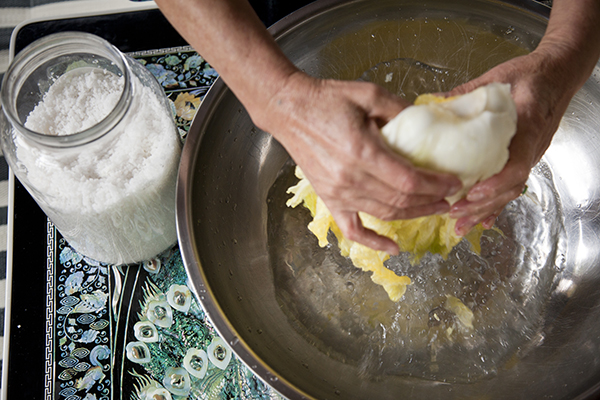 STEP FOUR : Rinse cabbage in cold water to rinse off all salt and squeeze to drain. Allow to dry in the large bowl or colander.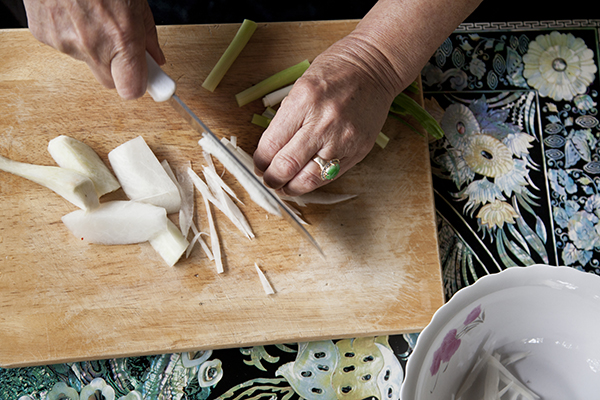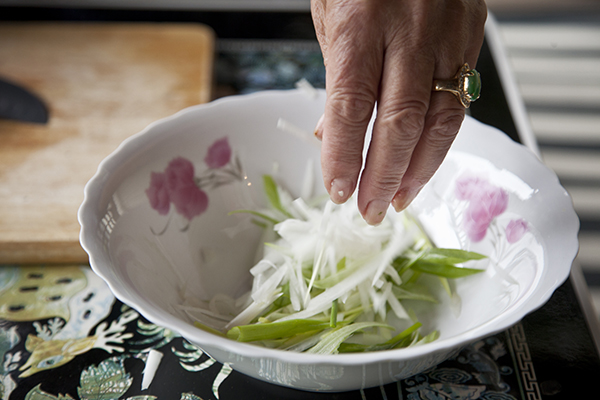 STEP FIVE : Using a sharp knife, cut the radishes and green onions in to fine julienned pieces (Japanese mandolin can be used)  and place in a medium size mixing bowl.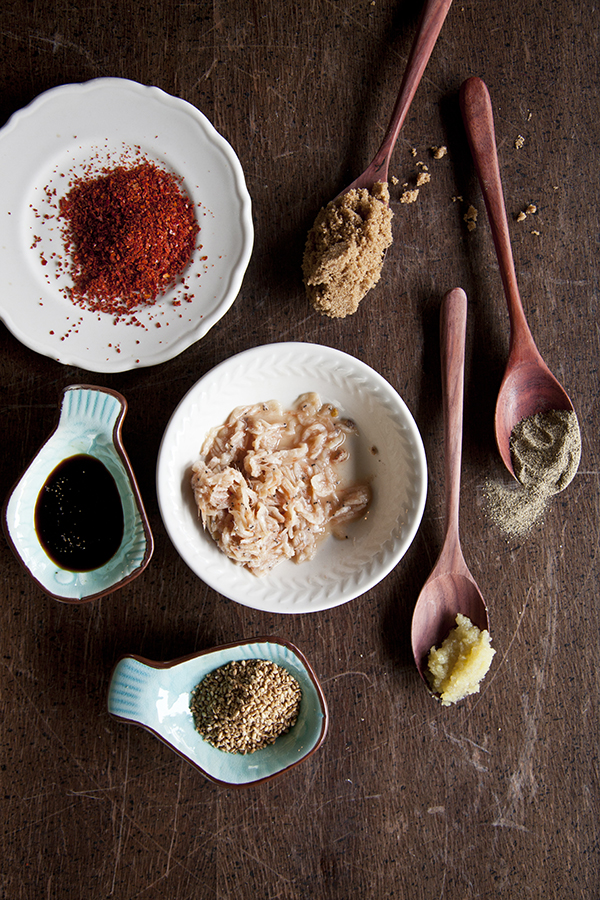 STEP SIX : Assemble the ingredients for the red pepper mixture.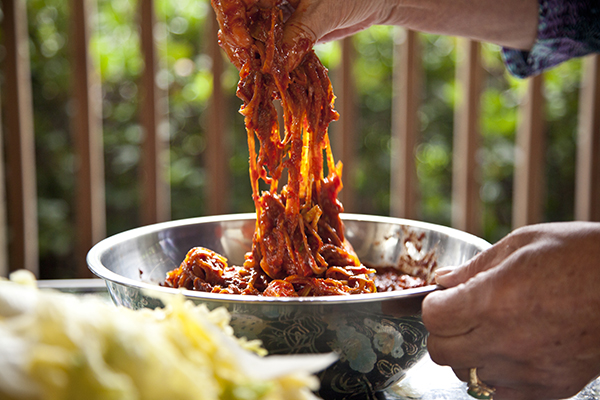 STEP SEVEN : Add the  mixture to the radishes and green onions and mix well (Umma says your hands are your best tool from here on out).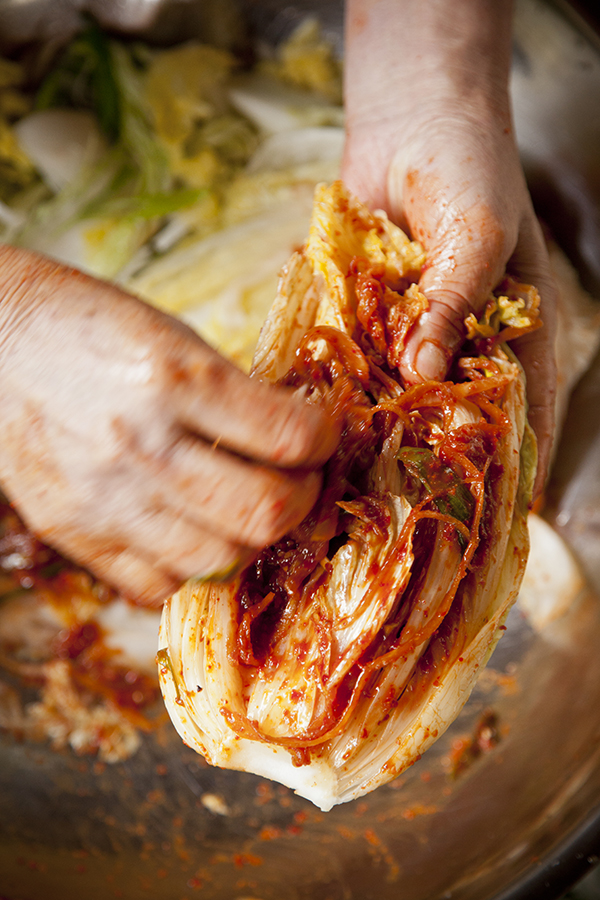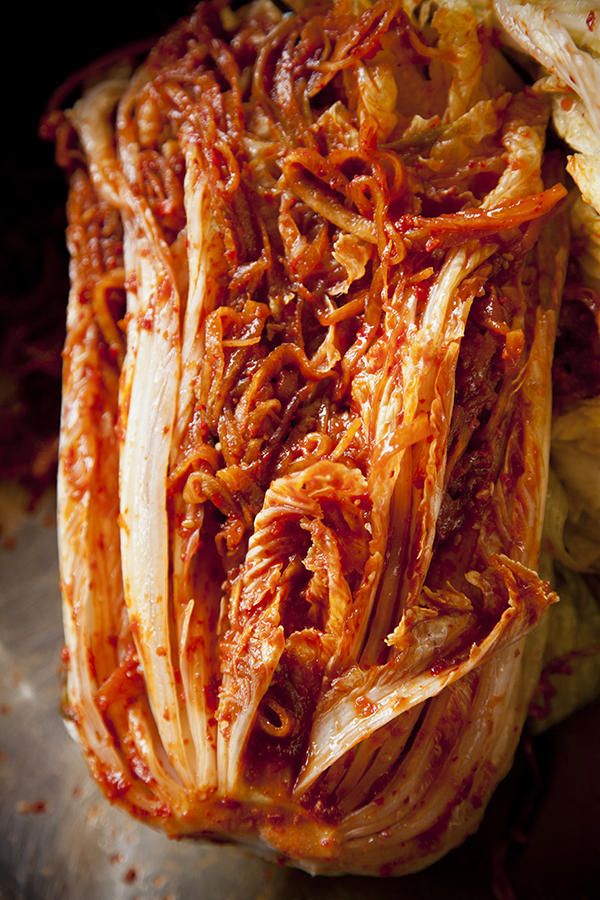 STEP EIGHT : Stuff the red pepper mixture in between the layers of the cabbage.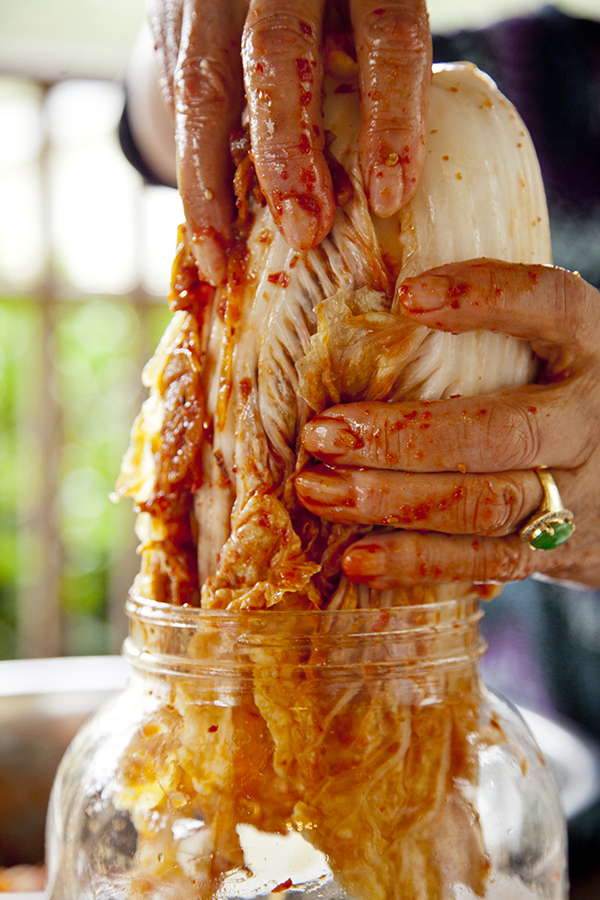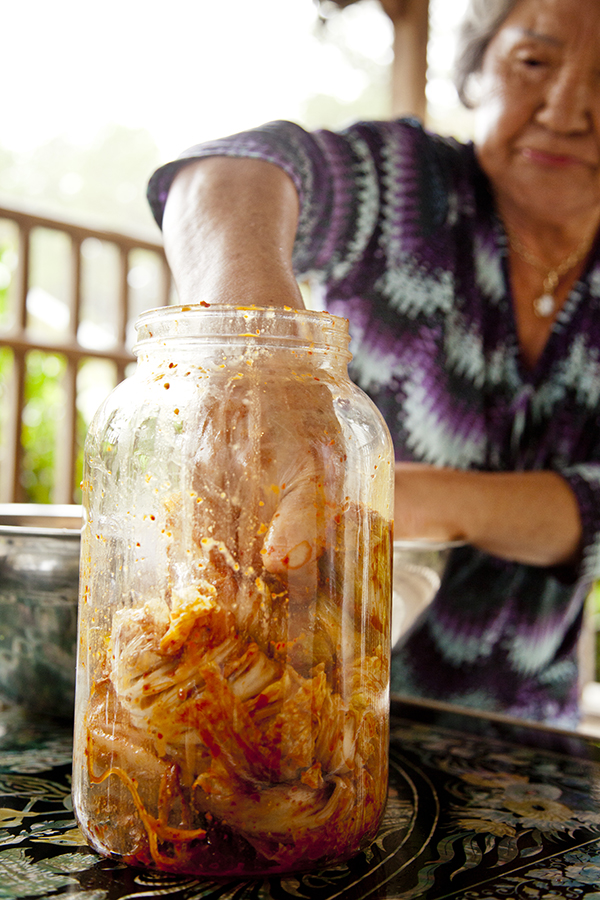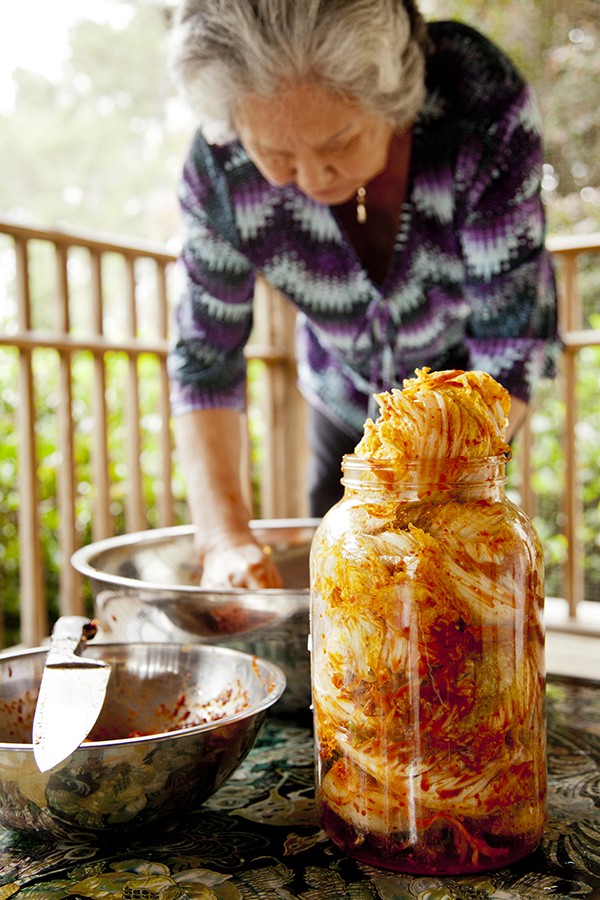 STEP NINE : Squeeze the cabbage together to make it narrow enough to stuff into a one gallon size sterilized jar. If the jar opening is too small, cut the halved cabbage into quarters.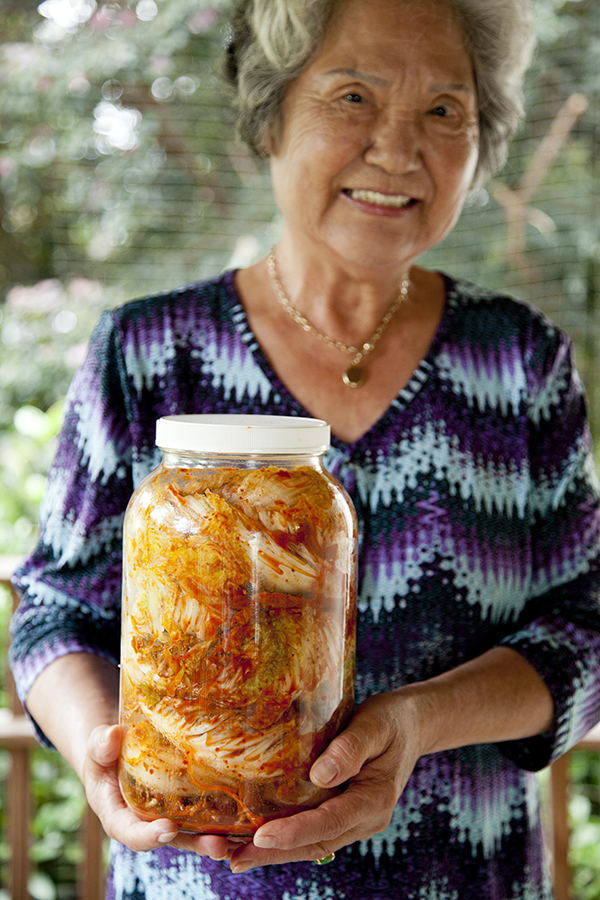 STEP TEN : Cover and allow the kimchi to sit for one or two days at room-temperature then refrigerate. Your kimchi is actually ready to eat at this point, but allowing it to sit at room-temperature starts the fermentation process. Umma likes to eat her kimchi after only two days of fermentation. It's a matter of personal taste.