Daikon Chips with Quick Curry Dip
Recipe and Styling by Libbie Summers
Photography by Chia Chong
Food Stylist Assistant Candace Brower
Recipe via Salted and Styled
Slice, Fry and Dip. Who knew heaven could be this easy to attain.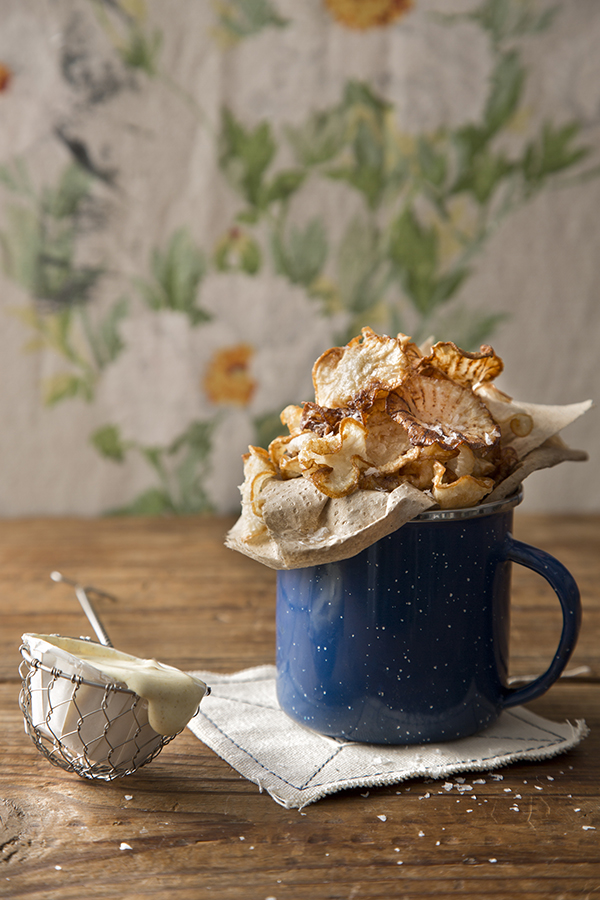 Daikon Chips with Curry Dip
serves 2
Ingredients:
1 daikon (about 8-inches long), sliced uber thin with a mandoline and dried well
canola oil for frying
Flaked sea salt (I always use Maldon)
1/4 cup mayonnaise
1/4 cup sour cream
1 teaspoon curry powder (more if you like a heavier curry flavor)
1/4 teaspoon rice vinegar
Kosher salt and freshly ground black pepper
Directions:
In a medium saucepan or wok add 4-inches of oil and bring to 360 degrees F. Line a baking sheet with paper towels and set aside.
Working in batches, carefully add the sliced daikon to the oil (it may splatter up, so be careful) and turn to coat. Cook until golden around the edges (only a few seconds), remove with a spyder or slotted spoon to the baking sheet and sprinkle with Maldon salt. Continue process with the remaining slices. Serve hot alongside curry dip. (NOTE: Daikon chips will not stay crisp long…make sure to serve immediately)
For Quick Curry Dip:
In a small bowl, stir together mayonnaise, sour cream, curry powder and rice vinegar. Salt and pepper to taste.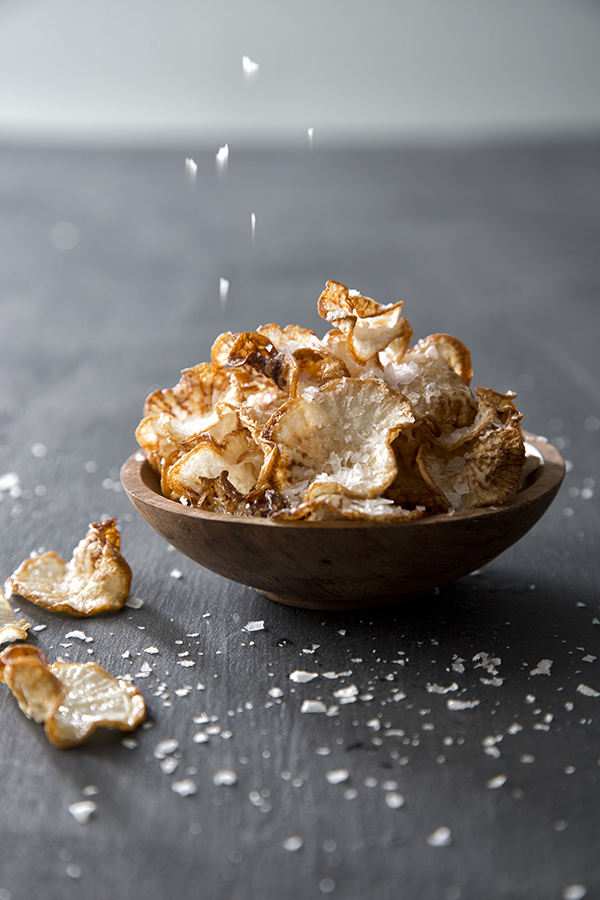 Note: Some daikon hold more water than others. Make sure to dry the daikon well after slicing and before frying and be careful of any splattering when adding to the hot oil.
Libbie's Food Styling Props: (top photo) Shot on reclaimed wood from Southern Pine Company, Wire basket brought home from Malaysia by Chia, Background fabric from the scraps of Katherine Sandoz, enamelware cup from Bass Pro Shops. (bottom photo) Shot on a black board painted table, wooden bowl from World Market.