Edible Flower Ice Cubes
Photography by Chia Chong
Recipe and Styling by Libbie Summers
Recipe via Salted and Styled 
A jaunty addition to any cocktail.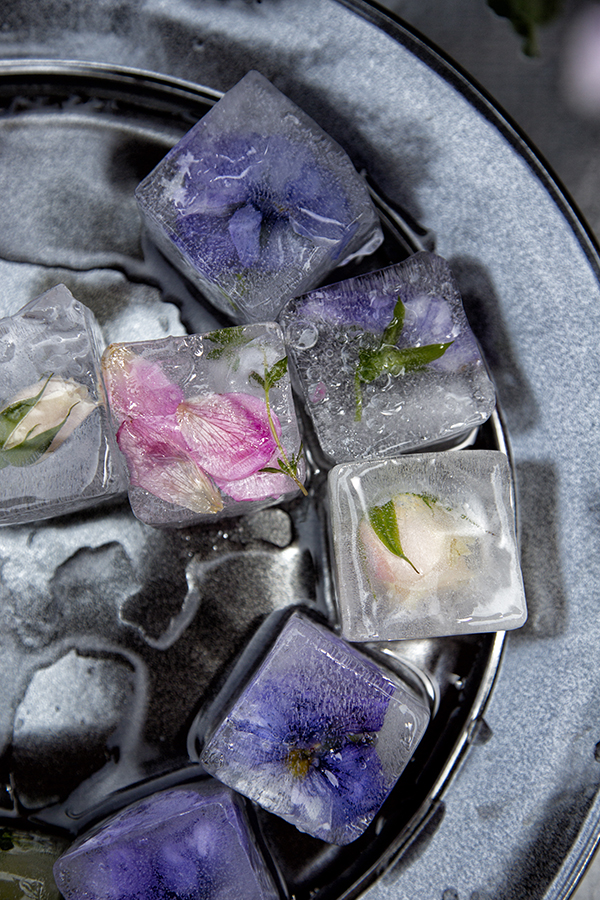 Edible Flower Ice Cubes
makes 12 extra large cubes
Ingredients:
Distilled water, boiled and cooled
2 extra large ice cube trays (we used silicone "bourbon" ice trays that make 6 cubes)
12 edible flowers (Flowers that are grown to be eaten –no pesticides or other chemicals. We used nasturtiums, pansies and roses)
6 small sprigs of thyme
Directions:
Fill ice cube trays about 1/3 full with the distilled water and add a flower facing down. In 6 of the cubes also add a sprig of thyme with the flower. Freeze. Once frozen, fill 2/3 full with the distilled water. Freeze. Fill to the top with water and freeze again.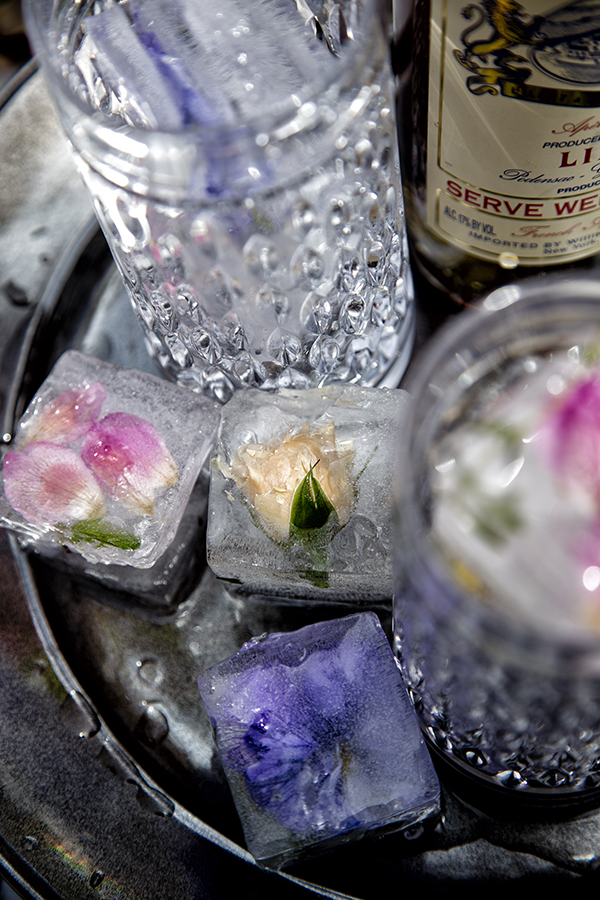 Flower Iced Lillet
serves 6
Lillet (French pronunciation: [li'le]) is a brand of French apertif wine. It is a blend of 85% Bordeaux wines and 15% macerated liqueurs, mostly citrus liqueurs from the peels of sweet oranges from Spain and Morocco and the peels of bitter green oranges from Haiti. Lillet is always served cold.

Ingredients:
12 jiggers chilled Lillet
12 edible flower ice cubes
Directions:
Place two edible flower ice cubes (one only flower and one with flower and thyme) in each of 4 glasses and pour 2 jiggers of chilled Lillet over. Serve immediately.
Libbie's Food Styling Props: Ice cubes shot on a Pewter Stoneware charger by Juliska. Crystal Glassware from Ralph Lauren Home. Vintage glass stir sticks from Habersham Antiques Market.