Fennel Chips
Recipe by Brenda Anderson
Photography by Chia Chong
Styling by Libbie Summers
Wine Pairing by Grapefriend
Recipe via Salted and Styled

 If you like an onion ring and a side of root beer, this recipe is for you!! Also, a great garnish atop a perfectly seared steak or juicy hamburger too.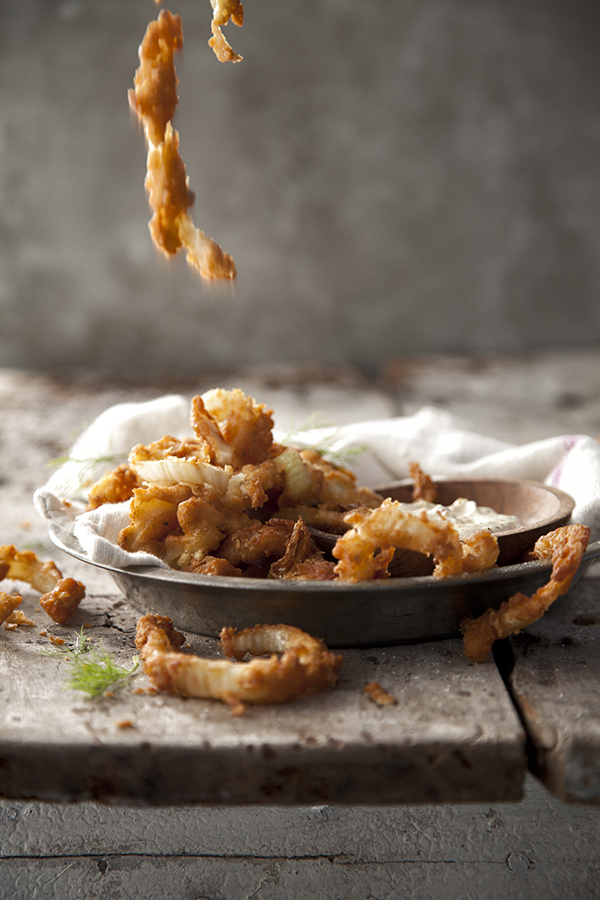 Fennel Chips
serves 4-6
Ingredients:
2 fennel bulbs, sliced 1/2-inch thick
3 (12 ounce) bottles of root beer, divided (I prefer IBC Root Beer)
Orange Mascarpone Dipping Sauce (recipe to follow)
2 cups canola oil for frying
3 eggs
4 cups self-rising flour
1 teaspoon Anise seed
1 1/2 tablespoons kosher salt
2 teaspoons freshly cracked black pepper
Fennel fronds for garnish (optional)
Directions:
In a large zip lock bag pour two bottles of the root beer and add sliced fennel. Refrigerate for 24 hours. Prepare Orange Mascarpone dipping sauce and refrigerate until ready to use.
In a large sauté pan add oil and bring to 360 degrees F.  In a gallon zip lock bag combine flour, salt, pepper and anise seed and set aside.  In a large mixing bowl beat the eggs and the remaining bottle of root beer. Remove fennel from root beer and dip into egg mixture.  Once coated, place fennel in zip lock bag with flour mixture and shake well. In a single layer fry fennel until golden brown and turn once, remove.  Drain on paper towels.  Garnish with fennel fronds if desired and serve immediately with the Orange Mascarpone Dipping Sauce.
Orange Mascarpone Dipping Sauce
makes about 1 cup
Ingredients:
¾ cup mascarpone cheese, room temperature
¼ cup sour cream
Zest and juice from one large orange
2 teaspoons cracked black pepper
Directions:
Mix medium mixing bowl; add all ingredients and stir until well blended. Refrigerate until ready to use.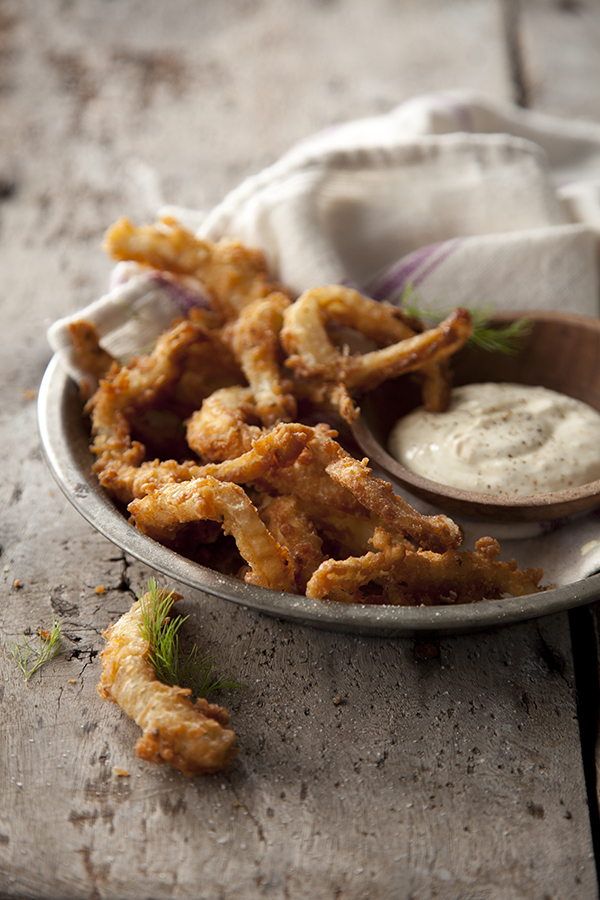 Wine Pairing by Grapefriend:
I hear fried, I think bubbles. You really want something that's going to cut through the fat of anything like fries or even potato chips, and these fennel chips are a perfect candidate for some bubbly. But with the creamy dipping sauce, you also need something full-bodied to hold up to it as well. I'd go with a Prosecco, which tends to have larger bubbles and will be a better bodied match for the fried chips and creamy dipping sauce than Champagne would. 
Libbie's Food Styling Props: Shot on an old small side table that has been completely blanched. Fennel chips in a vintage pie tin from Habersham Antiques Market. Wooden bowl from World Market. Linen from Canvas Home Store.