Fresh Picked Strawberry Bread (balsamic strawberry butter)
Recipe and Styling by Libbie Summers
Photography by Chia Chong
Stylist's Intern: Anna Heritage
Recipe via Salted and Styled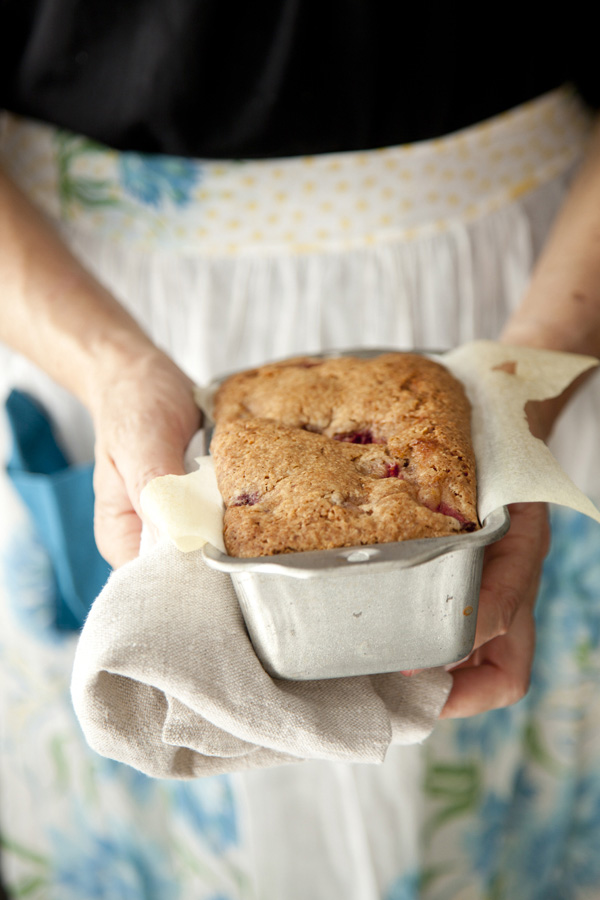 The bread for a perfectly sweet Spring morning.

Fresh Picked Strawberry Bread(balsamic strawberry butter)
Ingredients:
3 cups all-purpose flour
1 teaspoon baking soda
1/2 teaspoon salt
2 teaspoons ground cinnamon
2 cups sugar
4 eggs
1 cup vegetable oil
2 1/2 cups quartered fresh strawberries, divided
1 teaspoon vanilla
zest from one Meyer lemon (may substitute any fresh lemon zest)
Balsamic Strawberry Butter (recipe to follow)
Directions:
Preheat oven to 350ºF. Prepare 2 loaf pans with non-stick cooking spray and line with parchment paper (allowing the long sides to over hang by 3-inches on each side). Set aside.
In a medium mixing bowl, whisk together the flour, baking soda, salt and cinnamon. In a separate large mixing bowl, whisk together the eggs, sugar and oil until fully combined. Puree 1 cup of the quartered strawberries in a blender until not quite smooth (you may need to add a couple of tablespoons of the egg/oil mixture into the blender if the strawberries are too dry). Stir the pureed strawberries and vanilla into the egg mixture. Gradually stir the flour mixture into the egg mixture until combined. Fold in the remaining strawberries and lemon zest. Bake until golden brown and set in the center (approximately 60 minutes). Slice and serve warm or room temperature with Balsamic Strawberry Butter.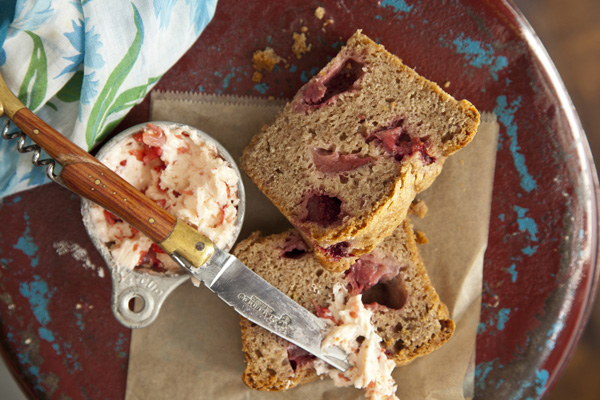 Balsamic Strawberry Butter
yields approximately ¾ cup
Ingredients:
½ cup Irish butter, room temperature
6 fresh strawberries, washed, stemmed, chopped and mashed
1 teaspoon balsamic glaze
Directions:
In a small mixing bowl, stir together all the ingredients until well combined.
Makes: 2 loaves
Prep Time: 20 minutes
Cook Time: 1 hour
Difficulty: Easy
Libbie's Food Styling Props: First of all, thank you to my intern of the past 6 weeks, Anna Heritage, for baking this recipe for us to shoot. Anna has been a joy among the chaos. Image 1: Vintage apron picked up for me by my friends Joel and Erika Snayd of Rethink Design Studio at a vintage store in Charleston, SC. The linen napkin is Libeco and the loaf pan is from my intern's mother, Kay Heritage. Image 2: Shot on an old stool borrowed from Amy Zurcher at shopSCAD, butter holder is an old tin measuring cup from Habersham Antiques Market, the cloth is the same vintage apron from the other shot (used here for continuity), knife is a French picnic knife from Laguiole (pronounced lie-ule), strawberry bread is sitting on natural waxed paper.