Garlic Cracker Crisps and Garlic Pimento Cheese
Recipes and Styling by Libbie Summers
Photography by Chia Chong 
Recipe via Salted and Styled
Garlic crackers long enough to make a statement in presentation. Spread them with our Garlic Pimento Cheese and they are BEYOND tasty enough to make an even bigger statement in your belly.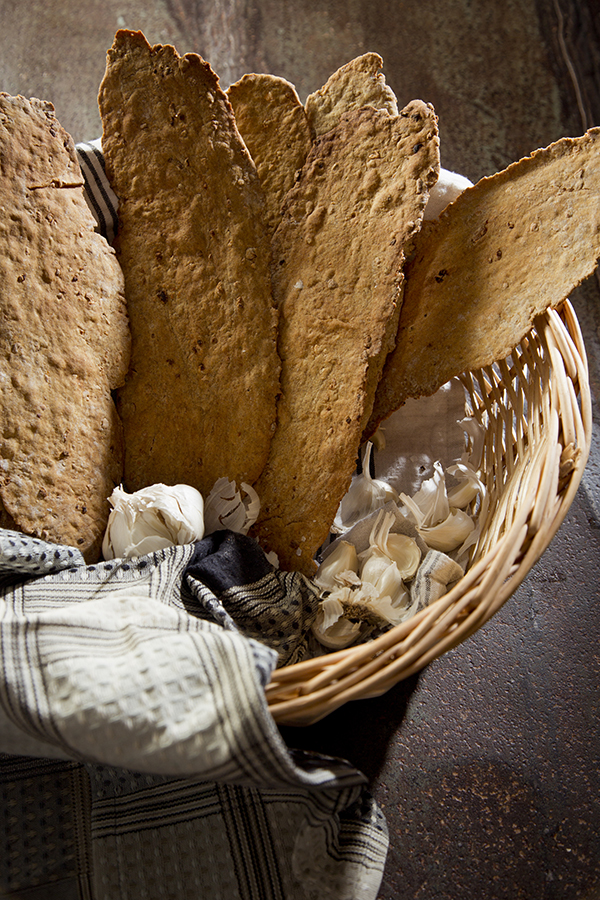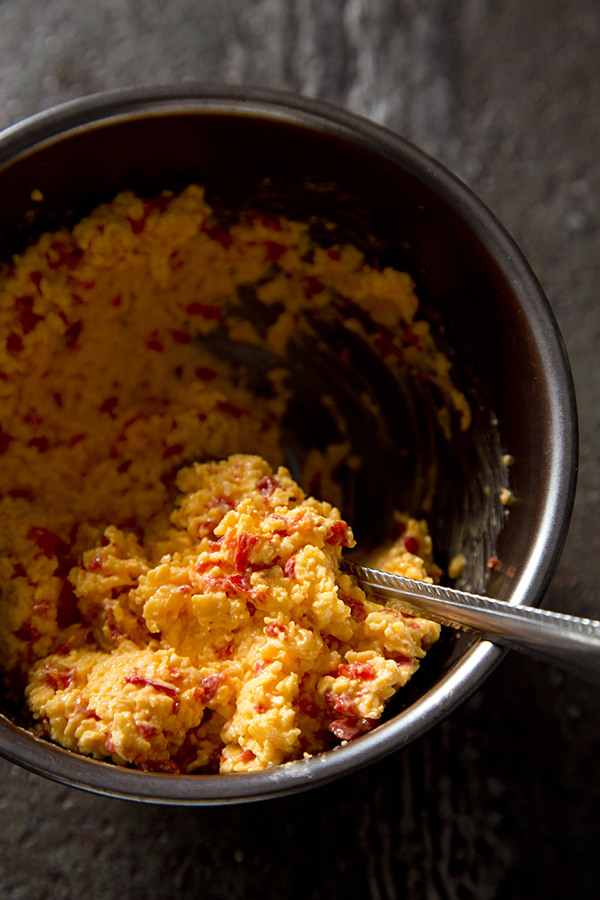 Garlic Cracker Crisps
makes 8 (5×16-inch crackers )
Ingredients: 
1 ¼ cups all-purpose flour, plus more for dusting work surface
1 cup whole wheat flour
1 ½ teaspoons salt
1 ½ teaspoons baking soda
3 tablespoons dried minced garlic
2 tablespoons dried minced onion
3 tablespoons vegetable oil
6 ounces water
Directions:
In a large mixing bowl, whisk together the whole wheat flour, all-purpose flour, salt and baking soda, garlic and onion. Add the vegetable oil and stir just until combined. Add the water and stir until combined. Turn the dough out onto a lightly floured surface and knead just until together (about 5 times). Dough should be the consistency of a pasta dough. Divide into 8 equal parts and cover with a towel. Allow to rest for 30 minutes.
Place baking rack in the middle of the oven and preheat oven to 450ºF. Line a baking tray with parchment paper and set aside.
Working with one piece of dough at a time, turn it out onto a lightly floured surface and roll out to a very thin oblong shape the length of your baking sheet and 4-5" wide. Place on the baking sheet and continue with the next piece of dough. You should be able to fit two crackers on each baking sheet.
Bake for 4 minutes and then carefully flip the crackers and continue to bake until golden brown (about 4 to 6 more minutes depending on the thickness of your dough). Remove from the oven and place on a cooling rack. Repeat with remaining pieces of dough. When all are cool, break into desired sizes. (note: The thickness of the dough will determine the final baking times, so don't walk away these crackers cook quickly.) Serve alongside your favorite soups and dips or try our Garlic Pimento Cheese for another subtle kick of garlic!
Note: Garlic Cracker Crisps will keep in an airtight container for 7-10 days.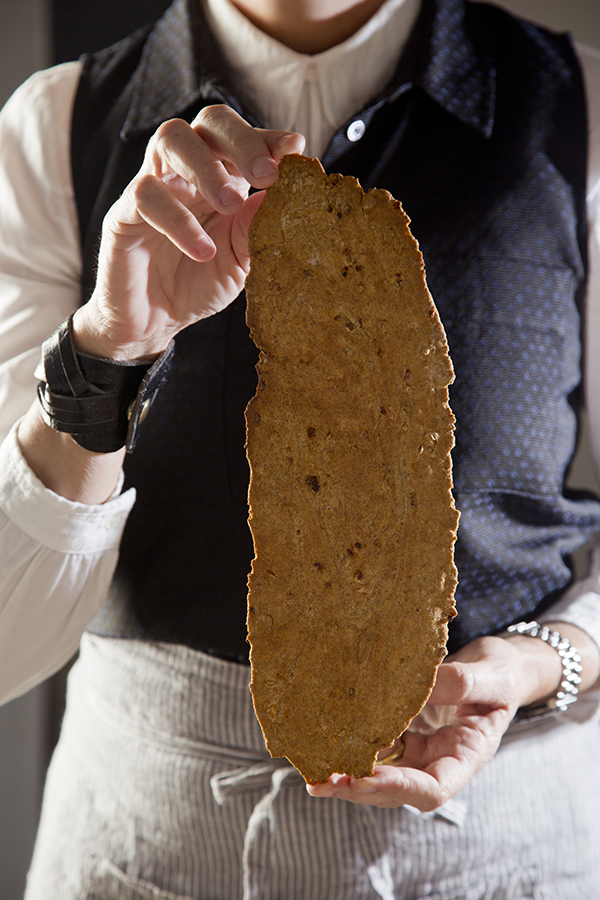 Garlic Pimento Cheese
makes about 3 1/2 cups
Ingredients:
14 ounces sharp cheddar cheese, grated using the large grate side of a box grater
4 garlic cloves, minced
Dash of Worcestershire sauce
Dash of hot sauce
1/2 cup mayonnaise
1 (4 ounce) jar of pimentos, drained (juice reserved) and chopped
Salt and freshly ground black pepper
Directions:
In the bowl of a food processor, add the cheese, garlic, Worcestershire sauce, hot sauce, and mayo. Pulse until just combined (mixture will still be a bit dry and crumbly) Transfer to a bowl and stir in the drained pimentos. If the mixture is still too stiff, add a little pimento juice to make it creamy. Season with salt and pepper to taste. Stored in airtight jars in the refrigerator, this will keep for up to a week. Serve with Garlic Cracker Crisps.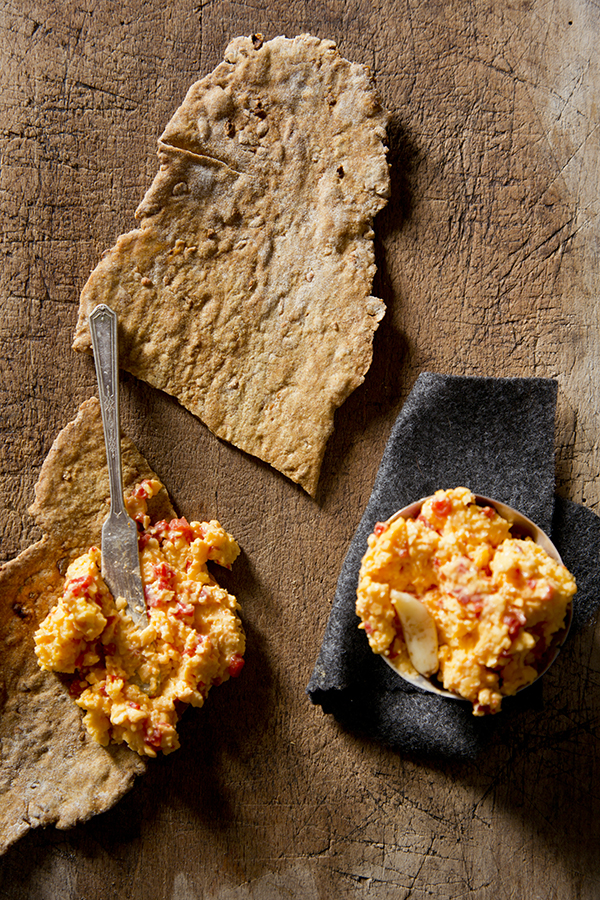 Libbie's Food Styling Props: (Photo #1 from the top) Surface is an old piece of tin, basket is an old easter basket that the handle was torn off of. Black and gray linen from some place I have no memory of. (Photo #2) Surface is the same old piece of tin, Bowl is pewter stoneware from Juliska. (Photo #3) That's me holding my creation. Shirt and vest both from Billy Reid, Leather cuff from Satchel, apron from Provisions by Food 52. (Photo #4) Surface is a very old cutting board, pimento cheese is in an old tin mold with a piece of gray flannel underneath.
– See more at: http://www.saltedandstyled.com/2015/01/07/garlic-cracker-crisps-and-garlic-pimento-cheese/#sthash.o8xPFpuW.dpuf