Garlic Fried Rice
Recipe and Styling by Libbie Summers
Photography by Chia Chong
Recipe via Salted and Styled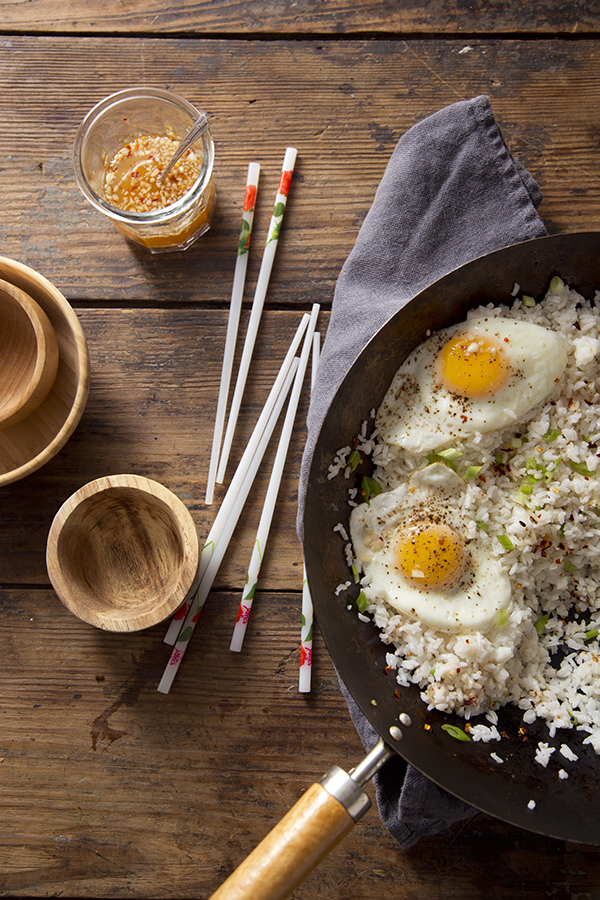 The first time I smelled the scent of Sinangag (garlic fried rice) wasn't on a back road or busy restaurant in Manila as one would think, it was in a small coastal town in Eastern North Carolina. I was in my side yard and the breeze off the adjacent Bay River was blowing in just the right direction as to carry the scent of garlic and pepper from my neighbors house to mine like some kind of magic carpet. My new Filipino neighbor, Cardel, had been transplanted to our bucolic village via a new American husband only a few days before. She was, like every other Filipino I had met in my life, warm, welcoming and willing to share her recipe when I asked about that magic carpet transited scent.
We cooked in Cardel's kitchen many times before I moved from the area, but I'll always remember the first time. A breakfast made by her and assisted by me that consisted of the most fragrant garlic fried rice, with a pepper vinegar drizzled over, topped with a perfect fried egg and served with a side of very colorful conversation…some of which I understood.
Garlic Fried Rice
serves 4 
Ingredients:
½ cup rice vinegar
¼ teaspoon crushed red chile flakes
16 cloves garlic, minced
Flaked sea salt and coarse ground black pepper
⅓ cup canola oil
4 cups cold cooked white rice
2 scallions, thinly sliced
4 fried eggs
Directions:
In a small mixing bowl, whisk together the vinegar, chili flakes and 1 heaping tablespoon of garlic. Salt and pepper to taste and set aside.
Place a wok or large skillet over medium high heat. Add oil. Stir in remaining garlic and cook, stirring constantly, just until golden (this will go fast). Remove a large spoonful of the garlic and set aside. Add rice to the wok and cook, stirring and breaking apart the large clumps until the rice is a little crisp and completely heated through (about 5 minutes). Season with salt and pepper. Remove from heat and drizzle with some of the vinegar mixture. Stir in scallions and reserved garlic. Serve with a fried egg on top and extra vinegar sauce on the side.
Libbie's Food Styling Props: (Top Photo) Surface is old wood salvaged from a home in South Carolina. Glass is an old jelly jar. Spoon is my husband's baby spoon. Chopsticks Chia brought back from her last trip home to Malaysia. Wooden bowls from Star Provisions. Wok my own. Gray Linen from Libeco. (Bottom Photo) Surface is old salvaged wood from a home in South Carolina. Bowl from World Market. Travel chopsticks from Muji. Napkin is an old linen skirt that was torn up to make napkins. Plastic soup spoon saved from old to go orders of Pho.