Green Apple and Tomatillo Soup
Recipe and Styling by Libbie Summers 
Photography by Chia Chong
Recipe via Salted and Styled
Somedays a girl just has to say no to meat –luckily those days don't come often.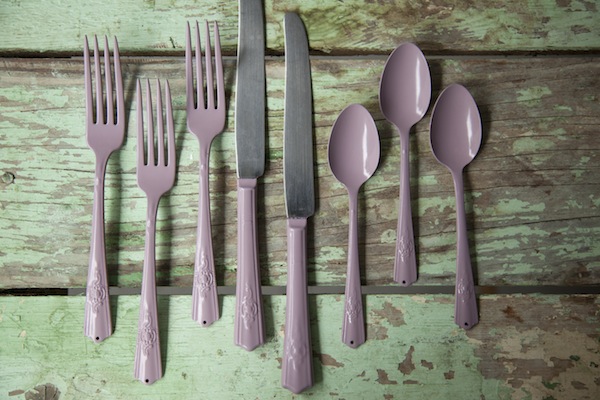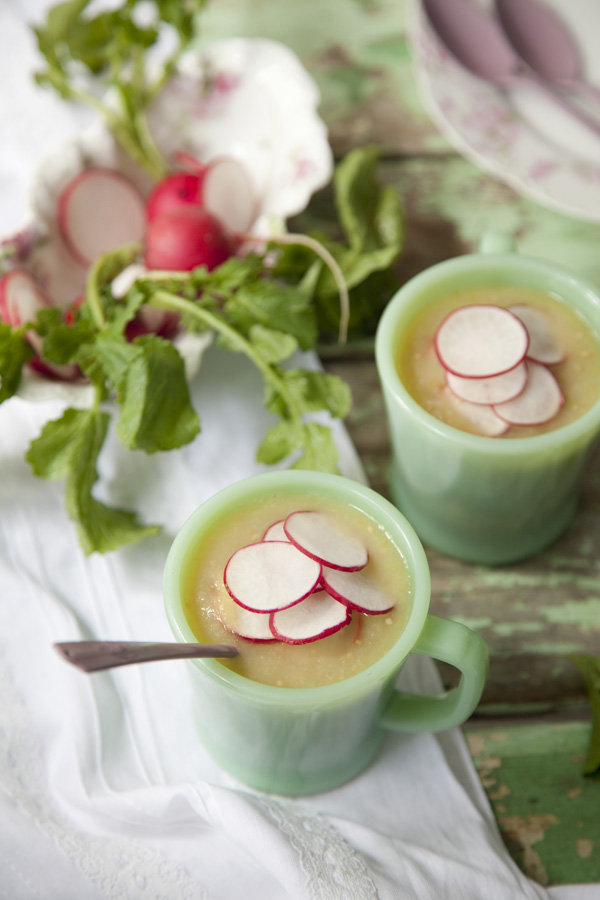 Green Apple and Tomatillo Soup (sliced radishes)
Ingredients:
12 medium tomatillos, husks and stems removed, washed
1 tablespoon olive oil
½ yellow onion, chopped
6 small green apples, cored, peeled and chopped
½ teaspoon minced ginger
2 cups vegetable stock
Kosher salt and freshly ground pepper to taste
2 radishes, thinly sliced
Directions:
Fill a large saucepan halfway up with water and add tomatillos. Place saucepan over high heat and bring to a boil. Reduce heat to simmer and continue to cook tomatillos until the skin begins to split (approximately 15 minutes). Remove tomatillos from water with a slotted spoon and place in a blender. Process until smooth.
In a medium saute pan over medium-high heat, add olive oil, onion and apples. Cook just until apples are tender and onions are translucent (approximately 5 minutes). Stir in ginger and cook for an additional minute.
In a medium saucepan, pour the pureed tomatillos. In the same blender, place the onion apple mixture and puree until smooth. (Note: you may want to add a little of the vegetable stock to help the mixture puree.)
Pour the apple onion puree into the tomatillos. Stir in the vegetable stock. Salt and pepper to taste. Cook over low heat for 15 minutes. Serve hot or luke warm garnished with sliced radishes.
Serves: 4
Prep Time: 10 minutes
Cook Time: 35 minutes
Difficulty: Crazy simple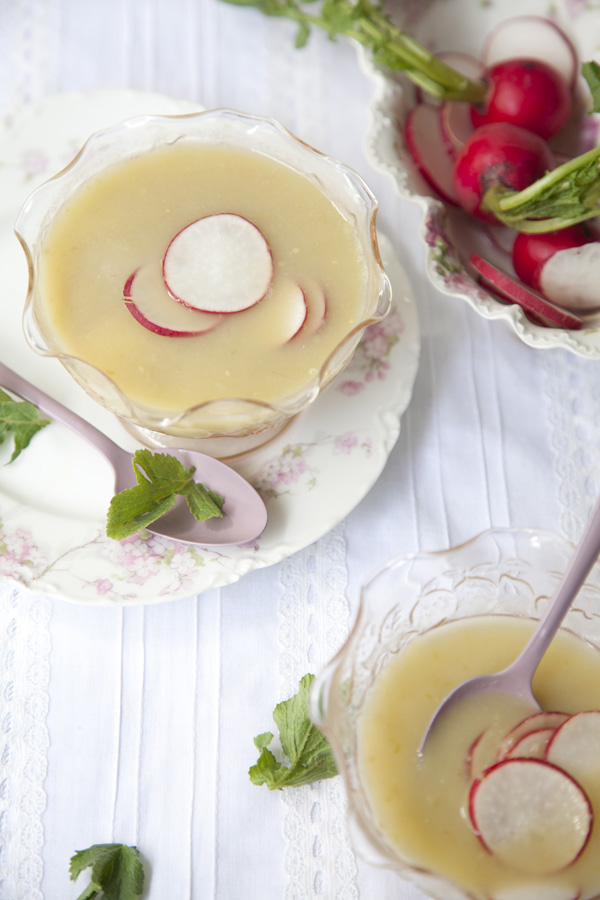 Libbie's Food Styling Props: Green weathered table from Habersham Antiques Market; Jadeite mugs from my personal collection; Antique French china borrowed from podcast host Brenda Anderson for this shoot (Note: anything I ever need that has pink on it, I call Brenda); White fabric from Jo-Ann Fabric, powder-coated purple flatware is the genius of my friend Joel Snayd of Rethink Design Studio.