Grilled Scallops and Cherry Salsa
Recipe and Styling by Libbie Summers
Photography by Chia Chong
Wine Pairing by Grapefriend
Recipe via Salted and Styled
While working as a chef aboard some of the most beautiful sailing yachts on the water, I had a few "go to" lunch recipes for when plans and weather changed as fast as a bikini bottom. This was one of them. A quick sweet hot salsa working it's magic in a bowl while I quickly grilled tender scallops. Light, delicious, quick and fresh –this dish was loved by even the most contrary guests….of which there were many.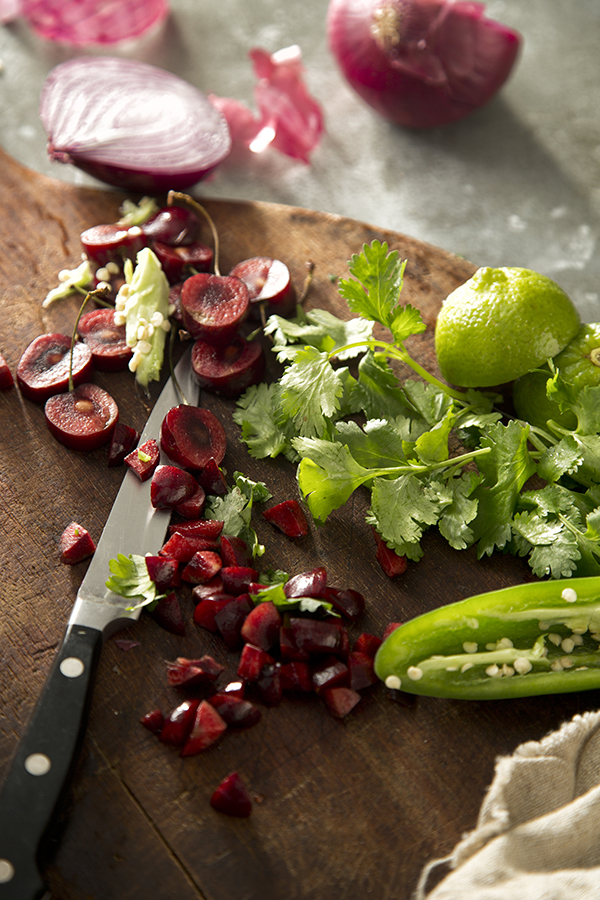 Grilled Scallops and Cherry Salsa
serves 4
Ingredients:
1 1/2 pounds fresh cherries, pitted and diced
1/2 jalapeno, finely diced (remove seeds if you like less heat)
1/2 medium red onion, finely diced
1/4 cup chopped cilantro
Juice of 2 limes
Kosher salt and freshly ground black pepper
2 pounds sea scallops
Directions:
Heat a grill pan or outdoor grill to high heat.
In a medium mixing bowl, stir together the cherries, jalapeno, red onion, cilantro and lime juice. Toss to coat. Salt and pepper to taste and set aside.
Dry the scallops completely and salt and pepper. Place the dry scallops on the hot grill and grill just until charred and just cooked through (about 3 minutes). Turn and cook another 3 minutes. Divide scallops evenly among 4 plates and top each with a heaping spoonful of salsa.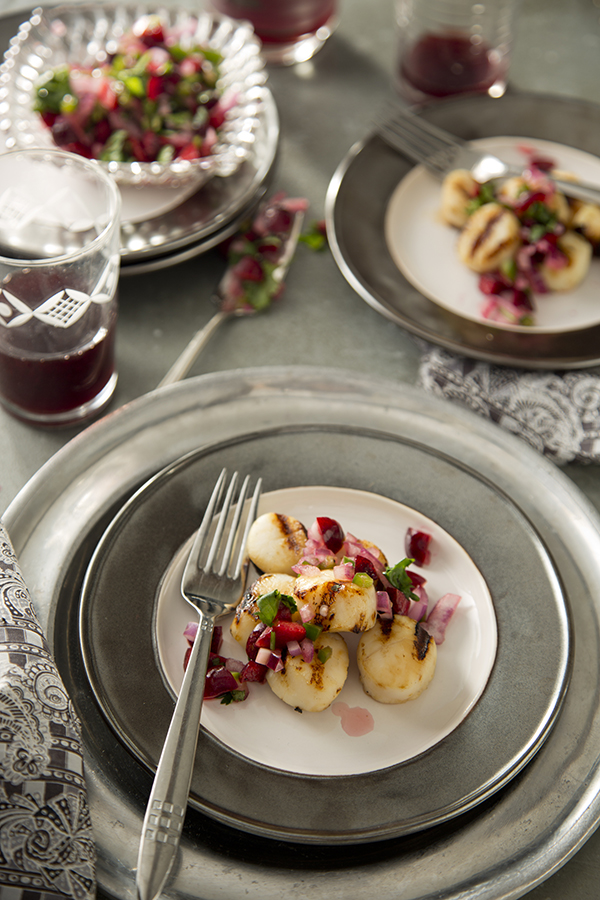 Wine Pairing:
Nothing says cherry more than Pinot Noir. But when you've got not only white fish but a spicy ingredient in a recipe, you do not want to subject your mouth to red wine. Have no fear, rosé is here! Not only does rosé go fantastically with spicy food (I like to think of it like a soothing ice cube for the spice), but we can also get one made from Pinot Noir which will complement the bing cherries. Most Pinot Noir rosé that I love comes from the Willamette Valley in Oregon, but I actually just had a great one from Chamisal (2011 Chamisal Estate Rosé, $22, which comes from Edna Valley, CA) the other day that would be perfect with this. 
Love Cherries? Try some other Cherry Recipes:
Cherry Verenya
Russian Spice Cookies
Adult Cherry Coke Float
Sour Cherry Pie
Libbie's Food Styling Props: (top image) Wood cutting board on zinc table top from Bastille Metal Works, linen fabric scrap from Hancock Fabric. (bottom image) Zinc surface, Pewter chargers and glassware purchased from Habersham Antiques Market, Plates from Juliska, Forks are Laura Ashley, fabric I purchased in France, square glass dish on loan from Ms. Betty Anderson.