Happy Marriage Oyster Stew
Recipe and Styling by Libbie Summers
Photography by Chia Chong
Recipe via Salted and Styled
Until I went from spinster to wife, I had never eaten fresh oysters. I grew up in small-town Missouri and the closest I ever got to an oyster before marriage, was picking it out of my Grandma Lula Mae's Thanksgiving dressing. Knowing what I know now, I'm not sure which shoe bottom Grandma scraped the oysters for her annual "ode to the sea" dressing from. Every great cook has one misstep, and Grandma's oyster dressing was her achilles heel.
Around my 29th birthday, I married a professional yachtsman. Josh spent his youth sailing on the Chesapeake Bay. On any free day from school, his mother (on her way to work) would load him up with a small lunch packed cooler and help him launch his Laser into the bay. All day he would sail his craft, often tormenting the oyster fisherman by sailing circles around them as they worked. Eight hours later, Josh's mother would return to the same launching spot where he would be waiting –empty cooler in hand. If it happen to be a particularly frigid day, mother and son would stop to get a warm cup of oyster stew on their way home.
As with any happy marriage, there are a few things we do just for the sanctity of the union…a kind of love proof if you will. For me –Josh keeps our cars washed, fueled and in perfect working order. For him –I bake pies, make oyster stew and put out.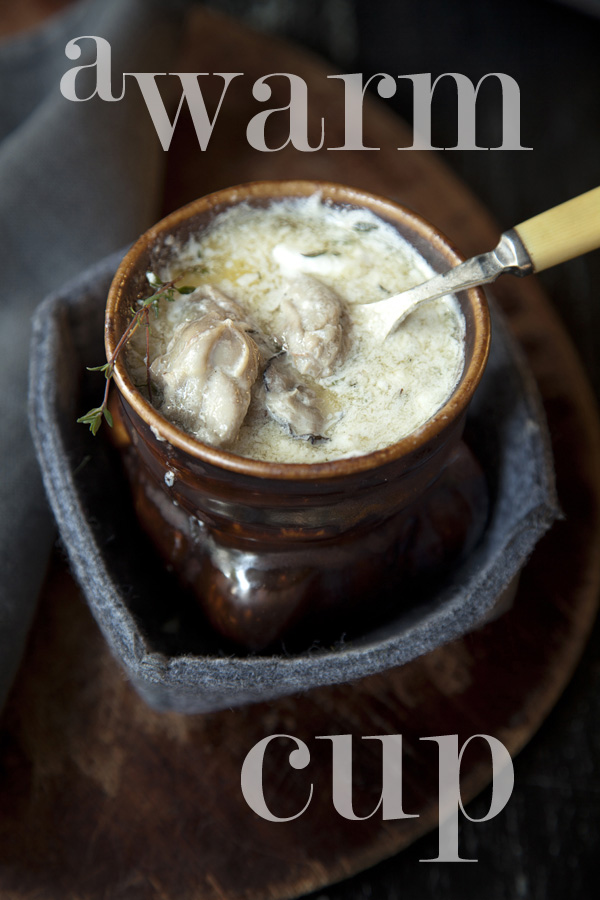 Happy Marriage Oyster Stew
serves 4
Ingredients:
4 tablespoons butter
1 large shallot, finely diced
2 celery hearts, finely chopped
1 teaspoon fresh thyme and more for garnish
1 pint freshly shucked oysters in liquid
2 cups half-and-half
1 cup milk
Kosher salt and freshly cracked pepper
1/2 cup whipping cream
Oyster crackers (optional)
Directions:
In a large saucepan over medium-low heat, add butter, shallots, celery hearts and thyme. Cook until shallots are translucent (approximately 5 minutes). Add oysters and liquid and cook for 3 to 5 minutes, or just until the edges of the oysters begin to curl. Stir in half and half and milk. Salt and pepper to taste. Cook until heated through (approximately 15 to 20 minutes).
In a large mixing bowl, whip cream until soft peaks form and gently fold into stew just before serving. Garnish stew with fresh thyme and serve with oyster crackers.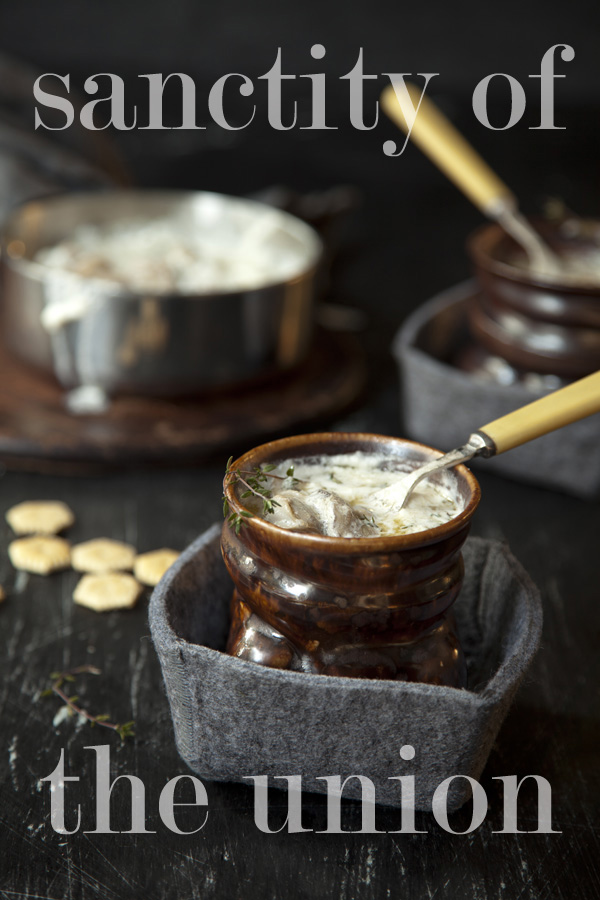 Libbie's Food Styling Props: Gray felt bowls from Canvas Home Store (my new favorite store in NYC), Cups are actually coffee cups borrowed from Perc Coffee (somebody in Savannah made them, but no one can remember where he lives), Vintage bakelite spoons picked up at Wertz Brother's Antique Mart during a commercial shoot in LA, Table from Habersham Antiques Market and repainted at least 30 times….