Healthy Artichoke Dip
Recipe and Styling by Libbie Summers as inspired by Nancy Assunscao
Photography by Chia Chong
Recipe via Salted and Styled
Nancy is a spicy Portuguese publicist with talent, intellect and a rockin' body that goes on for days. On a recent visit to her home, she made a dip similar to this…minus the artichoke hearts. I think it's better now. I hope she agrees –she may just kick my ass.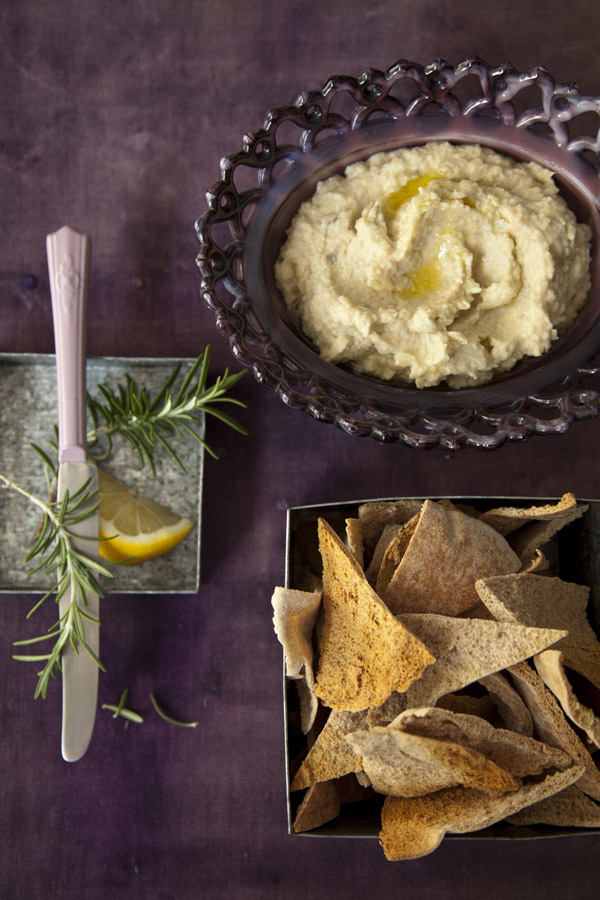 Healthy Artichoke Dip
yields a scant 3 cups

Ingredients:
1 (13.75 ounce) can artichoke hearts, drained and chopped
2 (16 ounce) cans white beans, drained and rinsed
1 lemon, zest and juice
2-4 tablespoons olive oil, plus more for drizzling
2 tablespoons chopped rosemary
¼ teaspoon ground cumin
Kosher salt and freshly ground black pepper
Whole wheat pita chips, toasted
Directions:
In the bowl of a food processor fitted with a metal blade, add the artichoke hearts, beans, lemon zest, lemon juice, 2 tablespoons olive oil, rosemary and cumin. Pulse just until combined and smooth. Add additional olive oil if mixture is too thick (should be the consistency of a hummus). Salt and pepper to taste. Serve room temperature with a drizzle of olive oil and toasted whole wheat pita chips for dipping.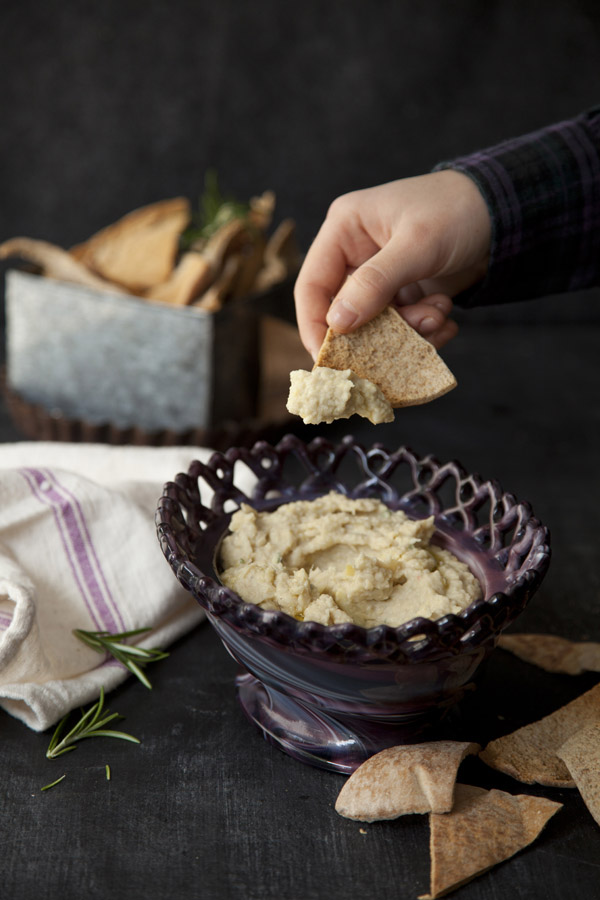 Libbie's Food Styling Props: Image 1: The base is a faded purple velvet from the inside of an old jewelry case borrowed from Amy Zurcher at shopSCAD; pita chips are inside a simple galvanized box; the lid to the galvanized box is under the rosemary, knife and lemon; The bowl that holds the dip is the base to a vintage marbled purple glass chicken purchased at Habersham Antiques Market. Image 2: the dip now sets on a chalkboard; linen from Canvas Home Store, the hand is my intern, Anna Heritage, and she is wearing a purple plaid flannel shirt from Banana Republic.