Heavenly Mash
Recipe by Joshua Summers
Photography by Chia Chong
Styling by Libbie Summers
Recipe via Salted and Styled
Run out of sweet potatoes for an unadulterated sweet potato mash? Do what any guy would do and add what you have on hand. In this case it was daikon. The result…a delicious Heavenly Mash!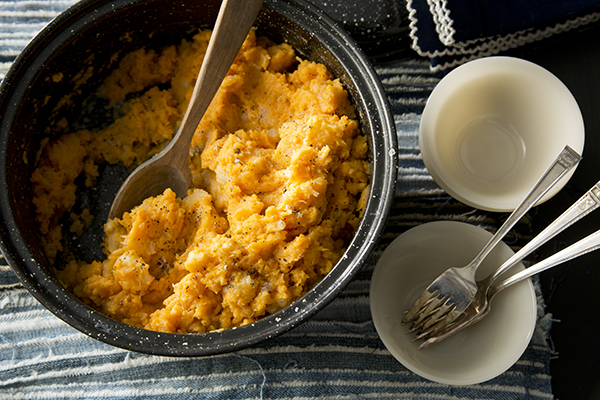 Heavenly Mash
serves 4
Ingredients:
2 large sweet potatoes, peeled and cut into large chunks
1 large daikon, peeled and cut into large chunks
3 tablespoons butter
1/4 cup heavy cream
Kosher salt and freshly ground black pepper
Directions:
Add potatoes and daikon to a large saucepan and cover with cold water. Add a heavy sprinkling of salt. Place over medium high heat and cook until both potatoes and daikon are fork tender (about 15 minutes). Drain potatoes and daikon and return to pan (not over heat). In a small saucepan, heat butter and cream together. Mash potato mixture and gradually add some of the butter cream mixture (you may not use all of it) until you have reached the consistency you like (Josh Summers likes a chunky consistency). Salt and pepper to taste. Serve hot.
Cooks Note: Leftover Heavenly Mash makes a great potato pancake for breakfast. Top with a fried egg and a drizzle of maple syrup!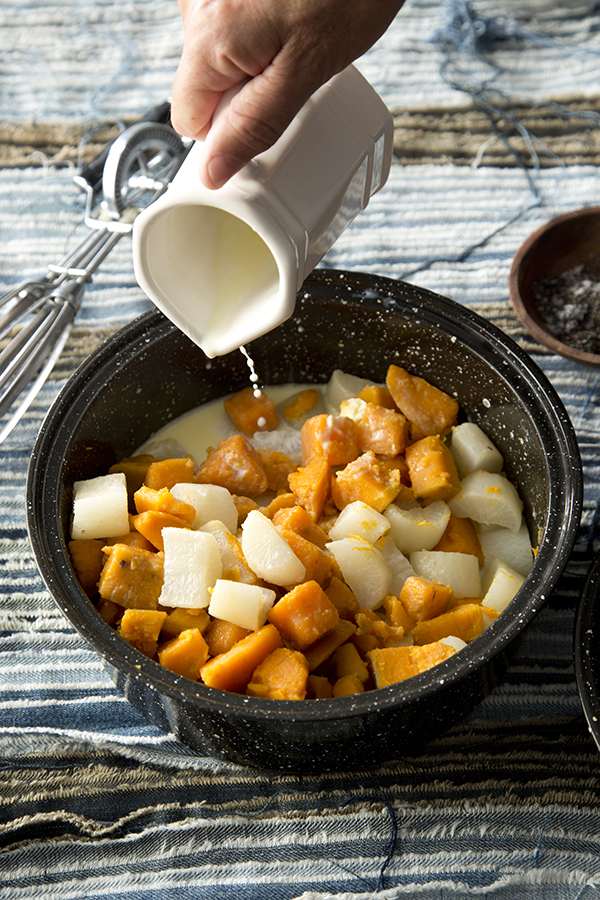 Libbie's Food Styling Props: Custom denim table runner from Eric Hildebrand. Old enamelware pot, white cream pitcher and old rotary beater courtesy of Betty Anderson. Silver monogrammed "S" spoons from Habersham Antiques Market. Old bowls found at a junk store in Bozeman, MT.