Homemade Strawberry Ice Cream
Recipe by Libbie Summers
Photography by Chia Chong
Styled by Libbie Summers, Brooke Atwood, katherine sandoz, Brenda Anderson
Boy Chicken Farmer: David Bucey
Recipe via Salted and Styled
Colorful quilt, blue sky, cool breeze and friends. Everything you need for the perfect Summer picnic.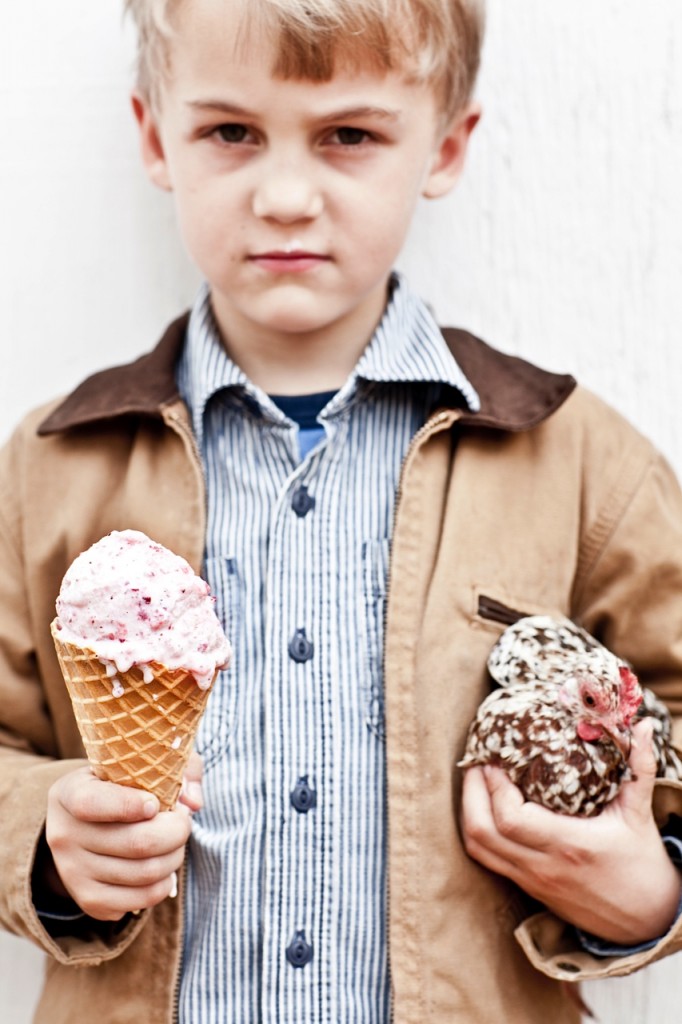 Homemade Strawberry Ice Cream
Ingredients:
2 quarts heavy cream
1 vanilla bean
6 large egg yolks
1 cup sugar
1 tablespoon lemon zest
1 quart fresh strawberries, washed and hulled
Prepared waffle ice cream cones (optional)
Directions:
In a heavy saucepan over medium-low heat, add the heavy cream. Split the vanilla bean down one side and scrape out all the seeds into the heavy cream. Drop bean into the cream. Bring the mixture to a simmer for 5 minutes, stirring frequently. In a medium mixing bowl, whisk the egg yolks with the sugar until completely combined and smooth (mixture will be thick). Remove the vanilla bean from the heavy cream. Temper the egg yolk mixture by slowly whisking in 1 cup of the hot heavy cream. While still over a medium-low heat, gradually whisk the tempered egg yolk mixture into the heavy cream. Continue to cook, stirring constantly, until the custard thickly coats the back of a spoon (about 5 minutes). If lumpy, strain through a double layer of cheesecloth or a fine mesh strainer. Stir strained mixture until just cool then cover and place in the refrigerator until completely chilled (about 2 hours or overnight).
Cut the strawberries into quarters and divide in two. Set one half aside. Place the other half in a blender with the lemon zest and puree until nearly smooth (you can add a couple of tablespoons of the chilled custard to the strawberries for easier blending). Stir the pureed strawberry mixture into the chilled custard and freeze in an ice cream machine according to the manufacturer's directions until set but still a little soft. Stir in remaining strawberry quarters, cover and freeze until completely set (about 2 to 4 hours). Scoop into bowls or on a waffle cone and serve.
Yields: About 2 quarts
Prep Time: 20 minutes
Cook Time: 10 minutes
Inactive Time: 7 hours
Difficulty: Easy, but it does take an extra shot of patience.
Libbie's Food Styling Props: One ADORABLE boy who's not so sure about the chicken and not happy he had to wait to eat the ice cream. Shot up against an old wooden building painted white. Note: David is the son of our own uber-talented artist in residence katherine sandoz.