Honey and Cheese Stuffed Sautéed Pear Halves
Recipe and Food Styling by Libbie Summers
Photography by Chia Chong
Table Styled by Amy Zurcher
Recipe via Salted and Styled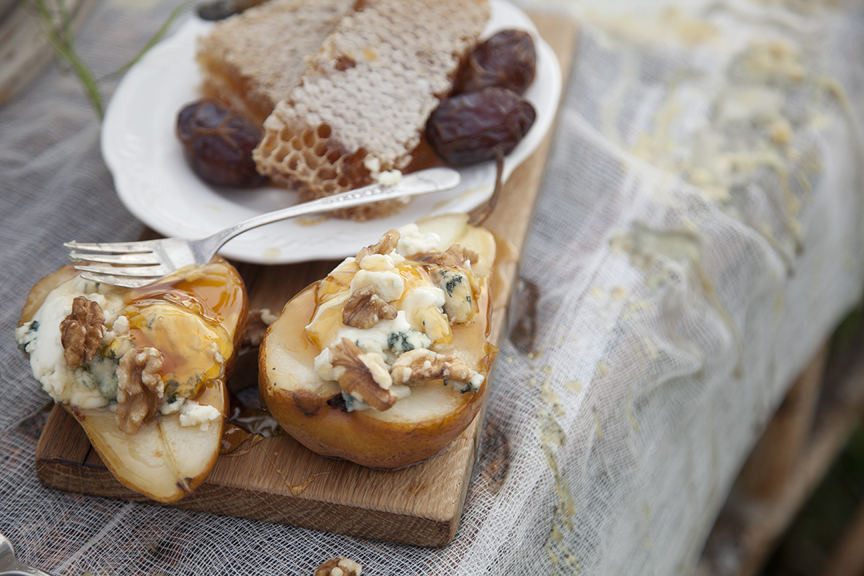 This recipe can be made in the time it takes quality honey to ease its way from the jar. It will be eaten twice as fast.
Honey and Cheese Stuffed Sautéed Pear Halves
Ingredients:
2 Bosc pears (slightly firm), cut in half and hard middle with seeds scooped out
2 tablespoons butter
4 ounces mascarpone cheese
4 ounces quality blue cheese
4 tablespoons honey
1/3 cup walnut halves, toasted
Directions:
In a large sauté pan over medium-high heat, add butter and swirl in pan until melted. Place pear halves (cored side down) in the melted butter and sauté until golden around the edges (approximately 3-5 minutes). Remove from pan and top with cheeses. Pour honey over and sprinkle with walnut halves. Serve immediately.
Cook's note: To help your pears lay flat on the serving plate, cut a small sliver of pear off the skin side before you sauté them.
Serves: 4
Prep Time: 10 minutes
Cook Time: 5 minutes
Difficulty: Easy
Recipe by Libbie Summers
Photography by Chia Chong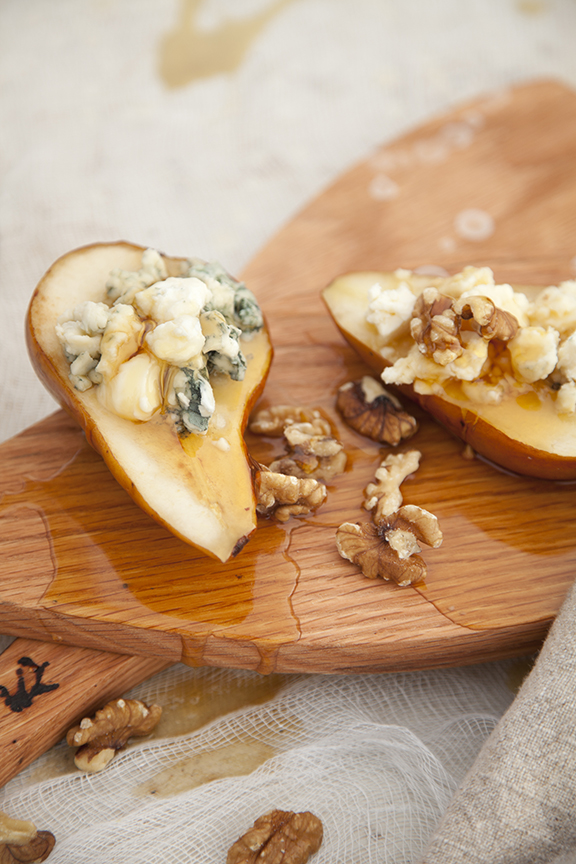 Libbie's Food Styling Props: This ridiculously cool table was the vision of  Amy Zurcher. It's nice to have uber-talented people around me and let them do their thing. I just showed up with food! Amy used cheesecloth to cover an 18th century hospital gurney and then loaded it up with melted bee's wax. The cutting boards under the pears are from artists Martha Enzmann and Tom Sternal. Fork is vintage silver from Habersham Antiques Market and the napkin is a piece of Belgian linen fabric leftover from my living room drapes and sewn into napkins.