Honey Carrots and Hot Spiced Pecans
Recipe and Styling by Libbie Summers as inspired by Mr. Bobby Colson (beekeeper since birth)
Photography by Chia Chong
Recipe via Salted and Styled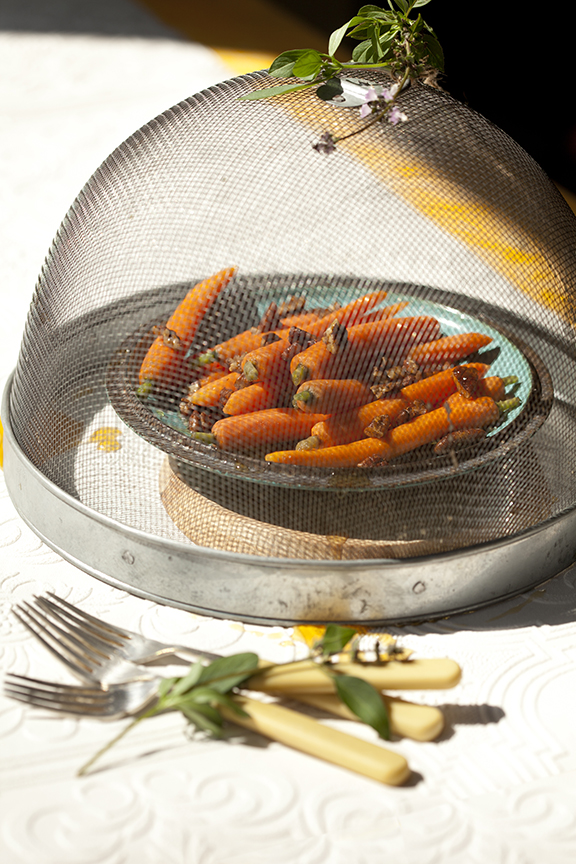 Crisp, sweet and a little fresh –just like Mr. Bobby. 
Honey Carrots with Hot Spiced Pecans
Ingredients:
¾ cup chopped pecans
¼ teaspoon ground cumin
¼ teaspoon cayenne pepper
1 tablespoon plus ¼ teaspoon kosher salt
Pinch of cinnamon
1 ½ tablespoons butter
16 miniature carrots (we used the Nantes variety)
3 tablespoons B&G Honey® (can substitute your favorite honey)
Directions:
In a small mixing bowl, toss pecans, cumin, cayenne, ¼ teaspoon salt and cinnamon together. In a medium skillet over medium heat, add the butter. Stir in the pecan mixture and cook (stirring constantly) until nuts are completely coated and warm (approximately 4 to 5 minutes). Set aside.
In a large saucepan, add enough water to come halfway up the pan. Add the remaining salt to the water and bring to a boil. Add carrots to the boiling water, reduce heat and simmer until the carrots are just tender (approximately 8 minutes). Drain and place on a large platter. Drizzle with honey and sprinkle with spiced pecans. Serve immediately.
Serves: 4
Prep Time: 15 minutes
Cook Time:
Difficulty: Easy
Libbie's Food Styling Props: Chia and I love the the contrast of this image. It was shot on a sunflower yellow painted table with a piece of vintage wallpaper given to me by Amy Zurcher and used as a table runner. The carrots are in an upturned lid to an old French iron pot I picked up at a Salvation Army sale. The lid sits on a wooden trivet from Canvas Home Store. The old picnic screen was given to me by my first assistant Joshua Grotheer. The ivory bakelite handled forks were picked up at Wertz Brothers Antique Mart. The flowering basil wilting on the top is from my garden. The honey dripping everywhere is from B&G Honey.