Julia's Mousse Au Chocolate
Original Recipe by Julia Child
Photography by Chia Chong
Adapted Recipe and Styling by Libbie Summers
Recipe via Salted and Styled
I own over two hundred cookbooks. I covet two. The author of both is Julia Child.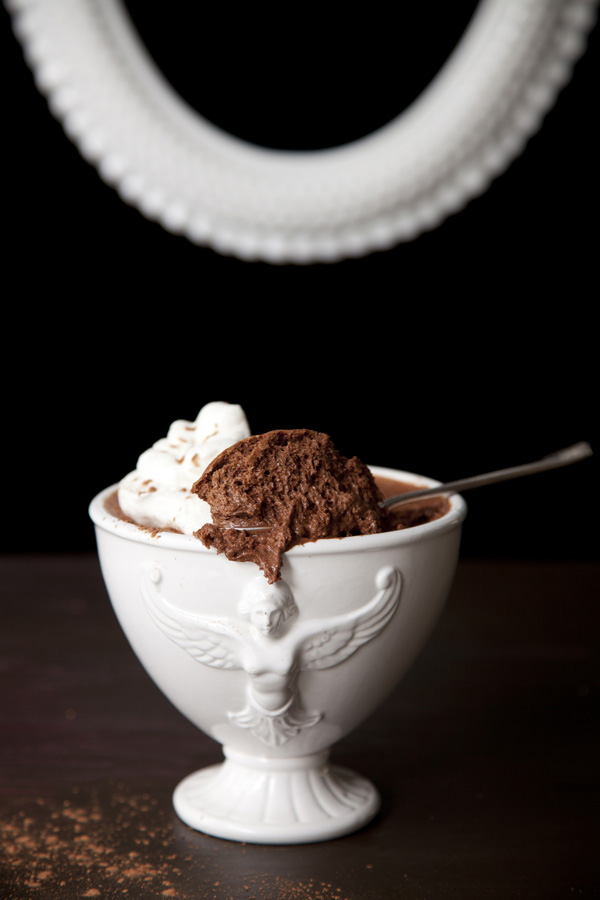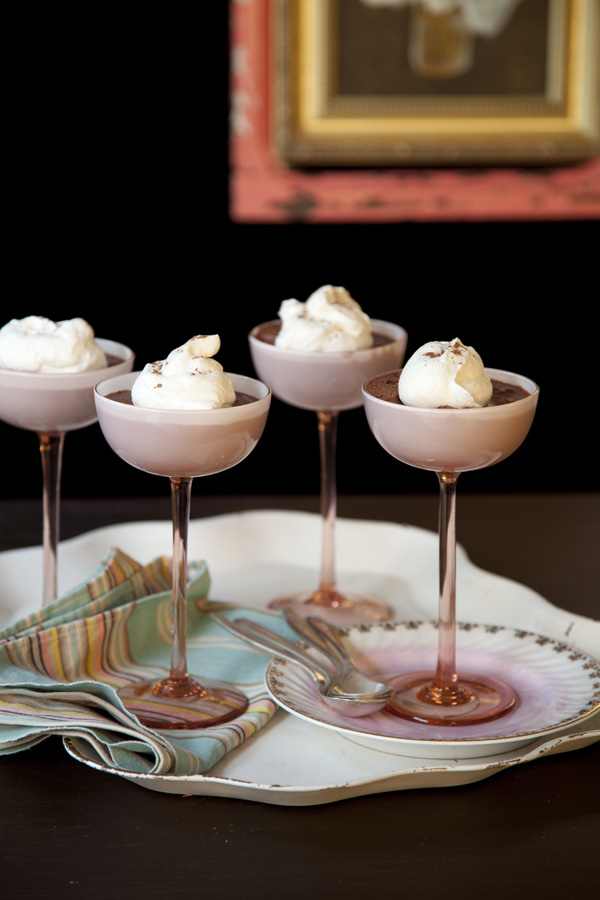 Mousse Au Chocolate
Ingredients:
6 ounces bittersweet chocolate, chopped
6 ounces unsalted butter, room temperature and cut into pieces
1/4 cup brewed espresso
4 large eggs, separated
2/3 cup plus 1 tablespoon sugar, divided
1 tablespoon whiskey (I used Jack Daniels®)
1 tablespoon water
pinch of salt
1/2 teaspoon vanilla extract
Freshly whipped cream for garnish (optional)
Directions:
In a double boiler, heat chocolate, butter and espresso until chocolate is just melted (approximately 5 minutes). Remove the top pan containing the melted chocolate from the heat and set aside. Allow the water in the bottom pan to continue simmering.
Fill a large bowl with ice water and set aside.
Place a bowl large enough to nest securely on the bottom pan of the still simmering water of the double boiler. Whisk the yolks of the eggs with 2/3 cup of sugar, whiskey, and water until just barely thick (approximately 3 to 4 minutes).
Remove the whipped egg mixture from heat and place the bowl within the bowl of ice water and beat until cool and thick. Fold the chocolate mixture into the egg yolk mixture.
In a large mixing bowl, whip the egg whites with salt until frothy. Continue to whip until the whites begin to hold their shape. Add in the remaining tablespoon of sugar and continue to whip until thick and shiny, but not stiff. Add the vanilla and whip until combined. Fold the egg whites into the chocolate mixture just until combined (I like to do this with one half of the egg whites at a time). Transfer the mousse to a serving bowl or divide into individual serving dishes. Cover with plastic wrap and refrigerate until firm (approximately 6 hours).
Serve with a dollop of freshly whipped cream.
Serves: 6 to 8
Prep Time: 20 minutes
Cook Time: 10 minutes
Inactive Time: 6 hours
Difficulty: Easy, but takes effort
Recipe Adapted from Mastering the Art of French Cooking (Knopf) by Julia Child
Libbie's Food Styling Props: Image 1: Wooden table painted chocolate brown and rubbed with pink oil pastels, Vintage white garden pot found at Habersham Antiques Market, Spoon was a Christmas gift from Andrea Goto and hand stamped with the phrase "You Have Been Served", by Aly Nickerson, Hobnail picture frame borrowed from Amy Zurcher. Image 2: White stoneware platter borrowed from Amy Zurcher, Vintage pink champagne glasses found in Annapolis, Maryland at Blue Crab Antiques, Retro silver spoons from United Airlines first class circa 1960's and a present from my father-in-law a retired United Captain, French linen purchased from the retail store of Trillium Soaps in Rockland Maine and sewn into napkins by Stitch, Pink English plate found at Habersham Antiques Market, Pink frame borrowed from Amy Zurcher, Gold framed painting from The Paris Market and Brocante.