Lamb and Fennel Mint Salad
Recipe by Brenda Anderson
Photography by Chia Chong
Styling by Libbie Summers
Wine Pairing by Grapefriend
Recipe via Salted and Styled
The promise of spring on a plate.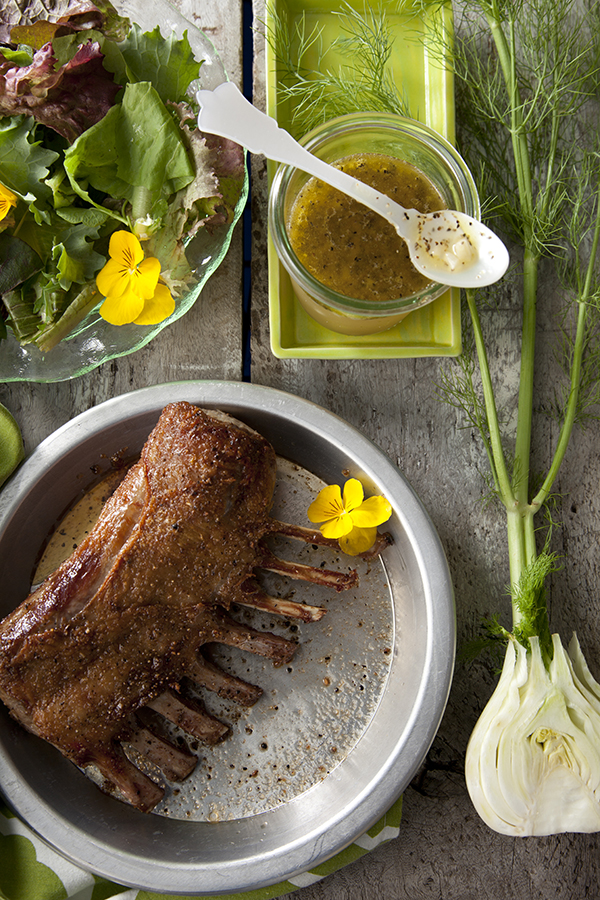 Lamb and Fennel Mint Salad
serves 4 
Ingredients:
2 tablespoons olive oil
1 fennel bulb, thinly sliced
1 teaspoon anise seed
Juice of one lime
1 rack of lamb
2 teaspoons Kosher salt
1 teaspoon freshly ground black pepper
1/2 teaspoon garlic powder
4 cups mixed greens, washed thoroughly
Fennel Mint Salad Dressing (recipe to follow)
Directions:
In large sauté pan heat olive oil over medium heat. Add fennel, lime juice and anise seed, brown slightly, leaving fennel crisp. Remove from pan and set aside.
Allow lamb rack to come to room temperature and rub with cracked pepper, coarse salt and garlic powder. Cook rack of lamb in the same pan fennel was prepared in over medium high heat. Cook until medium rare (about 6-7 minutes) turning once halfway through the cooking time. Set aside. Let rest for 10 minutes. When cool enough to handle, cut the meat away from bone and slice into 1/2-inch medallions.
To assemble the salad, divide salad green among 4 plates and top with equal parts of the fennel. Top with lamb medallions and drizzle Fennel Mint Salad Dressing over to taste. Serve immediately.
Wine Pairing by Grapefriend:
You need something with enough body to match the pan seared lamb, but you've also got all that great anise spice in the fennel. A Spanish rosado will go with this like a champ: these rosés tend to be darker in color, and full of juicy red berry flavors. As a bonus, they're the big bargains of the rosé world (most are around 10-15 bucks). I love the ones made from Garnacha grapes, but I like the Tempranillo-based ones too. Plus it's spring so why not start popping some pink?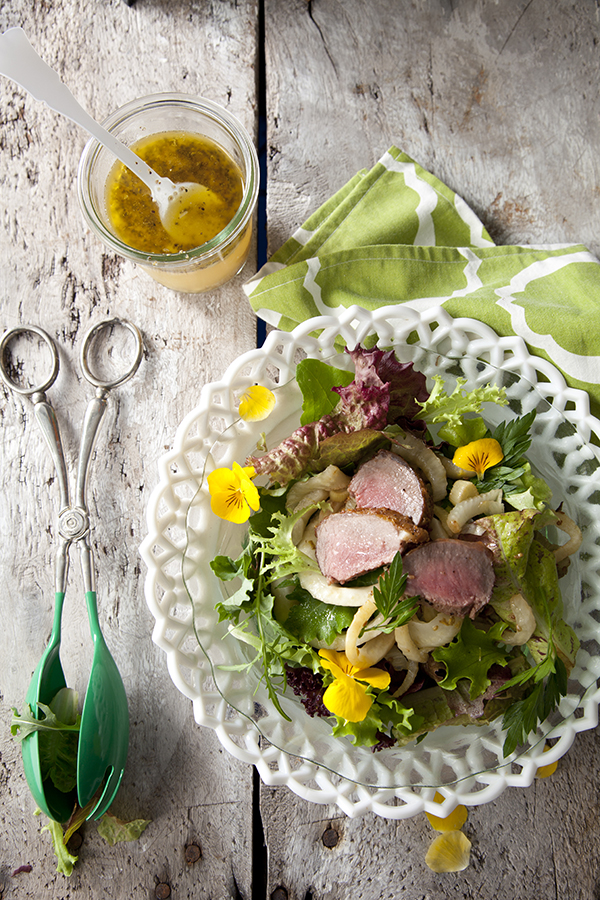 Fennel Mint Salad Dressing
Ingredients:
1 cup Fennel Mint Simple Syrup (recipe to follow)
4 tablespoons rice vinegar
4 tablespoons olive oil
4 tablespoons fresh lime juice
4 tablespoons minced garlic
1 tablespoon cracked pepper
Directions:
Combine all ingredients in a jar and shake until well mixed. Store in the refrigerator for up to one month. Shake before using.
Fennel Mint Simple syrup
makes 2 cups
Ingredients:
2 cups water
1 cup sugar
1 cup mint, rough chopped
1 cup fennel, rough chopped
Directions:
In a large sauce pan comb all ingredients. Once it comes to a boil, reduce temperature and simmer for 15 minutes. Strain and let liquid cool.
Libbie's Food Styling Props: (top image) Shot on an old small tabletop borrowed from my friend, photographer Ben Fink. Salad greens are in a green glass bowl picked up at a yard sale in Savannah, GA. Dressing is setting on the bottom of an uber cool butter dish. Dressing is in a Weck jar. Cool spoon I picked up in Birmingham, AL from Table Matters. Lamb is setting on an old pie tin from Habersham Antiques Market. (bottom image) Shot on the same old table top. The green glass salad bowl is now sitting on top of a milk glass serving bowl. The napkin used to be a duvet cover from my son's bedroom that he never used, so had it made into napkins (PS I gave him a set for Christmas/PSS He wasn't impressed). The uber-cool salad tongs are from Rethink Design Studio.