Lamb and Feta Burgers (sweet pea mint sauce)
Recipe and Styling by Libbie Summers
Photography by Chia Chong
Wine Pairing by Alyssa Vitrano (Grapefriend)
Recipe via Salted and Styled
A burger that celebrates Spring!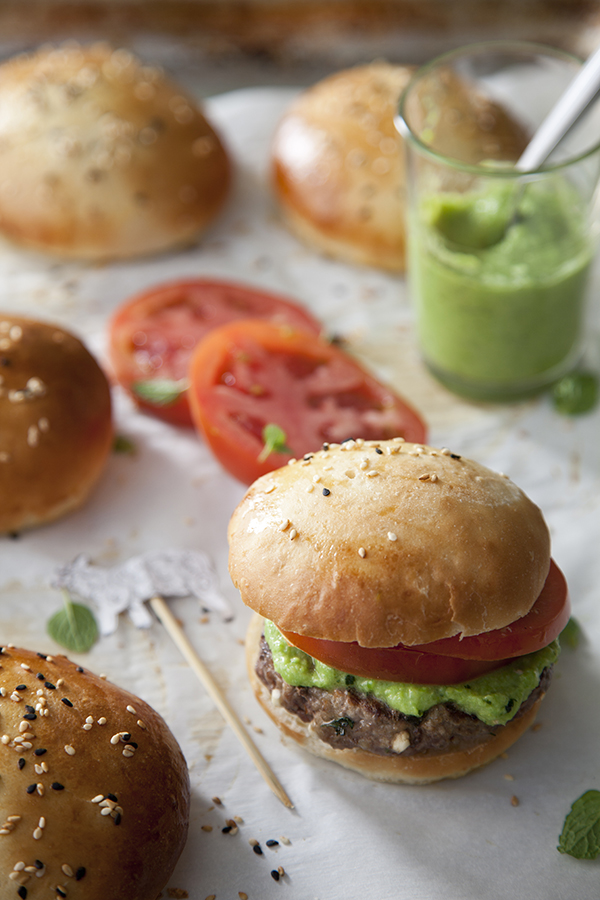 Lamb and Feta Burgers (sweet pea mint sauce)
serves 4
Ingredients:
1 pound ground lamb
4 ounces feta cheese, crumbled
½ teaspoon cumin
2 tablespoons chopped parsley
½ teaspoon salt
½ teaspoon pepper
1 tablespoon vegetable oil
4 Sandwich buns, split
Sweet Pea and Mint Sauce (recipe to follow)
2 tomatoes sliced
Directions:
Heat grill to medium high heat.
In a large mixing bowl use your hands to mix together the lamb, feta, cumin, parsley, salt and pepper. Form mixture into 4 equal size patties and allow to rest while grill is heating up. Brush grill with the vegetable oil and grill burgers 4 to 5 minutes per side. Remove from heat and allow to rest while making the Sweet Pea and Mint Sauce.
To Assemble. Place one burger on each bun and top with a dollop of Sweet Pea and Mint Sauce and top with tomato slices. Serve immediately.
Sweet Pea and Mint Sauce
makes about 1 cup
Ingredients:
1 cup sugar snap peas, shelled and blanched
1 tablespoon chopped mint leaves
2 tablespoons vegetable oil
salt and pepper
Directions:
Add the peas and mint to the bowl of a food processor or blender and pulse until just smooth. With the motor running, add the vegetable oil until combined. Salt and pepper to taste. Serve with Lamb and Feta Burgers.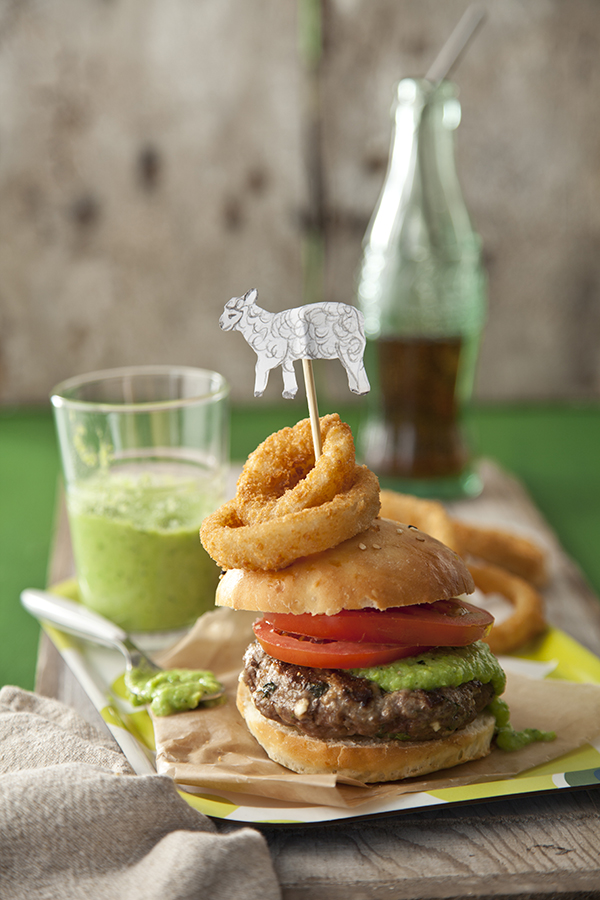 Wine Pairing by Grapefriend:  You've gotta go red with the lamb, but nothing too, too huge. In a Bordeaux, the predominant grapes are Cabernet and Merlot. The bigger and bolder tannins in Cabernet are balanced out with the softer, lusher Merlot. Think Tom Brady's brawn with Gisele's curves. So any Cab-Merlot blend (Bordeaux or not) will be great. Some Cabs even have a little minty, menthol element which will be perfect with the peas.
Meet our newest contributor, Grapefriend!!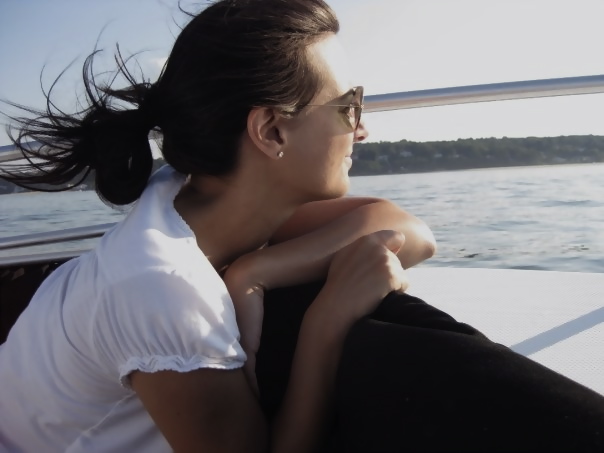 Grapefriend (aka Alyssa Vitrano): Wine and Pop Culture Expert
Alyssa was a magazine entertainment editor and a producer at MTV until she got hooked on the grape. So, she's spent a lot of time formally studying wine (she even has a pretty fancy certification in both Viticulture & Vinification and Blind Tasting from the American Sommelier Association), but she's spent much more time reading US Weekly and watching Bravo. And even more just drinking and having a good time.
With Alyssa, you'll have as much fun finding out about wine as you do when you're drinking it. (She also regularly writes about wine for Cosmo.) Grab a glass and drink along!
For everything you wanted to know about wine and pop culture, visit Grapefriend's  website.
Follow Grapefriend on Twitter, Instagram or Facebook.
Libbie's Food Styling Props: (top image) Burger shot on a tray of just baked hamburger buns. Glass is from William's Sonoma, white handled spoon is Guzzini and I picked it up at Eataly. (bottom image) Shot on a wooden table painted green with another wooden table sitting upright for a backdrop, I picked up the tray in Paris and don't remember where, it is sitting on an old wooden kitchen cabinet door picked up at Habersham Antiques Market. The coke bottle is a 1950's era also purchased at Habersham Antiques Market, the natural cloth napkin was a yard of Belgian linen I had sewn into small napkins to edge into photos like this. The lamb was a clip-art that my PA Anna cut out. I drew a little lamb face on it and glued it to a skewer. It's the little things that make a picture even more special!!