Leftover Turkey and Sweet Leek Pot Pie
Recipe and Styling by Libbie Summers 
Photography by Chia Chong
Recipe via Salted and Styled
I hate leftovers –period. One exception –Thanksgiving.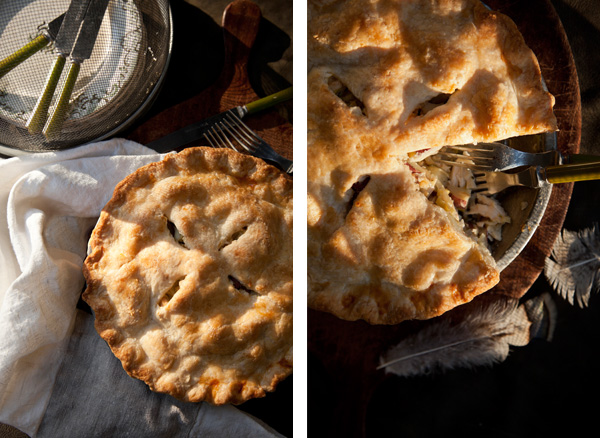 Sweet Leek and Turkey Pie
(red potatoes and caramelized onions)
Ingredients:
5 tablespoons butter, divided
1 cup sliced leeks, white part only
1 small onion, thinly sliced
1 tablespoon light brown sugar
4 tablespoons all-purpose flour
2 cups turkey stock
3 cups cooked shredded turkey
3 cups red skinned potatoes, cubed and par boiled
Kosher salt and freshly ground black pepper
1 double crust pie dough (recipe to follow)
1 egg mixed with 1 tablespoon water
Directions:
Preheat oven to 400º F.
In a large saute pan over medium-high heat, add four tablespoons butter, leeks, onion and brown sugar. Cook until onions are caramelized (approximately 8-10 minutes). Stir in flour and cook, stirring, two minutes. Add turkey stock and cook until mixture thickens (approximately 5 minutes). Remove from heat and fold in turkey and potatoes. Salt and pepper to taste. Set aside while rolling out pie dough.
On a lightly floured surface, roll out one dough portion and drape over the pie plate being careful not to stretch the dough. Allow the dough to loosely drape over the sides. Fill with turkey mixture and dot the top of the mixture with the remaining one tablespoon butter. Roll out the second disk of dough large enough to drape loosely over the top of the turkey mixture (there should be defined peaks and valleys in the dough). Trim the edges of the dough and turn under at the outer edge of the pie plate rim. Decoratively crimp the edges. Cut slits in the top of the pie to allow steam to escape while the pie is baking. Decorate the pie however you like with any remaining pieces of dough. Brush the pie with the egg wash mixture and set on a baking tray. Bake for 30 minutes. Reduce oven temperature to 350º F and continue to bake until crust is a dark caramel color (approximately 20-30 minutes). Cool slightly before serving.
Pie Dough:
yields 1 double crust pie dough
Ingredients:
2 1/2 cups all-purpose flour
1/2 teaspoon salt
1 tablespoon sugar
12 tablespoons unsalted butter, cold and cubed
1/4 cup rendered leaf lard, cold (can substitute vegetable shortening)
1/4-1/2 cup ice water
Directions:
In a large mixing bowl, whisk together the flour, salt and sugar. Using two forks or a pastry blender, cut in the butter and lard making sure to leave some chunks of butter (the size of peas) visible.
Stir the water into the flour mixture until a ball is formed. Work quickly and be mindful not to over mix. Form mixture into two equal disks. Cover with plastic wrap and chill for 2 hours. Dough will be a little crumbly. Refrigerate dough for 2 days or freeze for up to 3 months.
Serves: 6
Prep Time: 45 minutes
Cook Time: 1 hour
Inactive Time: 2 hours
Difficulty: Easy Enough
Watch the fun video below and try and new decorative pie crust crimp on your pot pies!