Mornings in Savannah (baked eggs and blue crab)
Recipe and Styling by Libbie Summers
Photography by Chia Chong
Blue crabs harvested from a single trap tied off a backyard dock –just fifty paces from the chicken coop.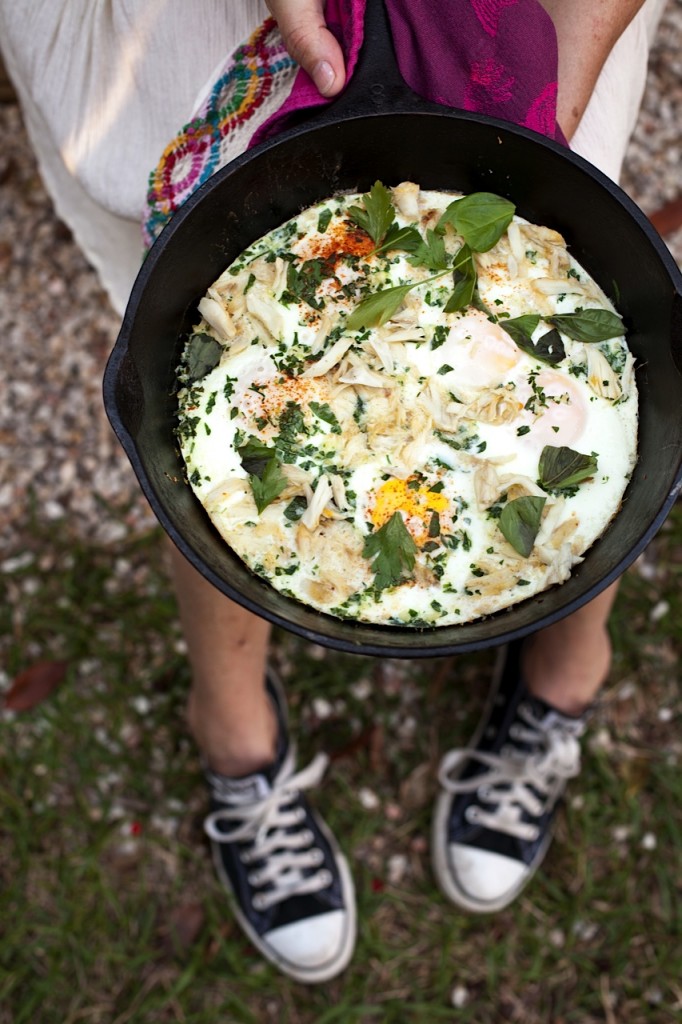 Mornings in Savannah
(baked eggs and blue crab)
Ingredients:
4 tablespoons butter
1 tablespoon heavy cream
5 large eggs
1 garlic clove, finely chopped
1 tablespoon finely chopped fresh parsley
½ teaspoon finely chopped fresh thyme
4 ounces freshly cooked Jumbo Lump Blue Crabmeat
¼ teaspoon Old Bay® seasoning
Freshly ground black pepper
Toasted bread, for dipping and sopping
Directions:
Preheat oven to broil.
Place the oven rack on the first shelf. Add the butter and cream to the bottom of a shallow baking dish (Use a stoneware braising pan or cast iron skillet). Place under the broiler until the butter and cream mixture is hot and bubbly (about 3 to 4 minutes).
Break the eggs (keeping the yolks intact) into individual bowls and set aside. In a small bowl, stir together the garlic, parsley and thyme. Set aside.
Once the butter and cream mixture is hot and bubbly, remove from the oven and carefully pour the five eggs into the dish (work quickly). Sprinkle the tops of the eggs with the herb mixture and top with the lump crab meat loosely broken up. Sprinkle with Old Bay® seasoning and pepper. Place the pan back under the broiler and cook until the egg whites are nearly cooked through (approximately 4 minutes). Remove from the oven and allow to set for 1 minute before serving. Serve hot with toast for dipping.
Serves: 2 to 3
Prep Time: 10 minutes 
Cook Time: 9 minutes 
Inactive Time: 1 minute 
Difficulty: Easy, but don't walk away once you start the recipe.
Libbie's Food Styling Props: Shot this in my back yard. I'm wearing a swim suit cover-up by French Connection and a pair of Chuck Taylors. The cloth is French –I picked it up in a little shop in St. Tropez a few years ago. Shot in the cast iron skillet it was baked in. (The scrape on my leg is from the bitch Maggie…our puppy).