Mornings on Mykonos (Greek Baked Eggs)
Recipe and Styling by Libbie Summers
Photography by Chia Chong
Recipe via Salted and Styled
I once had a small olive tree in Greece…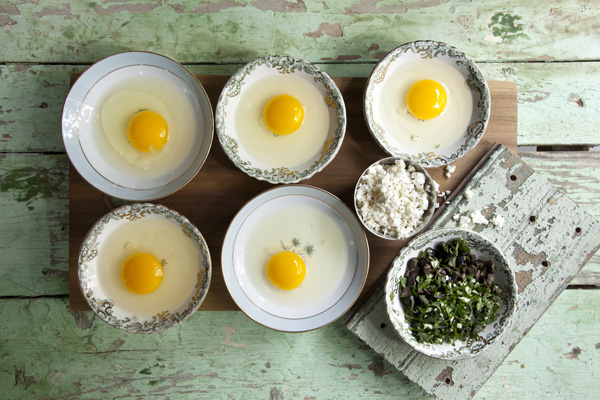 Mornings on Mykonos (Greek Baked Eggs)
Ingredients:
3 tablespoons butter
1 tablespoon heavy cream
5 large eggs
5 Kalamata olives, pitted and roughly chopped
1 garlic clove, finely chopped
1/2 teaspoon finely chopped fresh oregano
1/2 teaspoon finely chopped fresh thyme
1 tablespoon finely chopped fresh parsley
¼ cup crumbled feta cheese
Kosher salt and freshly ground black pepper
Toasted bread, for dipping and sopping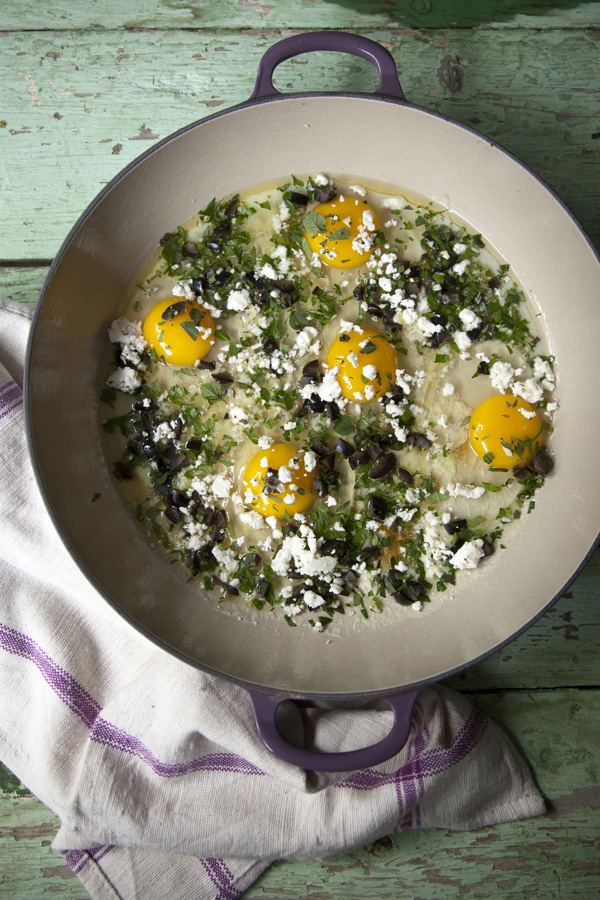 Directions:
Preheat oven to broil.
Place the oven rack on the first shelf. Add the butter and cream to the bottom of a shallow baking dish (I like to use a stoneware braising pan). Place under the broiler until the butter and cream mixture is hot and bubbly (about 3 to 4 minutes).
Break the eggs (keeping the yolks intact) into individual bowls and set aside. In a small bowl, stir together the olives, garlic and chopped herbs. Set aside.
Once the butter and cream mixture is hot and bubbly, remove from the oven and carefully pour the five eggs into the dish (work quickly). Sprinkle the tops of the eggs with the olive herb mixture and top with the crumbled feta cheese. Liberally sprinkle with salt and pepper. Place the pan back under the broiler and cook until the egg whites are nearly cooked through (approximately 4 to 5 minutes). Remove from the oven and allow to set for 1 minute before serving. Serve hot with toast for dipping.
Serves: 2 to 3
Prep Time: 10 minutes
Cook Time: 9 minutes
Inactive Time: 1 minute
Difficulty: Easy, but don't walk away once you start
Recipe Courtesy of Libbie Summers for Salted and Styled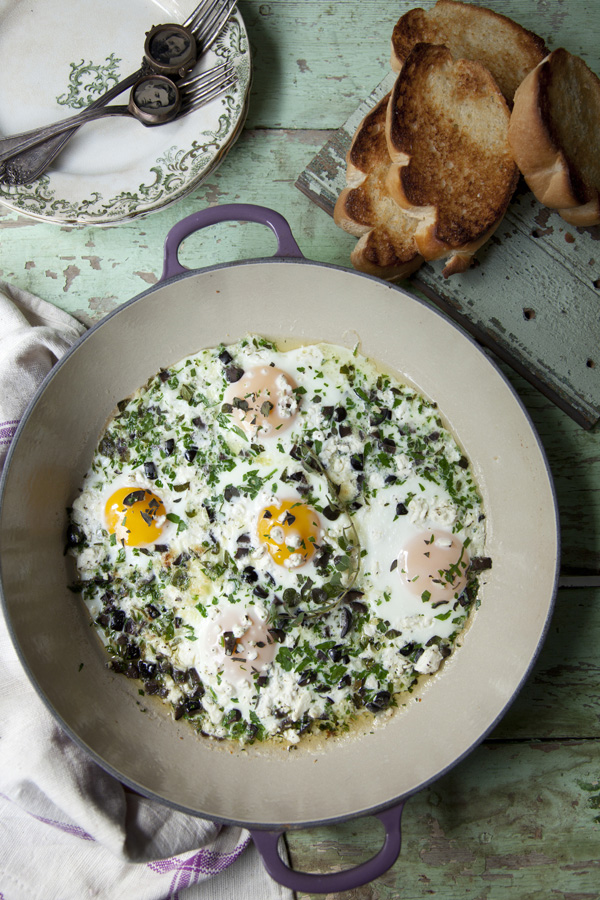 Libbie's Food Styling Props: Cassis Le Creuset Braising Dish sent to me by the wonderful people from Le Creuset to use in my first cookbook, Cool green weathered table from Habersham Antiques Market (By the way, the thing is tres odd.. 4′ long and only 18" tall), Plates and small bowls late 19th century English China (from my husband's grandmother Reba); Remaining China Bowls circa 1962 (from my grandmother Annie Mae); Linen from one of my favorite places to prop shop in NYC, Canvas Home Store; Cooler than Cool silver forks with tintype from artist Adam Smith and available at shopSCAD; Cutting board from artist Martha Enzmann and available at shopSCAD.
Check out this article about the photo on Yahoo. HERE