Old No. 7 Pate
Recipe, Styling and Words by Libbie Summers
Photography by Chia Chong
Recipe via The Whole Hog Cookbook
"That's charcuterie? I've been avoiding that on menus for years!" –Jay Pritchett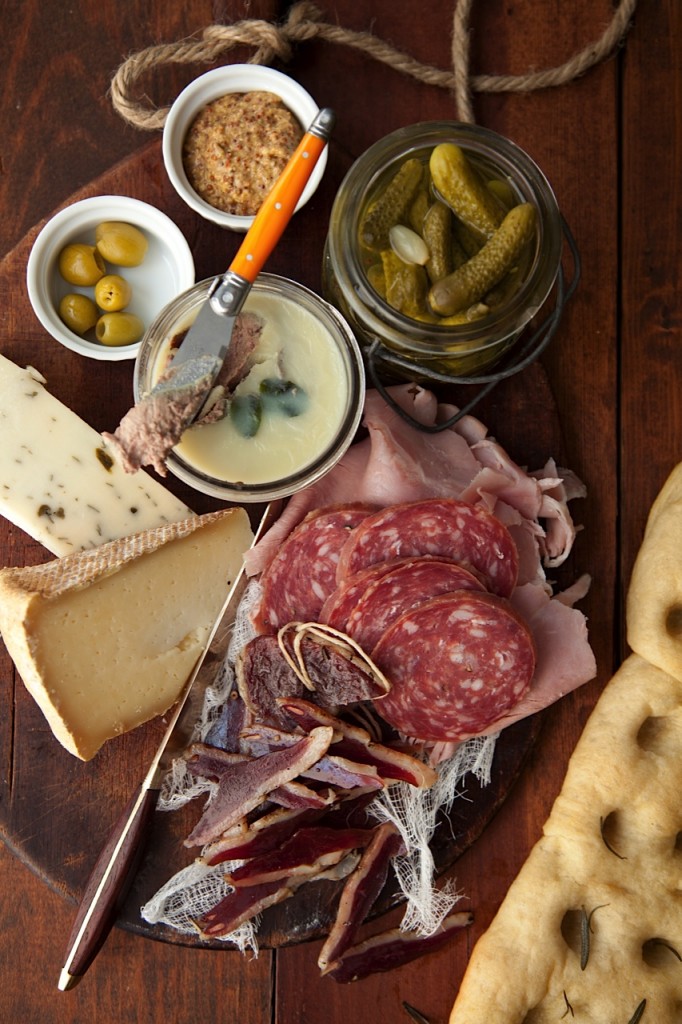 Grandma was a charcutier (one who practices the craft of charcuterie). She wasn't French although Grandpa said she liked to kiss that way (I'm still scarred by that revelation). My Grandparents were hog farmers in Missouri. Growing up I remember going into a certain smoke house on their farm where various stages of preserved meats (pork, duck, beef, rabbit and the occasional raccoon) were hanging in repose from the ceiling. As a kid I found it to be a scary and unfamiliar smelling place. As an adult I know it to be a place where magical deliciousness is made.
Charcuterie is the craft of preserving meat. You can cure it, smoke it or age it. Grandma had the skill and practiced all three methods. Grandpa didn't. Charcuterie has been a French culinary art since the 15th Century if not before. It comes from the French, cuiseur de chair, which simply means the "cooker of meat". Like the French before her, Grandma used it as a means to preserving meat when she couldn't refrigerate. I think after that it became a point of pride. When she put out a charcuterie board for lunch; hard salami, mustard, her nuclear green pickles, pork liver pate with a basket of just baked biscuits (no, not very French at all), my cousins and I would go wild. Like Jay Pritchett, if you had told me it was called "charcuterie" I probably would have shyed away from it. Luckily, Grandma didn't know the word.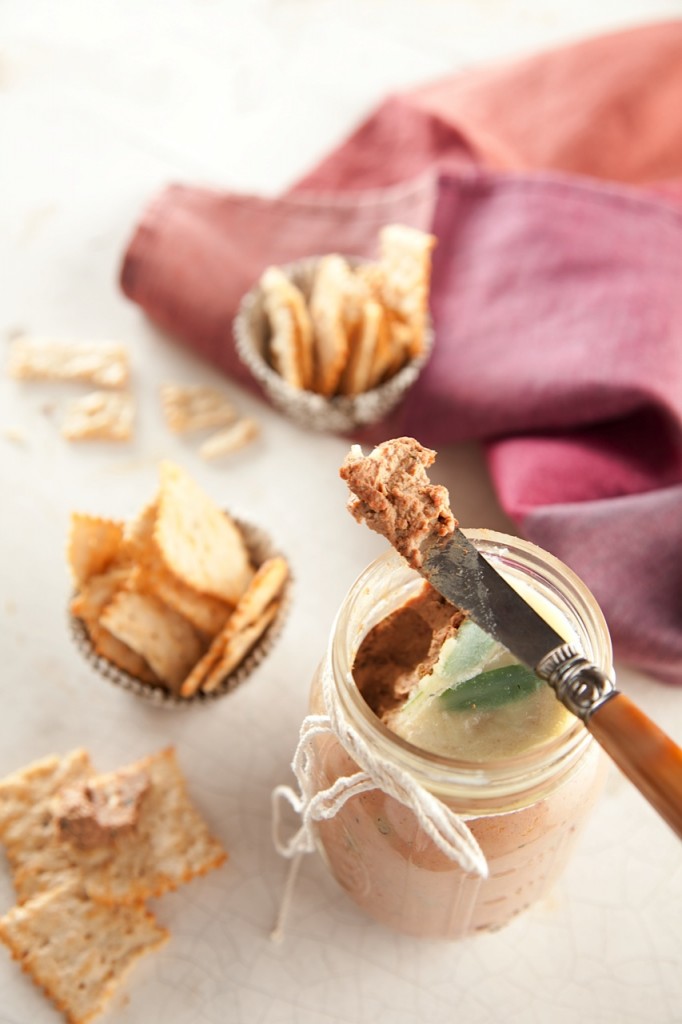 Old No. 7 Pate
Ingredients:
1/2 pound pork liver, trimmed
1/2 pound chicken liver, trimmed
2 sticks (1 cup) unsalted butter
1/2 cup plus 1 tablespoon sweet yellow onion, finely diced
1 large garlic clove, minced
1 teaspoon minced fresh thyme or 1/4 teaspoon dried
1 teaspoon minced fresh marjoram or 1/4 teaspoon dried
1 teaspoon minced fresh sage or 1/4 teaspoon dried
3/4 teaspoon salt
1/4 teaspoon ground all spice
pinch of black pepper
2 tablespoons Old No. 7 Tennessee Whiskey™
Sage leaves for garnish
Directions:
In a large non-stick saute pan melt 1 stick of the butter. Add onions and garlic and cook until just softened. Add herbs, salt, allspice, pepper, and livers. Cook, stirring, until the livers are cooked on the outside, but still pink on the inside (approximately 6 to 8 minutes). Stir in whiskey and remove from heat. Pour the pork liver mixture into the bowl of a food processor fitted with a metal blade and process until just smooth. Pour into a sterilized jar.
Clarify the remaining 1 stick of butter by melting in a small sauce pan over low heat. Remove from heat and let stand 5 minutes. Skim the froth from the top of the melted butter and pour out the clear butter leaving the milky solids in the pan.
Place one sage leaf on top of smoothed pate and spoon the clarified butter over the pate to cover the surface.
Place pate in the refrigerator until firm, then put lid on top and allow to chill for a minimum of two hours. Serve with crackers or french bread. Also great atop grilled beef.
Note: Old No. 7 Pork Liver Pate will hold refrigerated for two weeks without butter seal broken and one week after seal is broken.
Yields: 3 cups
Prep Time: 20 minutes
Cook Time: 15 minutes
Inactive Time: 2 hours
Difficulty: Easy
Recipe courtesy of Libbie Summers from The Whole Hog Cookbook, Rizzoli. Photography courtesy of Chia Chong.
Libbie's Food Styling Props: The base is a piece of wrapping paper that looks like a cracked egg shell. Small little ceramic bowls for the crackers were from Anthropologie. The cloth is Belgian linen from Libeco Home. Butcher's twine around the mason jar added another little texture. The pate knife was a gift from my hairstylist and dear friend, Kimberly Nowell.