Oxtail Stock
Recipe by Brenda Anderson
Photography by Chia Chong
Styling by Libbie Summers
Recipe via Salted and Styled
Bones are the building blocks for the richest full-body stocks.
Bones contain collagen which, when simmered, forms gelatin. It's the gelatin that gives a stock it's body.
The test to know if you have a great stock? It will solidify when it is chilled.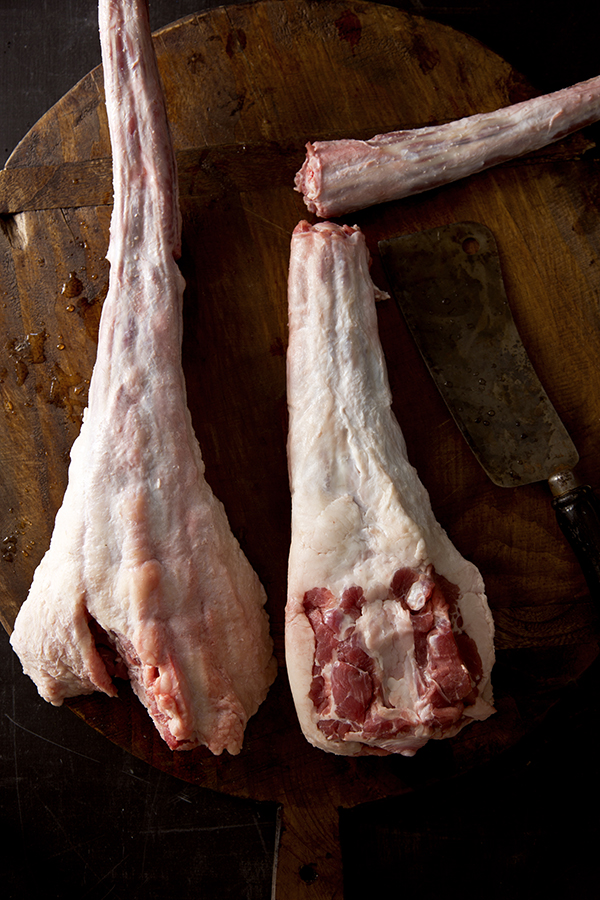 Rich Oxtail Stock
makes 2 quarts
Ingredients:
6 pounds oxtails, cut at joint and trimmed of fat
1 tablespoon kosher salt
1 tablespoon freshly ground black pepper
6 garlic cloves, peeled and smashed
5 carrots cut in quarters
1 bunch celery, cut in thirds
1 onion, peeled and quartered
3 (6-inch) pieces lemongrass
1 (4-inch) piece ginger, peeled and sliced
5 sprigs parsley
Directions:
Pre heat oven to 450 degrees.
Season oxtails with salt and pepper and rub with the smashed garlic. Place the oxtails and garlic in a roasting pan and roast for 30 minutes. Add the carrots, celery and onion to the pan and roast for an additional 30 minutes. Transfer contents of the roasting pan to a dutch oven. Set the roasting pan over a hot burner. Add 1/2 cup water and deglaze the pan –scraping up all the good crunchy bits. Add the deglazed mixture to the dutch oven.  Pour in 8 cups of water and stir in the lemongrass, ginger and parsley.  Cover and cook on low until the meat of the oxtail is tender (about 5 hours). Remove the oxtails and wrap tightly in foil.  Strain out vegetables and discard. Strain stock through cheese cloth and refrigerate overnight. Skim fat from the top of the stock before using.