Oysters Lafitte
Recipe courtesy of Jeanne Brooks
Photography by Chia Chong
Styled by Libbie Summers
Recipe via Salted and Styled
 An elegant and easy appetizer with the perfect hint of star anise.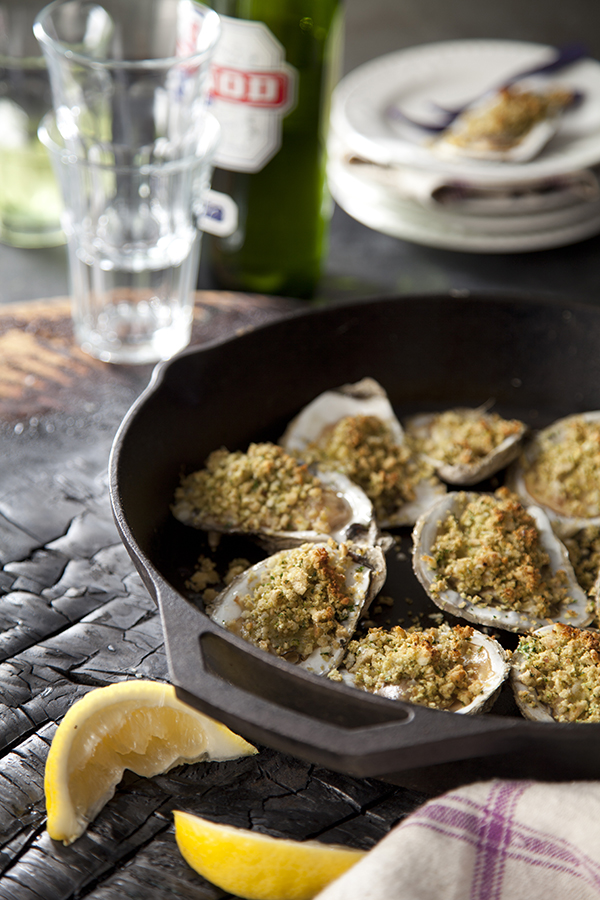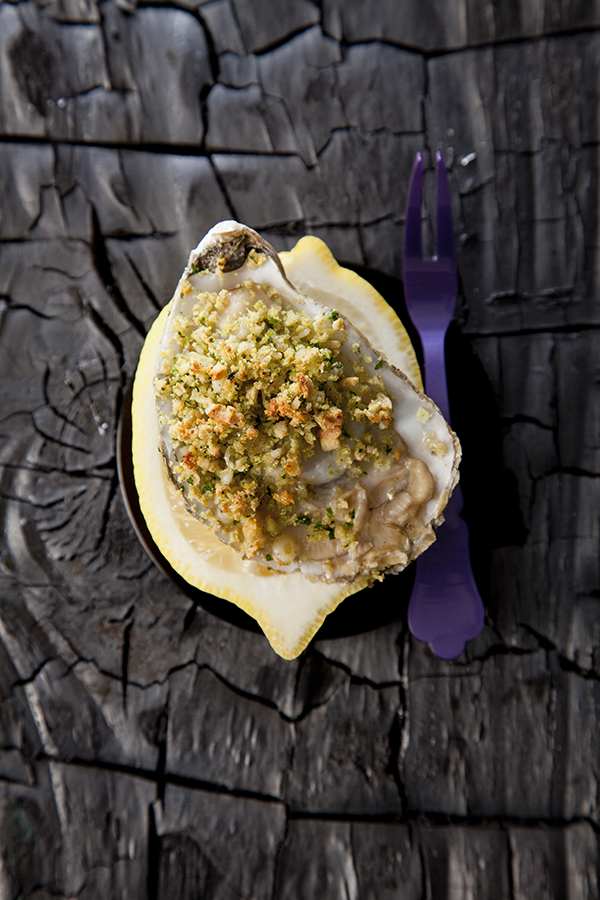 Oysters Lafitte 
Ingredients:
1 dozen fresh oysters in the shell (your fish monger will open them for you if you ask)
2 cups crusty bread crumbs
2 spring onions, sliced thinly
1 minced garlic clove
1/4 cup chopped oregano
1/2 cup flat leaf parsley, chopped
1/2 cup grated fresh Parmesan cheese
salt and pepper to taste
1/2 lemon
1 tablespoon Pernod
Directions:
Preheat oven to 450º F.
Place oysters in a large cast iron skillet.
In a medium mixing bowl, stir together the bread crumbs, onions, garlic, oregano, parsley and parmesan. Salt and pepper to taste.
Top each oyster with a generous portion of the bread crumb mixture and squeeze lemon over all.
Roast the oysters just until the edges curl and the topping is a golden brown.
Remove from the oven and top each oyster with two drops of Pernod.
Roast just until the edges of the oysters curl and the topping is golden brown.
Serve immediately.
Libbie's Food Styling Props: The surface of both images is a burned up cutting board that was a happy accident involving a photo shoot, cooking over an open fire and my husband Joshua. The cast iron skillet is and will always be Lodge. Pernod glasses from Williams Sonoma. Napkin with purple plaid print is from Canvas. My new favorite props are the colorful and pearlized acrylic flatware I found recently at a wonderful store, Table Matters, in Birmingham, Alabama. I used the purple cocktail forks in both images.