Pickled Garlic
Recipe and Styling by Libbie Summers
Photography by Chia Chong
Recipe via Salted and Styled
If you could have only one condiment in your refrigerator, it's highly likely it will be this pickled garlic.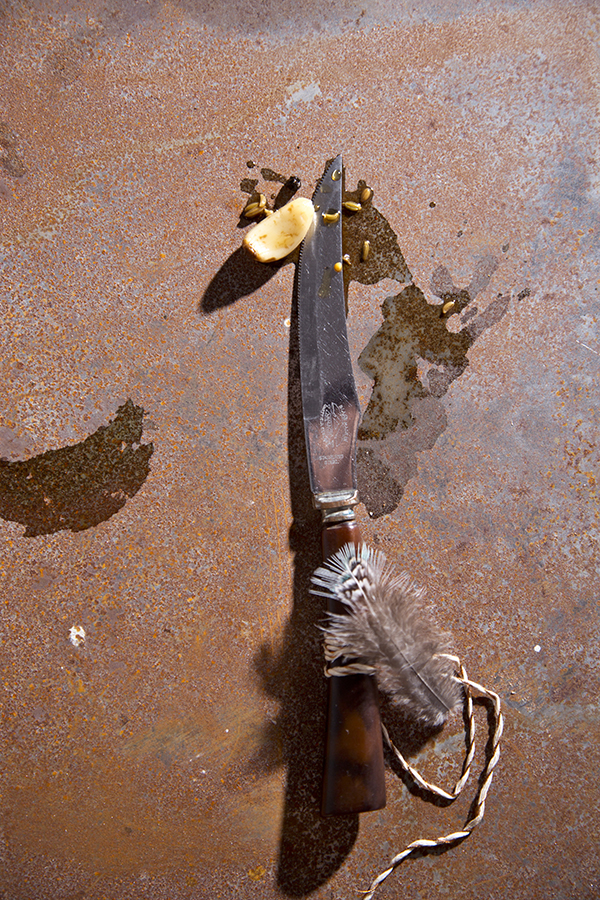 Pickled Garlic
makes 2 cups
Ingredients:
Pickled Garlic
makes 2 cups
Ingredients:
2 cups garlic cloves, peeled, cut in half if large
2/3 cups red vinegar
1/2 cup light brown sugar
2 1/2 teaspoons kosher salt
1 teaspoon whole black peppercorns
1 teaspoon mustard seeds
1 teaspoon fennel seeds
1 teaspoon crushed red pepper
Directions:
In a medium saucepan add 3 cups water to a boil. Add the garlic cloves and cook 3 minutes. Drain and transfer the garlic to sterilized quart jar with a tight-fitting lid and set aside to cool (without lid screwed on).
In a medium saucepan, over high heat, stir together 1 1/3 cups water, vinegar, brown sugar, salt, peppercorns, mustard seeds, fennel seeds and crushed red pepper. Bring to a boil, stirring until the sugar and salt are dissolved. Pour the hot pickling solution into the jar over the garlic cloves. Let cool to room temperature before screwing on lid. Cover and refrigerate for at least 8 hours for the flavors to develop.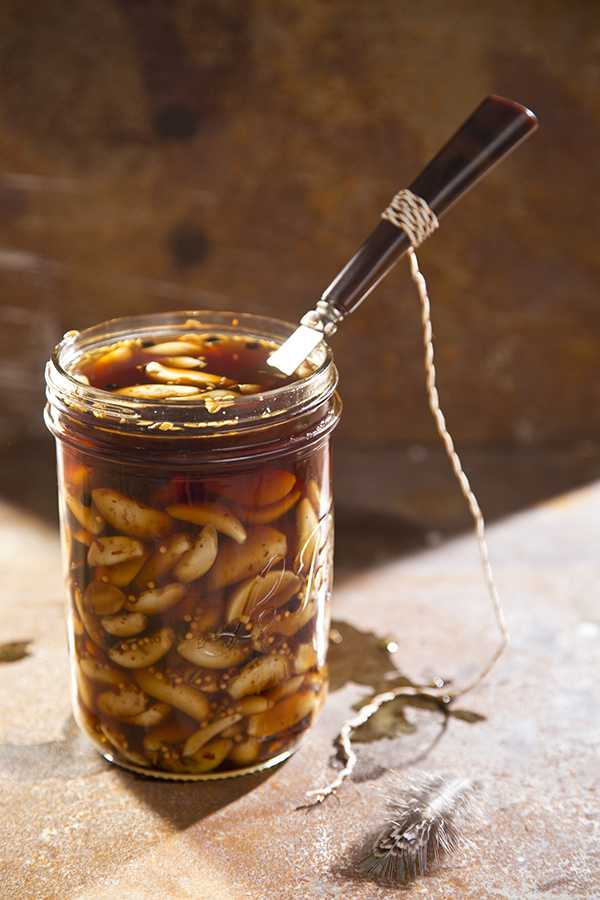 Libbie's Styling Props: Surface is an old piece of rusted metal I pulled out of a dumpster (the color was too beautiful to let it be thrown away); Knife is a vintage knife from Habersham Antiques Market; Bakers Twine from Michael's Crafts; La Parfait Screw Top Canning Jar I brought back with me from France, but other versions are now available in the States through the super cool online store from Kaufman Mercantile; Feather is a quail feather I picked up off the ground while hunting.