Pickled Loquats
Recipe and Styling by Libbie Summers
Photography by Chia Chong
Recipe via Salted and Styled
Just the way I like it…a little sweet with a pop of heat.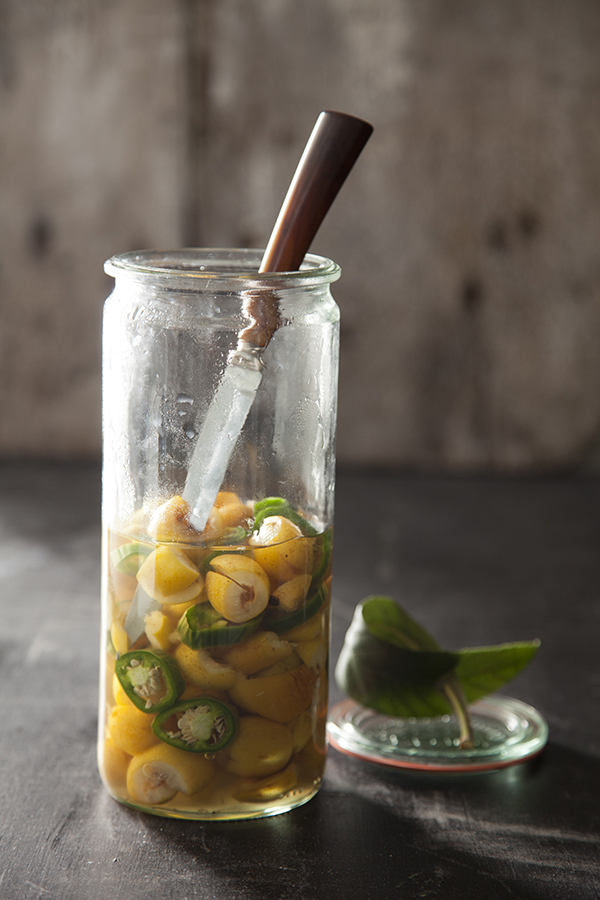 Pickled Loquats
makes 1 quart
Ingredients:
1 pound loquat, stems and seeds removed
1 Jalapeno pepper, sliced
1 cup seasoned rice wine vinegar
2 limes, juiced
4 garlic cloves, whole
1/2 teaspoon salt
Directions:
Have a sterilized quart jar with a tight fitting lid at the ready –I sterilize mine in the refrigerator.
Layer the loquats and jalapeno slices in the sterilized jar.
In a 2-cup measuring cup, combine the rice wine vinegar, lime juice, garlic cloves and salt. Pour mixture over the loquats and jalapeno slices.
Place the lid on the jar and give it a good shake.
Refrigerate for 1 week before eating.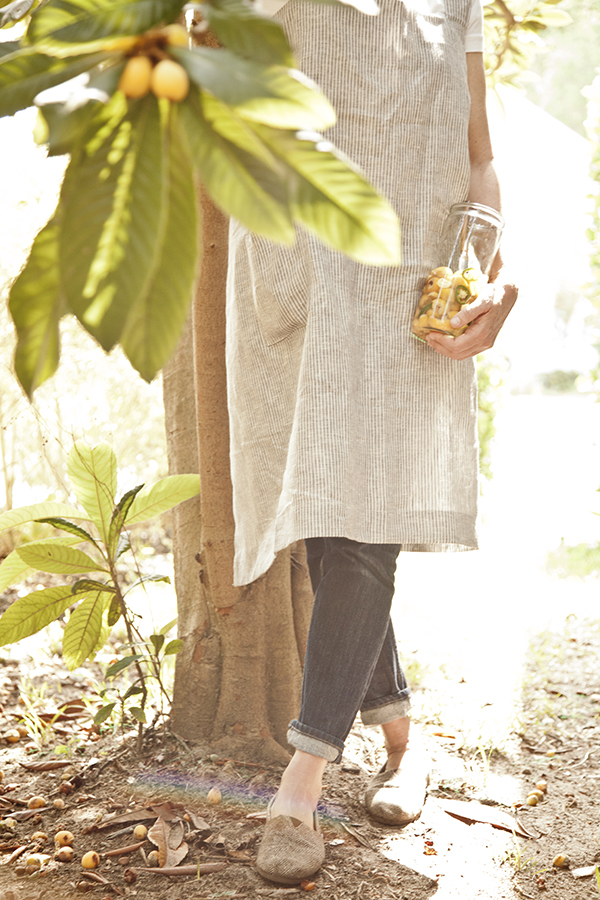 Libbie's Food Styling Props: (top photo) Shot on black chalkboard painted wood. Background is an old table top picked up at Habersham Antiques Market. Jar is a Weck cylinder canning jar from Kaufman-Mercantile. Knife from Wertz Brothers Antique Mall in Santa Monica, CA (now closed). (bottom phot0) Shot leaning up against the loquat tree in my side yard. Wearing a Fog Linen apron. Jeans are DL1961. Shoes are Tom's. 
Other Pickle Recipes from Salted and Styled:
Farm Stand Refrigerator Pickled Vegetables
Green Grass Refrigerator Pickles
Hot Peppered Pickled Pig's Feet
Pickled Loquats