Pork Belly Gyros
Words and Recipe by Libbie Summers
Photography by Chia Chong
Recipe via The Whole Hog Cookbook
For a stretch of four years, I was lucky enough to be a resident on the Greek island of Mykonos for a couple of months each year. I'd go to recharge my creative batteries, drink some ouzo, dive for sea urchin roe, and sleep. Standing on the edge of the cerulean blue Aegean Sea and overlooking the tan bodies of Grecian Gods in Speedos, I knew I was exactly where I needed to be. Of course, as nourishing as all that introspection was for my soul, this girl needed to eat. And that's when I discovered a Mykonian gyro. I'd had gyros before. I bought one off a food cart in New York, ate a gut bomb from the county fair, and worse yet, ordered a gyro from some Midwestern chain where my server referred to it as a "gee-RO." Anywhere you live, someone's making some trashy gyro, but I'm here to tell you that there ain't no gyro like a gyro in Greece.
On Mykonos, I'd have to get on my dirt bike and ride 10 minutes across the island from where I lived to get my hands on my beloved gyro. I'd have to wait in a long line with the rest of the gyrophiles, all itching for a fix. I couldn't say much in Greek —but I sure as hell could order a gyro just the way I wanted it. I wanted meat, tomatoes, French fries and tzatziki all wrapped inside a wonderful just baked flatbread that was oiled and warmed on the griddle. No onions Ευχαριστώ (thank you). Mostly, I just wanted warm flatbread and a few fillers to soak up that amazing sauce.
Over time, I made friends with the owner of the restaurant, Stavros, a man who also Greek danced for the tourists at night, and he let me in on a few secrets of the sauce. Most importantly, he explained, looking me deep in the eye for emphasis, "you gotta let that shit just marinate". Twenty-four hours. You can't make tzatziki sauce and eat it immediately because that garlic has got to marry in with the wonderful fresh cucumber, tangy vinegar and the silky olive oil that smoothes it all out. And once you add the Greek yogurt it's a perfect union.
I learned to perfect a tzatziki sauce of my own. Here I'm using this wonderful tzatziki recipe to make my pork gyros with silky pork belly. It's a simple recipe, you'll find yourself making again and again. Grilling the marinated pork belly is absolutely amazing. A more perfect union.
Every place I've ever visited, I've come to associate a dish. And the relationship between that food and the place it's from is so strong that I can't imagine ever experiencing the place without it. For me, Mykonos and gyros will forever go hand in hand. Together they represent summertime, beach, sand and cute Greek boys—but that's another story.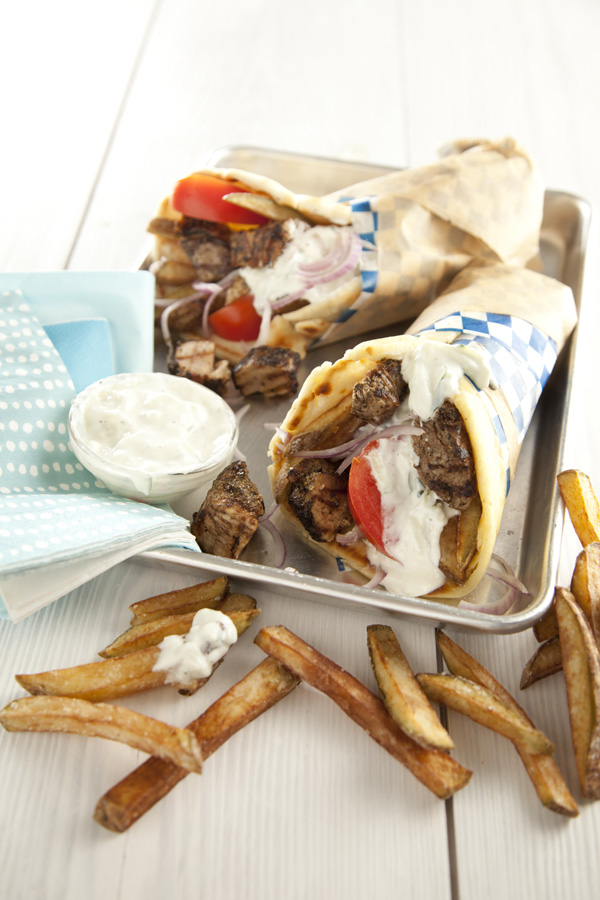 Pork Belly Gyros (Mykonian Tzatziki)
serves 4
Ingredients:
2 pounds pork belly, skin removed and cut into 1-inch strips
1 tablespoons dried Greek oregano
2 garlic cloves, minced
1 teaspoon Black pepper
2 tablespoons olive oil
4 Slices Greek pita bread (flatbread), I use Olympia™ brand
1 tomato, sliced into 8 wedges
1/2 red onion, very thinly sliced
1 cup tzatziki sauce (recipe below)
Mykonian Tzatziki Sauce:
1 cup plain Greek yogurt, I use Fage™ brand
2 garlic cloves, minced
1/2 cucumber, grated and well drained
2 tablespoons olive oil
1 tablespoon white vinegar
Kosher salt and freshly ground pepper
Directions:
Place pork belly strips in a zip top bag with oregano, garlic and pepper. Refrigerate a minimum of 2 hours or overnight.
Heat a grill pan to medium-high heat and place pork belly strips on grill to cook. Be forewarned a lot of fat will be rendered (you may need to pour some off while cooking). Cook belly until browned on all sides (approximately four minutes on all four sides, 16 to 20 minutes total). Remove from heat and cut into large pieces.
Heat a large flat skillet to medium high heat. Brush olive oil on one side of each slice of pita bread and place on the hot skillet until just warmed through (pita bread should still be very pliable).
To assemble:
Divide cooked pork belly pieces among the 4 warmed pita slices. Top each with two wedges of tomato, red onion and a quarter cup of tzatziki. Roll pita over and individually wrap in parchment paper. Serve immediately. Great with french fries.
For Tzatziki Sauce:
In a medium mixing bowl, stir together yogurt, garlic, cucumber, olive oil and vinegar. Salt and pepper to taste.
Cook's Tip: For the best tzatziki sauce flavor, make it a day ahead and refrigerate. Stir well before using.