Prosciutto Pretzel Knots
Recipe and Styling by Libbie Summers
Photography by Chia Chong
Recipe from The Whole Hog Cookbook
Knot them, twist them, tie them or cut them into individual bites. I don't care what shape or size my soft pretzels are in as long as they're proudly wearing salt.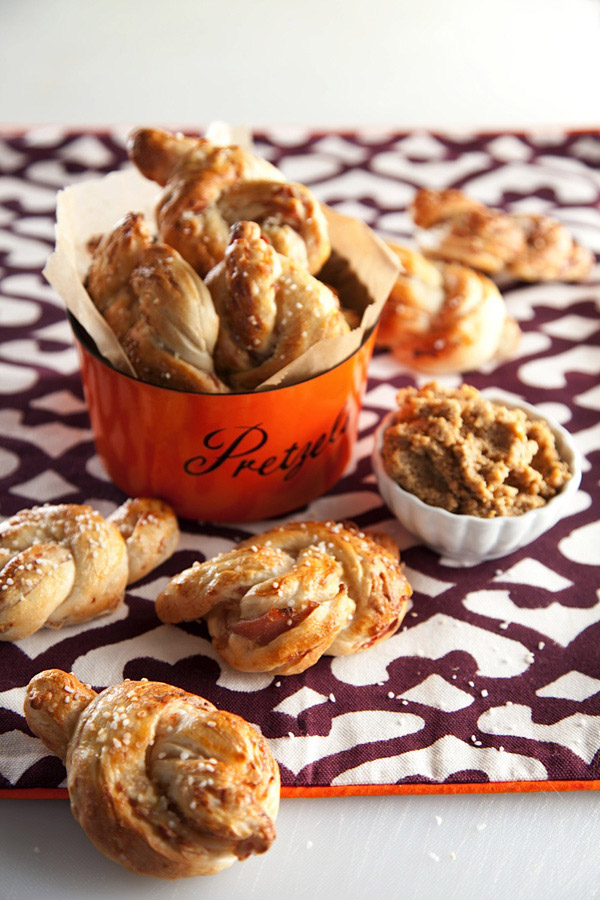 Prosciutto Pretzel Knots and Stout Mustard
makes 20 knots
Ingredients:
1 ounce active dry yeast
1 1/2 cup warm milk
1 tablespoon sugar
3 1/2 cups flour
1 teaspoon salt
1/4 pound prosciutto, chopped
1 tablespoon olive oil
1 (12 oz.) Guinness Pub Draft or other stout beer
2 tablespoons baking soda
1 egg beaten with 1 tablespoon water (for egg wash)
Coarse Salt
Stout Mustard (recipe follows)
Directions:
In a non-reactive bowl, add yeast, milk and sugar and let set until mixture foams (approximately 10 minutes).
In the bowl of a food processor, add flour and salt. While the motor is running, slowly add the yeast mixture just until combined. Add prosciutto and pulse until dough forms a ball and cleans the sides of the bowl. Drizzle the same non reactive bowl with the olive oil and place the dough ball inside. Make sure to oil the top of the dough ball. Cover with a cloth and let rise until double in size (approximately 1 hour).
Spray a baking sheet with non stick cooking spray and set aside.
Punch the dough down with your fist and divide into 20 individual balls. Roll out each ball into a 5″ rope and tie into a loose knot. Place pretzel knot on the prepared baking sheet. Repeat until all knots are tied. Allow pretzel knots to rise until nearly doubled in size (approximately 20 to 30 minutes).
Preheat oven to 400º F.
Have a cooling rack set atop a baking sheet ready.
Line a baking sheet with parchment paper and set aside.
In a large deep pan, bring 6 cups water, beer and baking soda to a low boil. Place two or three pretzel knots in the stout water at a time and cook for 30 seconds per side, making sure to flip gently. Remove with a slotted spoon to the drying rack. Repeat with the remaining pretzel knots. Once drained, place each pretzel on the parchment lined baking sheet. Brush each with egg wash and sprinkle lightly with salt. Bake until golden brown (approximately 12 to 15 minutes). Serve warm with Stout Mustard.
Stout Mustard
yields 4 cups
Ingredients:
1 (12 ounce) Guinness Pub Draft™ or other stout beer
1 1/2 cups mustard seeds
1 cup cider vinegar
1 tablespoon kosher salt
1 teaspoon freshly ground pepper
1/2 teaspoon all spice
pinch nutmeg
Directions:
Place all ingredients in a non reactive mixing bowl and let set over night.
Transfer to food processor and pulse until mixture becomes thick. Use immediately or refrigerate in a sterilized jar for up to 3 months.
Libbie's Prop Styling Notes: Orange 1960's "Pretzel" bowl found at  Habersham Antiques Market; natural parchment paper; fabric is a pillow sham liberated from the living room of my friend and Simmer Down Podcast producer Brenda Anderson; Small white bowl from World Market.