Radish and Tart Apple Salad
Recipe and Styling by Libbie Summers
Photography by Chia Chong 
Recipe via Salted and Styled
Salad made of a little bit of sweet, spice, Springtime and nice.

Ingredients:
3 cups matchstick sliced radishes (approximately 12 radishes)
1 cup matchstick sliced green apples (approximately 2 small apples)
2 tablespoons freshly squeezed grapefruit juice, divided
1 teaspoon grapefruit zest
1 tablespoon vegetable oil
1 tablespoon honey
1/2 teaspoon minced fresh ginger
1 teaspoon finely chopped fresh mint
Kosher salt and freshly ground pepper
Directions:
In a medium mixing bowl, toss the matchstick sliced radishes and apples with 1 teaspoon of the grapefruit juice and set aside.
In a small mixing bowl, whisk together the remaining grapefruit juice, grapefruit zest, vegetable oil, honey and fresh ginger. Stir in mint. Add salt and pepper to taste. Pour over radish and apple mixture and toss to coat. Serve immediately.
SERVES: 4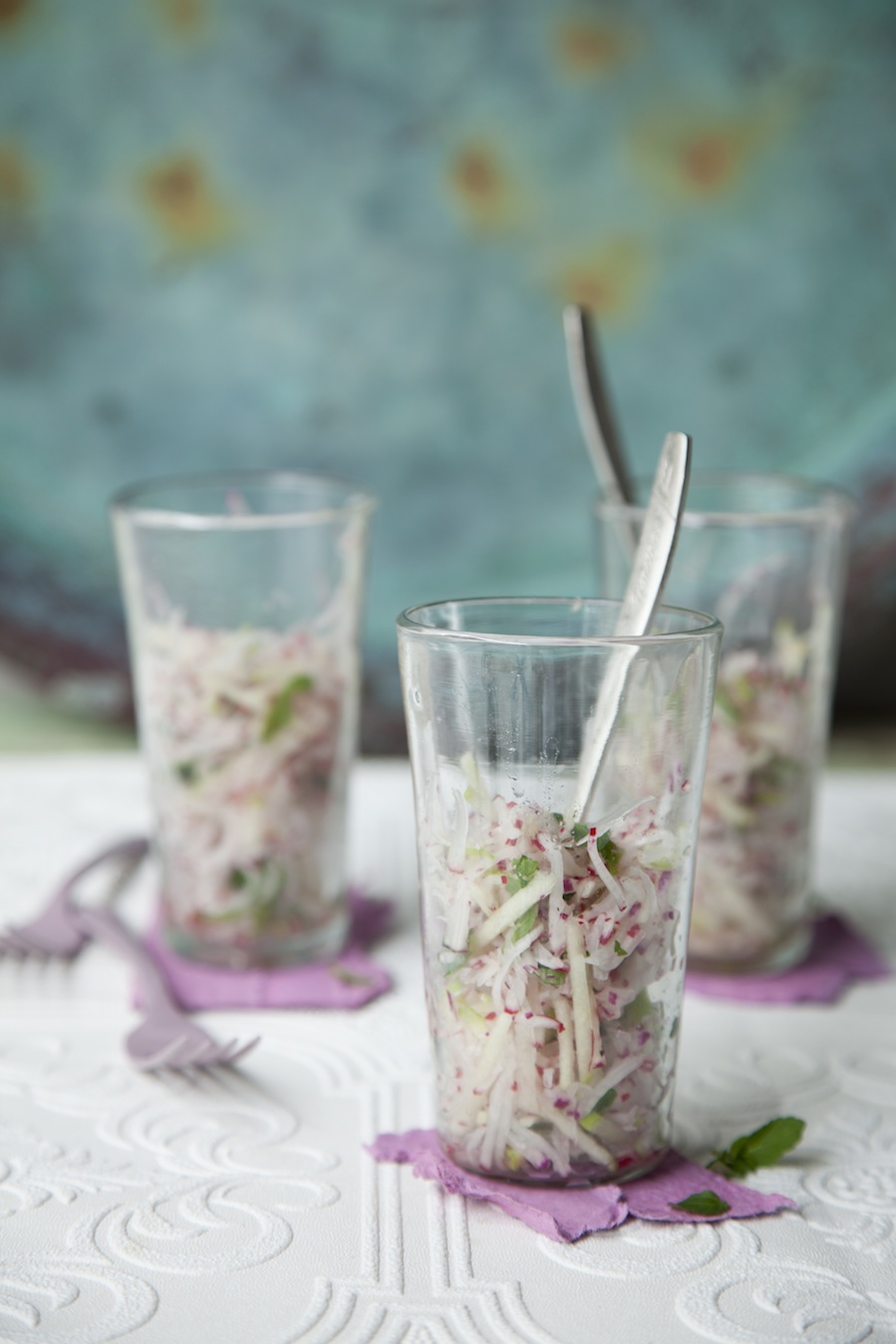 Libbie's Food Styling Props: (top image) Surface is an old copper pot that has a beautiful blue patina, blue glass salad dish and bulb forcing vase with flatware in it are both from Habersham Antiques Market, salad dish is setting on a torn piece of purple egg carton, flatware is old United Airlines First-Class silver. (bottom image) surface is vintage wallpaper, background is the same old copper pot from the top image, glasses are from Canvas Home Store, glasses are sitting on torn pieces of purple egg cartons.