Rhubarb Bellini
Photography by Chia Chong
Recipe and Styling by Libbie Summers
Assisted by Candace Brower
Recipe via Salted and Styled
Rhubarb is no different than any other fruit and vegetable in season. It comes all at once and you don't always know what to do with it. This puree is perfect for keeping in your freezer and mixing in a variety of desserts (which we will share with you in the coming week). For now, we ask you to make a puree so you can raise a glass this weekend.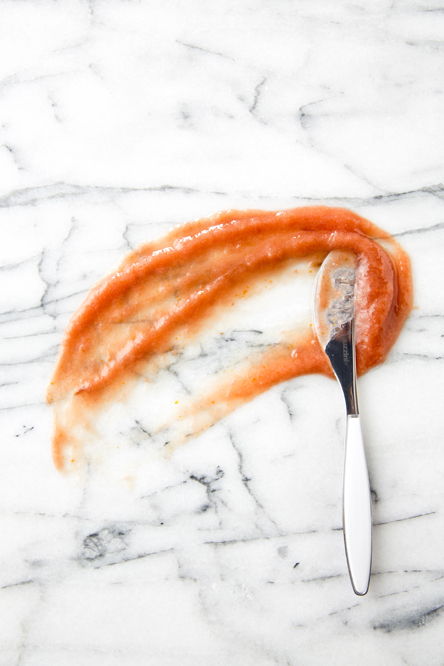 Rhubarb Puree
makes about 3 cups
Ingredients:
3 cups fresh or frozen rhubarb pieces (leaves removed)
1 cup light brown sugar
Juice and zest of 1 large orange
Directions
In a large heavy-bottomed saucepan add all the ingredients and cook over medium-high heat until the rhubarb is tender (about 15-20 minutes). Remove from heat and allow to cool. Add cooled mixture to the bowl of a food processor or blender and process until smooth.
Rhubarb Puree will hold refrigerated for 10 days or frozen for 120 days.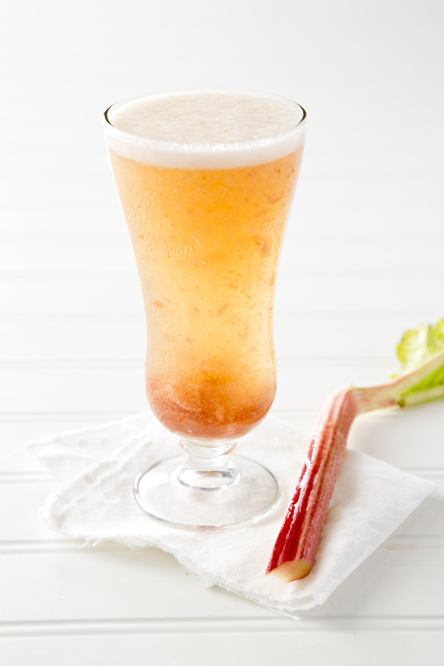 Rhubarb Bellini
makes 1
Ingredients:
2 ounces fresh Rhubarb Puree (recipe above)
3 ounces prosecco or sparkling wine, chilled
Rhubarb stalks to stir (optional)
Directions:
Add Rhubarb Puree to the bottom of a champagne flute or other small glass. Pour prossecco or sparkling wine over. Stir and serve.
Libbie's Food-Styling Props: Puree shot on a small piece of marble using a Guzzini pate knife. Bellini shot on a piece of  Wainscot Interior Panelling from Home Depot. Napkin is a torn piece of white fabric.