Roasted Bone Marrow
Words, Recipe and Styling by Libbie Summers
Photography by Chia Chong
Recipe via Salted and Styled
Although merely a commoner, I have one thing in common with a queen (of the royal type) –my love for bone marrow. Queen Victoria was a romantic ruler who ate bone marrow every day and lived to be 81 years old. Baring no attempts on my life as there were on Queen Victoria's, and the availability of today's medicine…if I eat bone marrow everyday, my calculations are that I may live to see the Duchess of Cambridge's baby be crowned King/Queen.  (Recipe for a longer life below)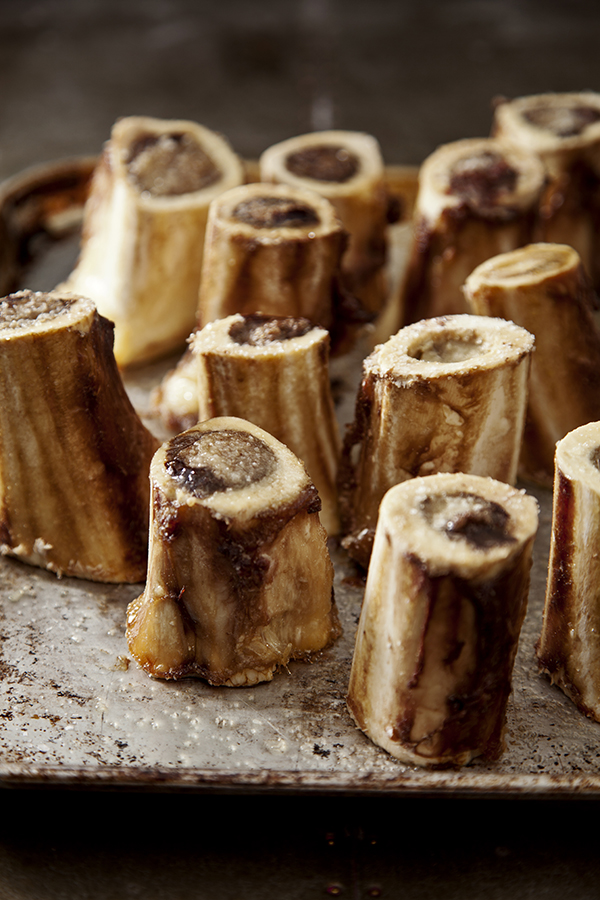 Roasted Bone Marrow
serves 4
Ingredients:
12 (about 4 pounds) beef or veal marrow bones, center cut and 3 inches long,
Maldon or Kosher Salt
1 Baguette, sliced into 1/2-inch pieces and toasted
Chopped parsley for garnish (optional)
Directions:
Preheat oven to 450 degrees F.
Put bones, cut side up on a sturdy baking sheet or cast-iron skillet. Salt liberally. Cook until marrow is soft and has begins to separate a bit from the bone (about 20 minutes). Serve hot/warm alongside toasted baguette slices and garnished with chopped parsley and a bit more salt if desired.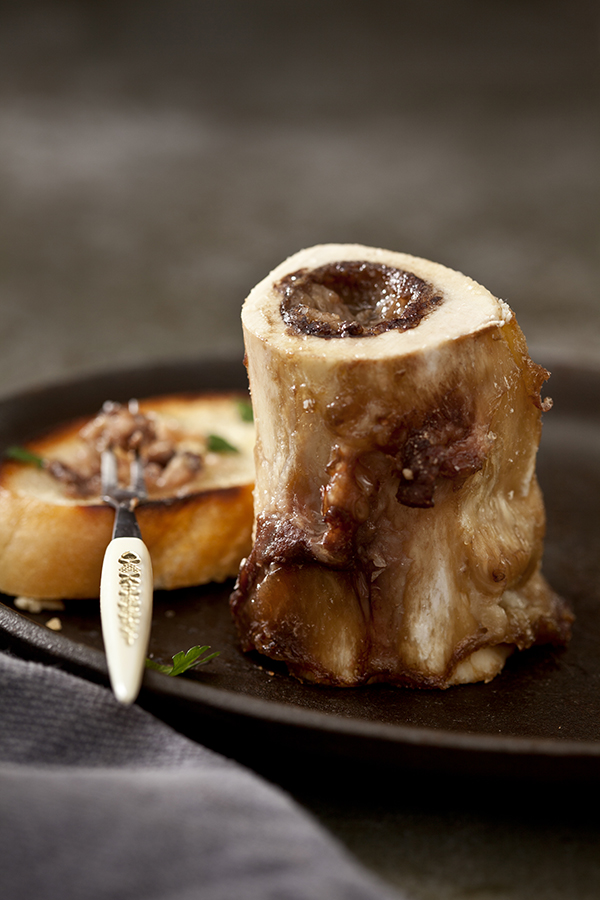 Libbie's Food Styling Props: (top image) Shot straight from the oven on an old half sheet tray has been around forever –which is what makes it so great to shoot on. Lots of character. (bottom photo) Bone marrow on a cast iron plate picked up a Salvation Army sale in Savannah. Oyster fork? I just found at Habersham Antiques Market. Gray linen from Libeco.