Russian Spice Cookies
Recipe and Styling by Libbie Summers
Photography by Chia Chong
Recipe via Salted and Styled
A stout Russian cookie packed with spice on the inside and wearing a showy cherry Ushanka on top.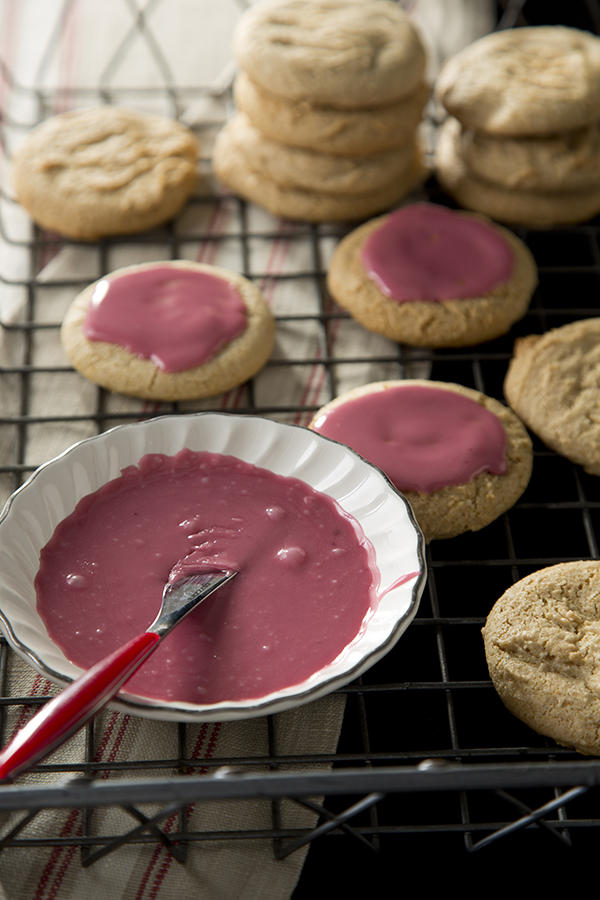 Russian Spice Cookies
(cherry verenya icing)
makes 18  
Ingredients:
3 cups all-purpose flour
1/2 teaspoon cinnamon
1/2 teaspoon ground cardamom
1/2 teaspoon ground nutmeg
pinch of allspice
1 teaspoon baking soda
pinch of salt
2 large egg yolks
1 cup honey
1 teaspoon vanilla paste
3/4 cup sugar
Cherry Verenya Icing (recipe to follow)
9 fresh cherries pitted and cut in half for garnish 
Directions: Preheat oven to 350 degrees F. Line two baking sheets with parchment paper and set aside. 
In a large mixing bowl, sift together the flour, cinnamon, cardamom, nutmeg, allspice, baking soda and salt. Set aside.
In the bowl of a standing mixer fitted with a paddle attachment, add the egg yolks, honey, vanilla paste and sugar. Beat on medium until light and fluffy. Reduce speed to low and gradually add in the flour mixture, scraping down the sides of the bowl as needed (dough will be stiff). Refrigerate for 1 hour. 
Using a #30 portion scoop (2 tablespoons), scoop the dough onto the prepared baking sheets leaving 1-inch between each mound. Bake until lightly golden (about 14-18 minutes). Cool on the baking sheets before frosting with the Cherry Verenya Icing (below) and garnishing with a fresh cherry half.
Cherry Verenya Icing
makes 1/2 cup 
Ingredients:
1 cup confectioners sugar
2-3 tablespoons Cherry Verenya Syrup (recipe HERE), you can sub a cherry juice concentrate here if you have to
Mix together.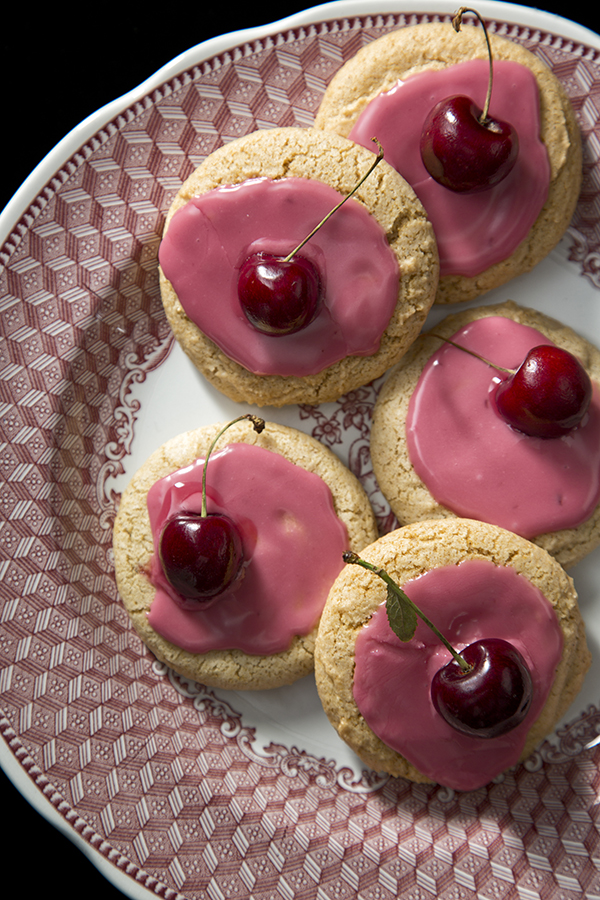 Russian Spice Cookies (with or without icing) are great with tea sweetened with Cherry Verenya
Libbie's Food Styling Props: (top image) Fabric from Fabrika Fine Fabrics, Basket from R&R Restaurant Supply, Knife from Guzzini, bowls courtesy of Mrs. Betty Anderson. (middle image) Plate from Habersham Antiques Market. (bottom image) Zinc table from Bastille Metal Works, small tin dishes from Habersham Antiques Market.