Savory Pear Strudel
Recipe and Styling by Libbie Summers
Photography by Chia Chong
Recipe via Salted and Styled
I wanted to create a down and decadent appetizer for the holidays that was easy, delicious and just a little snooty.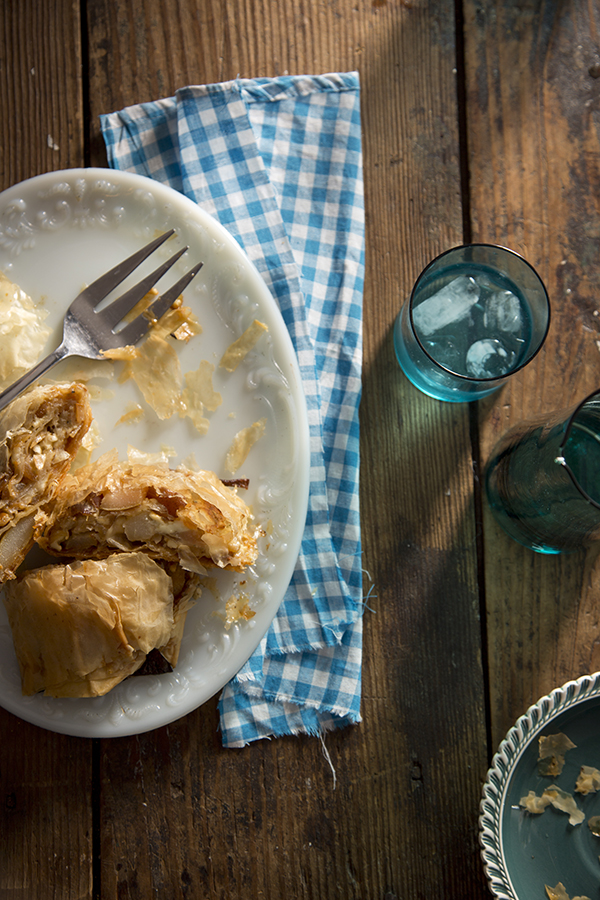 Savory Pear Strudel (aka snooty strudel)
(pear, caramelized onions, blue cheese)
serves 8
Ingredients:
6 tablespoons butter, melted and divided
1/2 yellow onion, thinly sliced
Kosher salt and coarse ground pepper
1 teaspoon brown sugar
2 medium sized ripe pears, cored and roughly chopped
12 sheets of frozen phyllo dough, thawed in the refrigerator
6 ounces blue cheese, crumbled (use good stuff)
Directions:
Preheat oven to 375 degrees F. Line a baking sheet with parchment paper and set aside.
In a large sauté pan, add 2 tablespoons of the butter, onions and a heavy sprinkling of salt. Cook until the onions are starting to brown. Salt and pepper. Stir in brown sugar and continue cooking until the onions are fully caramelized. Stir in the pears. Set mixture aside.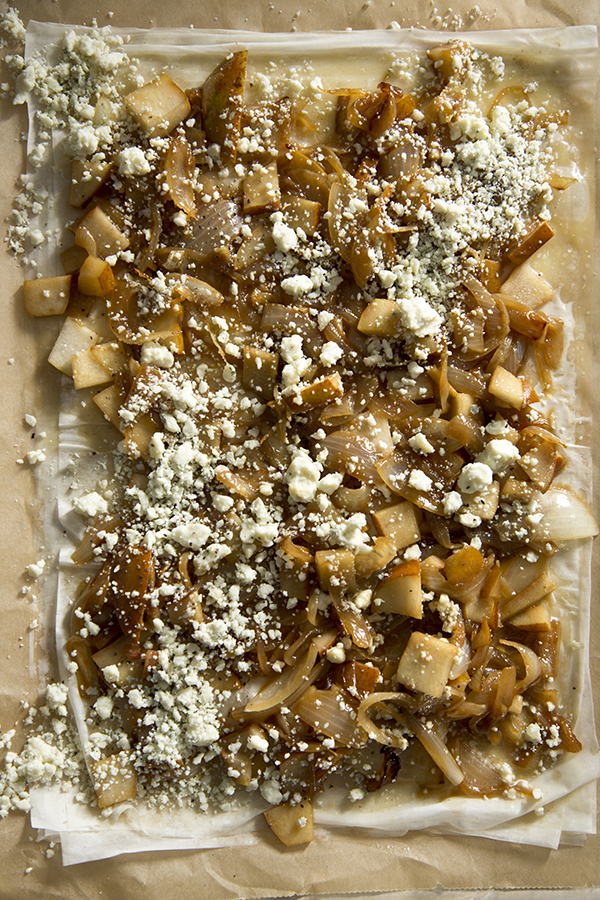 Unroll the thawed phyllo dough and lay the first sheet of dough onto the parchment lined baking sheet and brush with melted butter. Top with the next sheet and brush with melted butter. Continue until you have 6 sheets stacked (don't worry if you have tears along the way, AND make sure to keep the phyllo dough that you are not using yet covered with a "just moist" towel…you don't want it to dry out).  Top the stack of dough with the caramelized onion and pear mixture, spreading it almost all the way to the edges. Sprinkle the cheese over the mixture.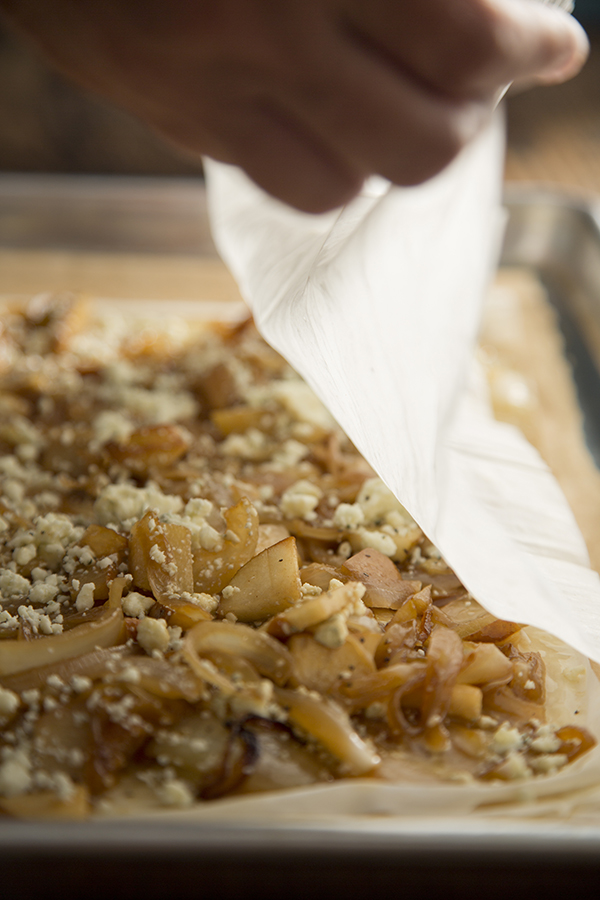 Top the mixture with the remaining 6 layers of phyllo dough using the same method of brushing in between with melted butter.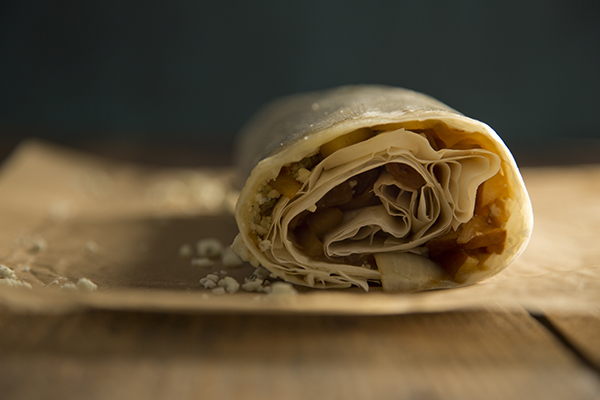 Roll up loosely from the longest edge (if you roll the strudel up too tight, your mixture will pop out, but even if it does, I think that's a good sign of things to come to my belly).
Brush the outside of the strudel with butter and bake until golden brown (about 30-40 minutes).
Allow to cool slightly before slicing and serving.
Libbie's Food Styling Props: Surface is an old wood table used on the movie, Savannah; Gingham check cloth was once a shirt picked up at the Hell's Kitchen Flea Market in NYC; Blue glass and bottle are a bed side water carafe and glass from Canvas Home; Serving plate and side plate from Habersham Antiques Market; Blue background is a bright blue paint I drug over the black paint on a piece of plywood.