Stuffed Baked Apples
Recipe and Styling by Libbie Summers
Photography by Chia Chong
Recipe via The Whole Hog Cookbook
Tart green apples stuffed with sweet sausage and dried fruit? I feel like some kind of kept colonial wife even describing this.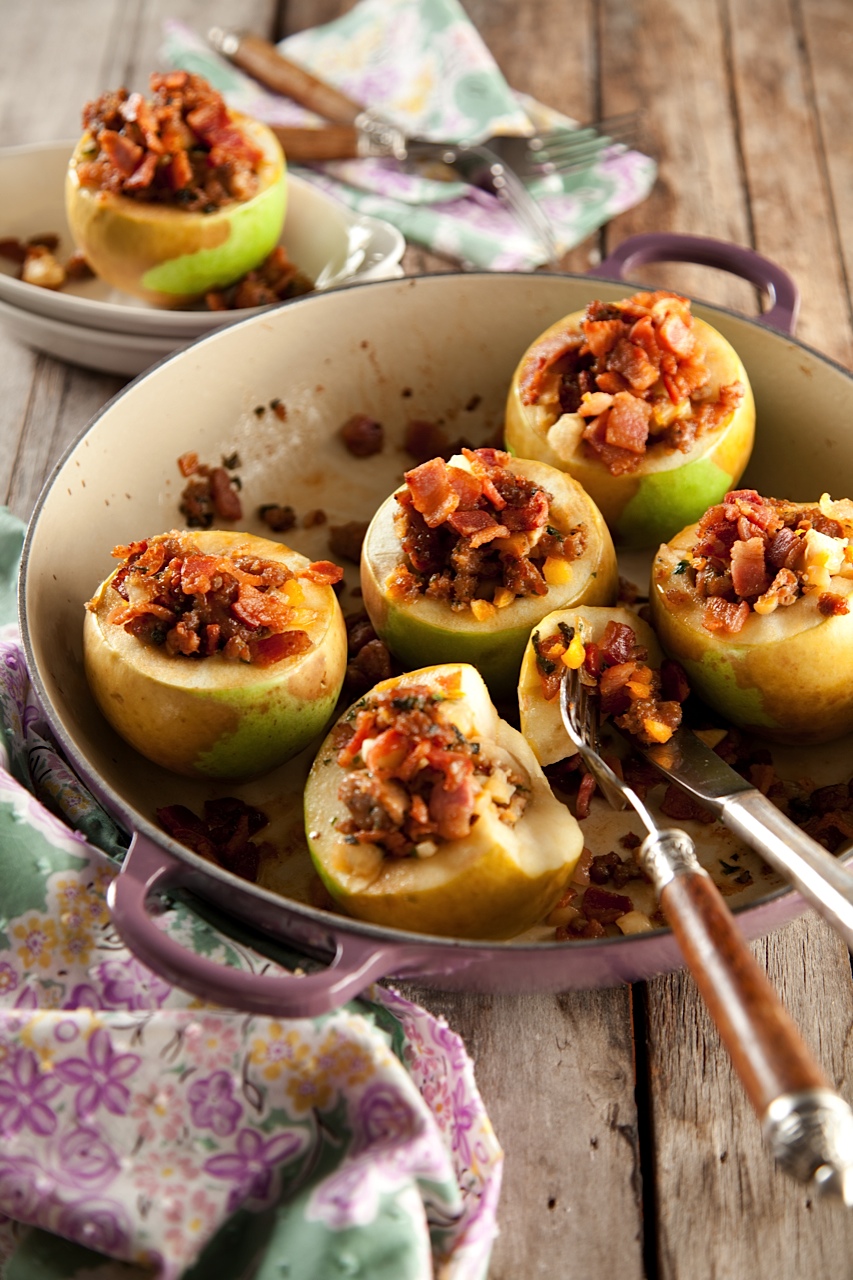 Stuffed Baked Apples
(sweet Italian sausage, apricots, warm maple syrup)
serves 6
Ingredients:
6 large tart baking apples
1 tablespoon fresh lemon juice
1 pound sweet Italian sausage, casings removed
2 tablespoons sweet yellow onion, minced
1 garlic clove, minced
1 tablespoon finely chopped parsley
1 tablespoon finely chopped sage
1/3 cup dried apricots, soaked in water overnight and chopped
4 tablespoons butter, room temperature
1 egg, beaten
3 tablespoons brown sugar, divided
4 slices smoked slab bacon, chopped
warm maple syrup for serving (optional)
Directions:
Preheat oven to 350º F.
Cut 1/2-inch off the top of each apple. Using a small serrated spoon or melon baller, remove the core leaving only 1/2-inch of flesh around. Reserve and chop any flesh removed (apart from the core). Brush inside of apples with lemon juice and place apples, cored side up, in a 9-inch round baking dish.
In a large sauté pan over medium heat, add sausage, onion and garlic. Cook, breaking sausage apart, until sausage is cooked through and light brown. Remove from pan and drain. Place drained sausage mixture in a large mixing bowl. Stir in parsley, sage, apricots, 1 tablespoon brown sugar, reserved chopped apple and butter. Salt and pepper to taste. Stir in egg. Stuff cored apples with sausage mixture (leaving a mound on top). Any remaining sausage mixture can be tossed into the baking dish or saved to put in your morning scrambled eggs. Sprinkle tops with remaining brown sugar and bacon pieces. Cover with foil and bake until apples are soft (approximately 40 minutes). Remove foil for the final 5 minutes of baking or until bacon becomes crisp. Serve warm. Drizzle with maple syrup if desired.
Listen Up: Slicing a very small sliver off the bottom of each apple will allow it to stand easier in the baking dish. Never let a recipe limit you. Substitute any dried fruit you may have in your pantry. Figs, cranberries and prunes all work great in this recipe. Have some leftover stuffing from the holidays? Mix 1/2 cup into the cooked sausage mixture before baking.
Recipe courtesy of Libbie Summers from The Whole Hog Cookbook (Rizzoli) Photography courtesy of Chia Chong
Libbie's Food Styling Props: This recipe was shot on an old weathered table that had been neglected and sitting outside. I used a cassis colored Le Creuset braiser and simple white au gratin dishes. The flatware I picked up new at Home Goods and I used a piece of vintage fabric for the napkins.