Sweet and Sour Cherry Pie
Recipe and Styling by Libbie Summers
Photography by Chia Chong
Recipe via Salted and Styled
"The man for me is the cherry on the pie. But I'm the pie and my pie is good all by itself. Even if I don't have a cherry." –Halle Berry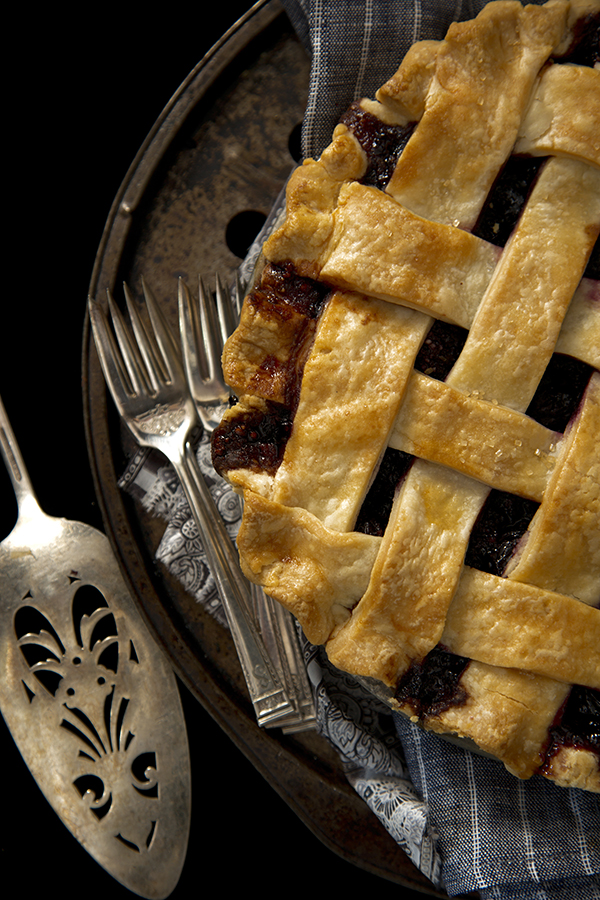 Sweet and Sour Cherry Pie
serves 8 
Ingredients:
1 prepared pie dough for a double crust pie (The secret to a perfect pie crust found HERE)
2 pounds (about 6 cups) fresh or frozen pitted sour cherries
1/4 teaspoon salt
1 1/3 cups sugar
4 tablespoons instant tapioca, pulverized into a fine powder (I use a zip-top bag and a rolling pin to crush)
1 teaspoon vanilla paste
Juice and zest of 1 lemon
2 tablespoons butter, cold and cubed
1 egg mixed with 1 tablespoon milk for an egg wash
Vanilla Ice Cream for serving (optional)
Directions:
In a large mixing bowl, stir together the cherries, salt, sugar and pulverized instant tapioca. Fold in the vanilla paste, lemon juice and zest. Set aside while rolling out the pie dough.
On a lightly floured work surface, roll out the larger disk of dough into a 12-inch round that is about 1/8-inch thick. Gently drape the dough into a 9-inch pie pan (draping is the key, you don't want to push the pie dough into the pan, just let it fall naturally). Fill the pie shell with the cherry filling and dot the top with the cubed butter. Trim the dough to have only a 1/2-inch overhang (I use scissors) from the edge of the pie pan. Roll out the remaining dough into an 11-inch round that is about 1/8-inch thick and do any decorative cut outs to the dough now or cut into strips for a lattice top (just make sure you have at least one hole in the top of the pie to allow steam to escape). Refrigerate the pie while the oven is preheating.
Preheat oven to 400º F and position oven rack in the lower third of the oven. Line a baking sheet with parchment for easy cherry ooze clean up later. Place the refrigerated pie on the lined baking sheet and brush the top of the pie with the egg wash. Bake for 15 minutes. Reduce oven temperature to 350º F and continue baking until filling is bubbling and the crust is golden brown (about 45 to 60 minutes). If the crust starts getting too brown before the pie is fully baked, cover the pie loosely with aluminum foil. Remove from the oven to a wire rack to cool completely before serving. Slice and serve with a scoop of vanilla ice cream if you like…I don't always like.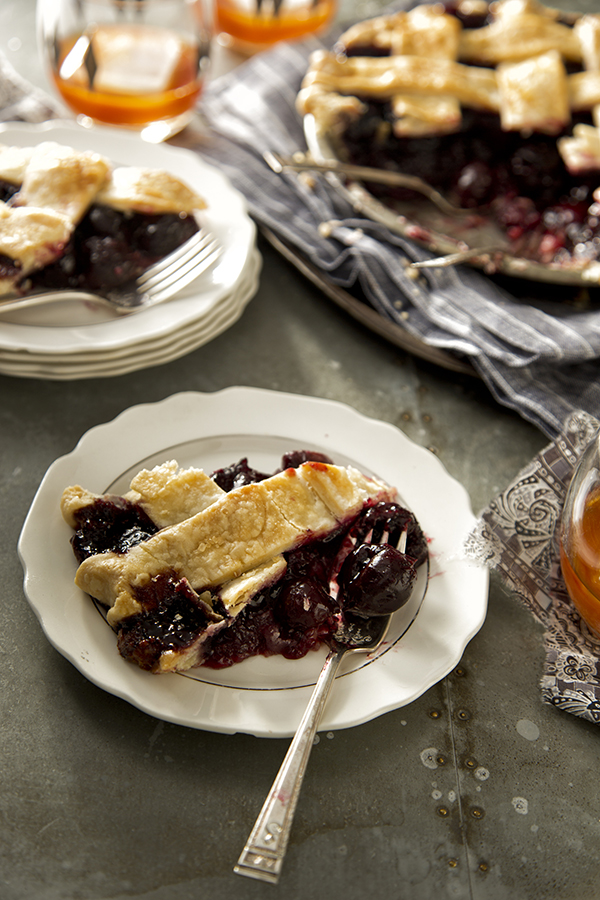 Love Cherries? Try some other Cherry Recipes:
Grilled Scallops and Cherry Salsa
Cherry Verenya
Adult Cherry Coke Float
Russian Spice Cookies