Sweet Onion Bourbon Jam
Recipe and Styling by Libbie Summers
Photography by Chia Chong
Wine Pairing by Grapefriend
Recipe via Salted and Styled
On crispy crackers, atop a juicy burger, dipped with a wedge of hard cheese or just a spoonful from the jar when no one is looking. This jam is intoxicating and highly addictive.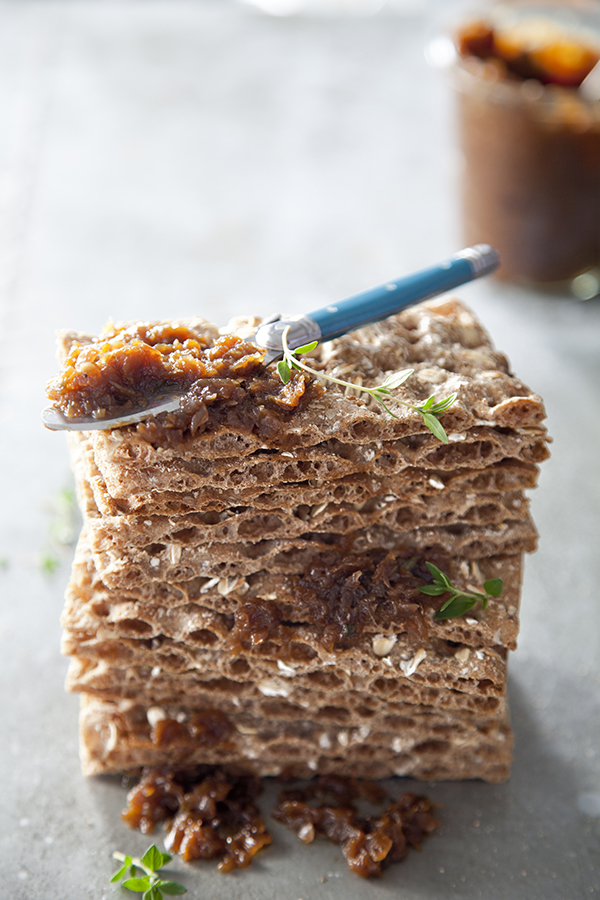 Sweet Onion Bourbon Jam

Ingredients:
2 pounds Vidalia onions
3 tablespoons butter
1 tablespoon fresh thyme leaves
1 cup packed dark brown sugar
2 tablespoons balsamic vinegar
1/2 cup bourbon
1/8 teaspoon Kosher salt
Directions:
Peel the onions (saving the peels for natural dyed eggs, recipe HERE) and finely dice (I like to cut in half and put in a food processor. Nothing makes me cringe more than long stringy onions in my jam –ick.
In a large saute pan over medium heat, add the butter, thyme and diced onions. Cook, stirring often, until the onions are translucent (about 5 minutes). Add the remaining ingredients into the pan and bring the mixture to a boil. Reduce heat and simmer until a thick syrup forms (it should coat the back of a spoon), about 30 minutes. Remove from the heat and allow to cool to room temperature. Spoon mixture into a jar that has been sterilized in the dish washer and store in the refrigerator. Will keep for one week.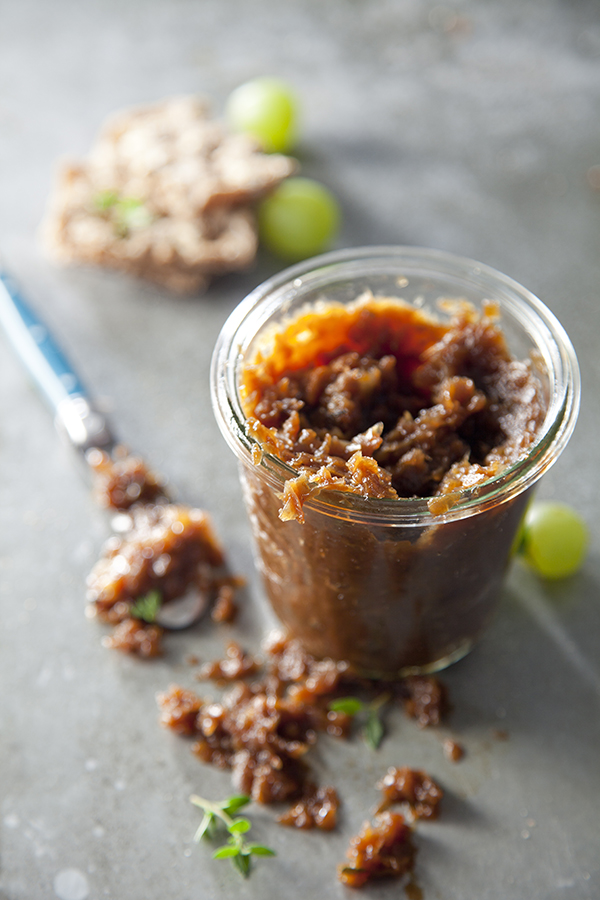 Wine Pairing by Grapefriend:
This sounds so good I'm not even sure you'd remember to drink anything at all in between gigantic bites of this jam. I guess you'll need something to console yourself when it's all gone though, and I'm not sure you'd want anything but a glass of bourbon. The caramel sweetness is an obvious match for the onions, brown sugar, and of course the bourbon. I'm a sucker for Four Roses and Woodford Reserve, with one big ice cube that melts down very slowly.
Libbie's Food Styling Props: Images shot on a zinc table top from Bastille Metal Works, Weck jar is from Kaufmann-Mercantile, knife is Laguiole.
Other Onion Recipes You Have to Try!
World's Best Onion Rings
Onion Dyed Hard-Boiled Eggs