Turnip Fries with Sweet Heat Dipping Sauce
Recipe by Brenda Anderson
Photography by Chia Chong
Styling by Libbie Summers
Wine Pairing by Grapefriend 
Recipe via Salted and Styled
Not to be out shined by its potato cousin, this turnip can fry with the best of them!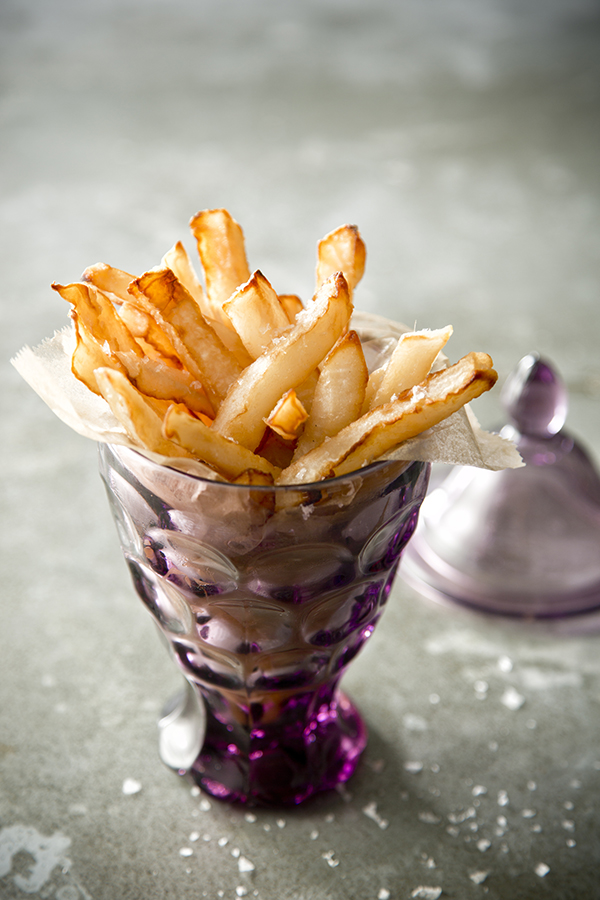 Turnip Fries with Sweet Heat Sauce
serves 4-6 
Ingredients:
4 large turnip roots, peeled and sliced in to a 1/4 x 1/4-inch strips (we used a chef's knife, but you could use a mandoline or French fry slicer)
6 cups vegetable oil
¾ cup honey
¾ sour cream
¼ cup Sriracha sauce
Sea salt
Directions:
Line a baking tray with paper towels and set aside.
For the Sweet Heat Sauce: In a small mixing bowl, stir together the honey, sour cream and Sriracha. Set aside.
In a dutch oven or deep sauce pan over medium-high heat, add oil and bring to 250 degrees F (use a thermometer to gauge the temperature). Working in batches, add the turnip fries to the oil and cook, stirring occassionally, until just soft (about 4 minutes). Remove with a spyder or slotted spoon and drain onto the paper towel lined baking tray. Turn heat to high and heat oil to 350 degrees F. Plunge the fries into the oil and cook until golden brown. Remove from oil, drain onto fresh paper towels and season with additional salt to taste. Serve hot with the Sweet Heat Sauce.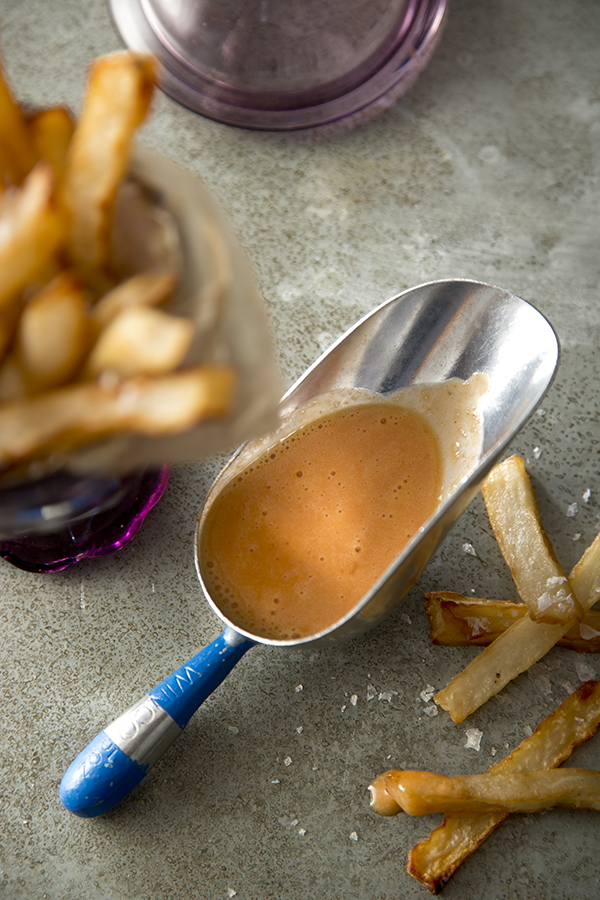 Wine Pairing: I'm a huge football fan, and I love a game when you've got an aggressive offense and a stalwart defense head to head in an explosive matchup. That's what it's like when you pair spicy food and sweet wine. The heat from this sriracha sauce will be amazingly counterbalanced by some sweet Riesling (and when I say sweet I don't mean dessert wine, just a Riesling with residual sugar like ones form the Mosel region in Germany). It's like the Super Bowl of food and wine pairings. 
Libbie's Food Styling Props: Shot on a zinc table from Bastille Metal Works, Purple candy dish from Habersham Antiques Market, Scoop from R&R Restaurants Supply (I taped off the handle and spray painted it blue).