Turnip Greens Stir Fry
Words, Recipe and Styling by Libbie Summers
Photo by Chia Chong
Wine Pairing by Grapefriend
Assistant Food Stylist: Candace Brower
Recipe via Salted and Styled
I love turnips, but until recently, I'd treat the greens like a heckler during a live comedy performance –pretend they don't exist and just pay attention to their other half. 
Because all of our lives are hectic this time of year, I wanted to do a flavorful recipe that can be made in no time. Sitting on a pile of turnips from my CSA, I decided to embrace the heckler.  I chopped off the greens and stir-fried them up with purple cabbage and orzo. A dinner in 10 minutes that is as beautiful as it is delicious.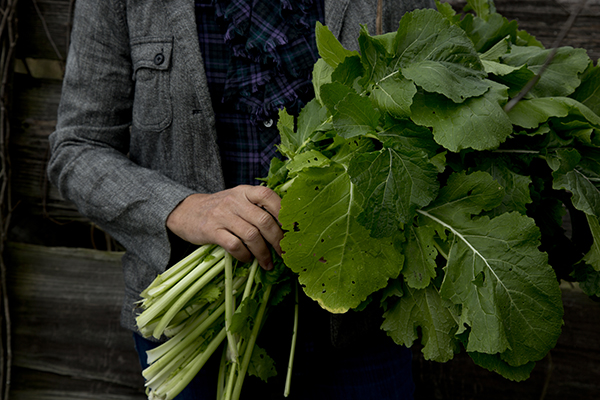 Turnip Green Stir Fry
serves 4 
Ingredients:
2 tablespoons canola oil
2 cups shredded purple cabbage
1 large bunch turnip greens, cleaned, dried and roughly chopped
8 ounces orzo, cooked al dente
1 tablespoon toasted sesame oil
1 teaspoon chili oil
Sea Salt to taste (I use Maldon®)
Directions:
Place a wok over high heat and heat to very hot. Add canola oil and bring to a shimmer. Stir in cabbage and cook stirring for 2 minutes. Add in turnip greens and cook stirring until just starting to wilt. Stir in orzo, sesame oil and chili oil. Cook stirring for 3 minutes. Liberally salt. Serve immediately.
Variation: Great with any greens (mustard, dinosaur kale etc…). Stir in 2 cups of shredded chicken or poached salmon at the end if you like.
WINE PAIRING: Sauvignon Blanc can be a little schizophrenic, and what you get in your glass depends a lot on where the grapes are grown. For this stir fry, you won't want the really grapefruity, melon ones from New Zealand or even the herbal, more elegant ones from the Loire. Chilean Sauvignon Blancs fall somewhere in the middle – really crisp and clean, with a hint of citrus to balance the sesame oil and then grassiness as an awesome counterpart to the bitter greens. Great one to try: Viña Ventisquero Queulat from Casablanca, Chile, about $15.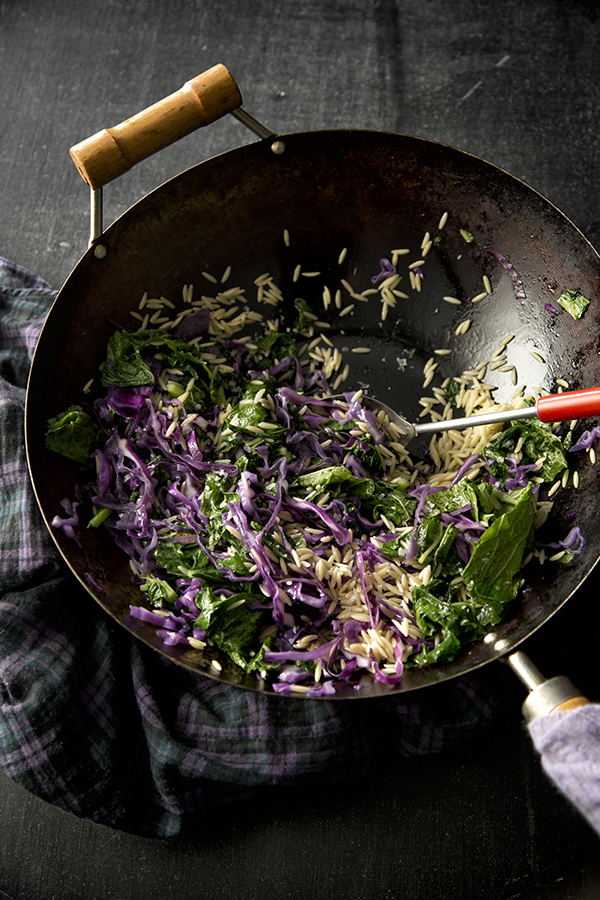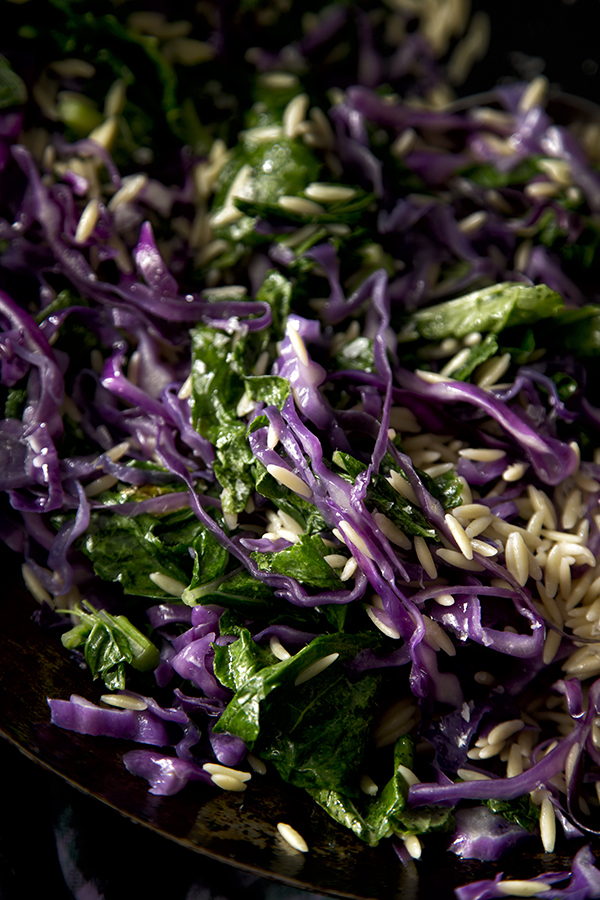 Libbie's Food Styling Props: (Top Photo) Shot on location at Urbanna Farm, Plaid flannel shirt by Banana Republic, Jacket by Billy Reid, (Middle and Bottom Photo) Shot on a chalkboard, Banana Republic shirt used as a napkin, Vintage spoon picked up in Montana, Cuff cut from an old lavender cashmere sweater is wrapped around the handle of the wok.